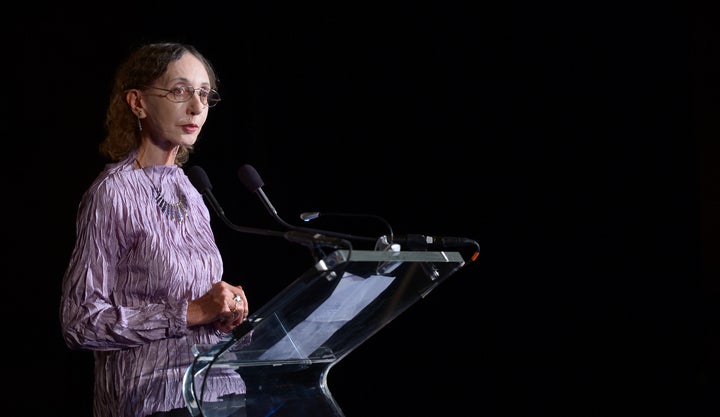 There are lots of different ways to learn about gun violence. You can read a story in the media about a shooting, God knows there are enough shootings every day. Or you can take a look at a video, a new one on Vice is worth a look. Or you can read a book by going to Amazon, doing a search under Books>Gun Violence and hundreds of titles will appear. But to my mind the single, best writing on gun violence that has ever been done is the new novel, A Book of American Martyrs, by Joyce Carol Oates.
She is such a good writer that I am almost afraid to say anything about her work. All I know is how difficult it is for me to write 650 words and try to say exactly what I want to say. She gets every word right in a 700-page book!  It's simply the best work of fiction I have ever read and I have been reading adult fiction for more than 50 years.
This novel is set in a smallish town, a roundabout kind of place in Ohio which Oates calls Muskegee Falls. The narrative begins with the chilling description of the fatal shotgunning of a doctor who performs abortions at a local women's center; the shooter being an Evangelical lay minister named Luther Dunphy, whose involvement with his church includes being energized by the anti-abortion movement as well.  
I'm not going to go further into the novel itself, except to say that the story line is carried along through the parallel experiences of the family members of both the murdered physician and the shooter as everyone involved struggles to continue their lives with the shadow of this ghastly act hanging over their heads.
What drives this remarkable work, however, is not the almost surgical-like precision with which the author gets into the mind of the 'soldier of Christ,' as Dunphy calls himself. Rather, it is the writer's ability to construct and reconstruct how the world changed for the families of both dead men, to the point that it's difficult to think of either family not being deeply scarred, perhaps irrevocably damaged by the decision by one man to end the life of another.
When gun violence prevention (GVP) activists talk or think about the human toll of gun violence, the issue always centers around the 125,000 people who kill or injure themselves or others every year with guns. These people are always referred to as the 'victims' of gun violence, and we divide them into different categories of victimization – suicide, homicide, intentional or unintentional injury and something we politely call 'legal intervention,' which means when someone is shot by a cop.  
But what about the people who aren't actually hit by a bullet yet suffer grievous but non-physical trauma from the shooting as well? Most suicide victims leave family behind who in many cases are unable to lead 'normal' lives because the person who committed suicide was also the one who earned. As for fatal and non-fatal intentional shooting victims, more than three-quarters are between the ages of 15 and 35. Their deaths or injuries create emotional and financial chasms for themselves and for the ones who are left behind or must care for them for the remainder of their lives. For the shooters themselves and their families, they will have to live with an awareness that someone they know and perhaps even love has committed an unspeakable act whose costs can never be acknowledged or even understood.
And this is the literary landscape which forms the texture of Joyce Carol's book. Nobody from either family comes out of the experience whole, and neither family ever truly understands what happened or why things turned out the way they did. Which is what makes this remarkable book so engrossing, because most acts of gun violence fade from the public consciousness in a day or two. In this narrative, an act of gun violence fades but never goes away.
REAL LIFE. REAL NEWS. REAL VOICES.
Help us tell more of the stories that matter from voices that too often remain unheard.
BEFORE YOU GO