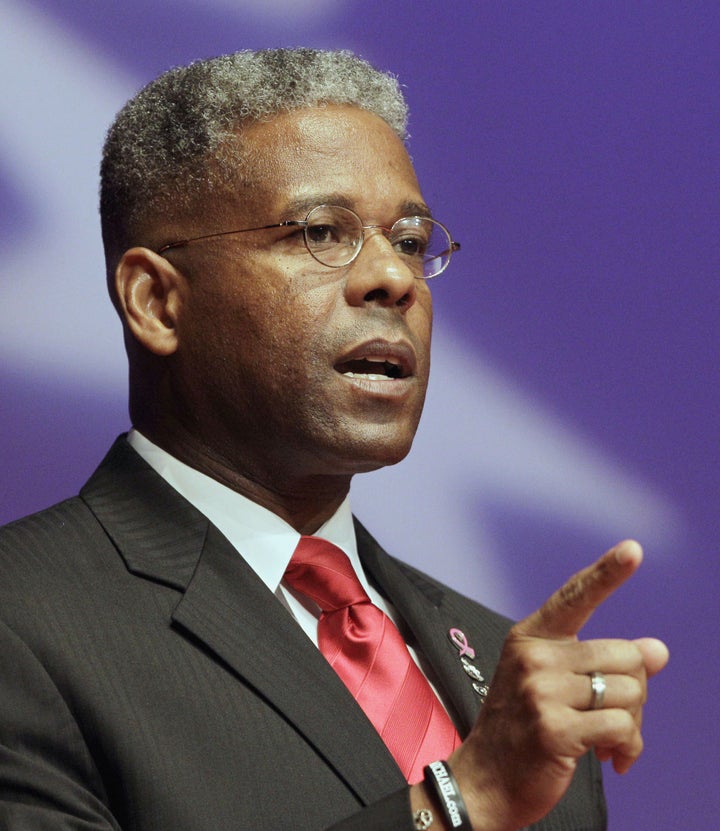 Representative-elect Allen West (R-Fla.) decided this week to follow up a controversial and highly successful congressional campaign with a staff announcement in the same vein.
Conservative radio show host Joyce Kaufman will serve as chief of staff to West, a Tea Party-backed political insurgent from Florida's southern coast.
Kaufman is a local staple on Sunshine State airwaves, talking politics from 12pm-3pm on WFTL as part of a lineup that includes heavyweights such as Lou Dobbs and Michael Savage. According to the WFTL website, she'll be retaining a correspondent position while she carries out her Capitol Hill duties for the West camp, a setup that a House Committee on Standards of Official Conduct believes could be "potentially problematic," according to ThinkProgress.
Perhaps more problematic than her employment future, however, is her rhetorical history. As if a blend of her two commentator colleagues, Kaufman is herself known for lobbing partisan firebombs that often focus on issues such as illegal immigration and, more broadly, Democratic leadership.
From the Florida Independent's rundown of a few of her most combative statements:
* In August 2007, when discussing illegal immigrants, she said on her show, "If you commit a crime while you're here, we should hang you and send your body back to where you came from, and your family should pay for it."

* She became infuriated at illegal immigration after she called Comcast and the recording said, "Press 2 for Spanish."
* She said at a rally, with West standing by, "Calling illegal immigrants 'undocumented workers' is like calling a drug dealer a pharmacist without a license." She was furious that children of illegal immigrants were educated in public schools and received health care at emergency rooms. "There are people who want to change your way of life, and some of them may be your gardeners," she said.
The Florida Independent also notes Kaufman has rarely spared Muslims from her harsh words, and, according to the Washington Post's transcript of her show Tuesday, she referred to Democratic leaders such as outgoing Speaker of the House Nancy Pelosi as "garbage":
"Over these months I have been blessed to form very wonderful relationships with the West family," Kaufman said, adding that she had been a supporter of his campaign. "I looked at this family and [told] myself, how do you not fight and put them up on the pedestal when we've got this garbage up on the pedestal now, people like Nancy Pelosi?"
While some might think to chalk West's contestable chief of staff choice up to a case of him failing to thoroughly vet his pick, one report recently pointed out that "West is believed to have been on Kaufman's show more than 100 times" over the past four years.
Popular in the Community