The political conventions are over. They have left me with sleepless nights and high blood pressure. And there are so many days to go of increasing nastiness and vicious side-taking.
I worry. I want us all to be okay.
I am from the Woodstock generation, after all. I thought -- for a very short time -- that we could all love each other.
But I will get through August.
I will find some serenity in the simple pleasures of high summer.
Here are 31 of my joys that will help me (and I hope you) get through the next 31 days.
Corn on the cob
Johnny Mathis singing "Wonderful, Wonderful" or "Misty" or "Chances Are" -- or just about anything
Pearls
"The African Queen"
Black-eyed susans
Chocolate ice cream
Lobster rolls
The last page of a great book, knowing another is waiting for me
Dozing on a comfy lounge chair
The cat sleeping in the sunny spot by the door
Riding in the convertible on a starry night
Sharing pretzels with the seagulls on the beach
Pedicures with lavender polish
Country fairs
James Taylor
Eau de Chloe
Tomatoes still sun-warm eaten right from the garden
Beaded sandals
Putting on warm dry clothes after spending hours in a wet bathing suit
Iced coffee
Bronzing powder
Buying my mother scratch-off lottery tickets
My husband calling me Angel
Little boys on bicycles with baseball gloves hanging from the handlebars
The smell of charcoal and steaks wafting through the neighborhood
Clean smooth sheets
Blueberry picking in the late still afternoon
Putting on Paul Simon's Graceland and dancing while I dust the house
Cheeseburgers with a side of Ruffles
Toddlers (and grown-ups) running through the water sprinkler
My dog's smile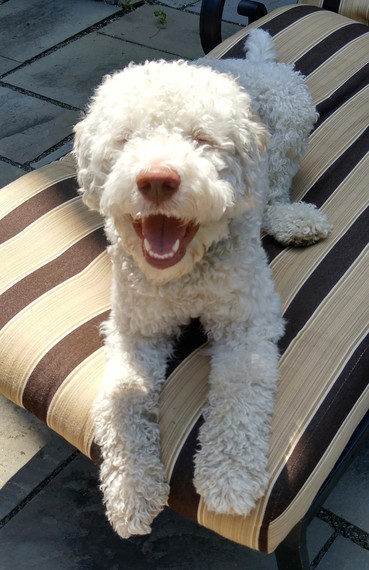 REAL LIFE. REAL NEWS. REAL VOICES.
Help us tell more of the stories that matter from voices that too often remain unheard.