 Reality TV couple J.P. Rosenbaum and Ashley Hebert tied the knot earlier this month in Pasadena, Calif. The couple, who met and got engaged on "The Bachelorette," married in front of fellow "Bachelor" and "Bachelorette" cast members, including Emily Maynard, Molly and Jason Mesnick and Ryan and Trista Sutter. Here, the newlyweds open up to HuffPost Weddings about their relationship, their MyRegistry.com wedding registry and their down-to-earth home life.
1. J.P. loves a night on the town more than Ashley does.

"I [Ashley] am such a homebody. There is nothing I love more than a night in cuddled up on the couch. J.P. always wants to make plans months in advance for dinners and outings, but I usually stay in!"

2. The couple now celebrates both Jewish and Catholic traditions.

"Now that we are working on building our own home, we've incorporated both Jewish and Catholic symbols and traditions into our household. In fact, when we created our wedding registry at MyRegistry.com, it was important that we include a few key items to incorporate J.P.'s Jewish heritage into our home."

3. J.P. and Ashley share an equal amount of closet space.

"J.P. is the true definition of a New York fashionista! He has a pretty amazing wardrobe consisting of the most amazing suits, shoes, cuff links, etc. We share an equal amount of closet space, but I'm pretty sure he has more shoes than I [Ashley] do."

4. Ashley has a fear of flying, while J.P. loves it.

"Despite the thousands of miles I've [Ashley] spent flying these past couple of years, I can't shake my fear of turbulence! I know it's silly, and I sometimes can talk myself out of it, but as soon as I feel turbulence, I think there is something majorly wrong...and I've been on some scary flights! J.P., on the other hand, can fly on Friday the 13th, through a thunderstorm, with endless turbulence and remain completely calm."

5. J.P. is the chef; Ashley is the maid.

"I [Ashley] am a terrible cook. The first time I made a dish for J.P. he told me 'it was a good first effort.' Since then, we've decided that J.P. does all the cooking, while I do all the cleaning. I love cleaning!"

6. Even though Ashley doesn't cook, she collects cookware.

"Ashley has cooked two meals in one and a half years, although she has an obsession with collecting the fancy Mauviel line of cookware, as you can see on our wedding registry at MyRegistry.com. She says they are only for show. I'd [J.P.] say to show just how little she cooks!

7. Ashley has an assortment of nicknames for J.P. that he prefers she not mention in public!

"I [Ashley] promised J.P. I would not call him these nicknames in public, so I'm trying to keep this promise. But behind closed doors, it's fair game!"

8. We have our own language.

"Whatever the word of the day/week is, we somehow combine it with either one of these two words: "snuffleupogus" for an adjective or "fluffernutter" for a noun. Most recently, we turned "wife" and "husband" into "wifernutter" and "hubbernutter."

9. J.P. and Ashley never sleep next to each other in bed.

"Though this may come as a surprise, we never sleep next to each other in our king size bed because our four-pound Yorkie, Boo, insists on sleeping between us. We're lucky if we can kiss goodnight without having her jump in for the block!"

10. Ashley thinks she is a comedian.

"Nearly all of our disagreements end the exact same way in less than 30 minutes, with Ashley doing something silly or making fun of me [J.P.]. I laugh and the argument is over. Ashley usually will make a funny face, or do a funny dance, or even just take my side of the argument and make fun of it. I try to hold back from laughing because I think I'm upset, but I'm never able to."
"The Bachelorette: Ashley & J.P.'s Wedding" airs Dec. 16 on ABC.
Click through the slideshow below to see photos of the couple.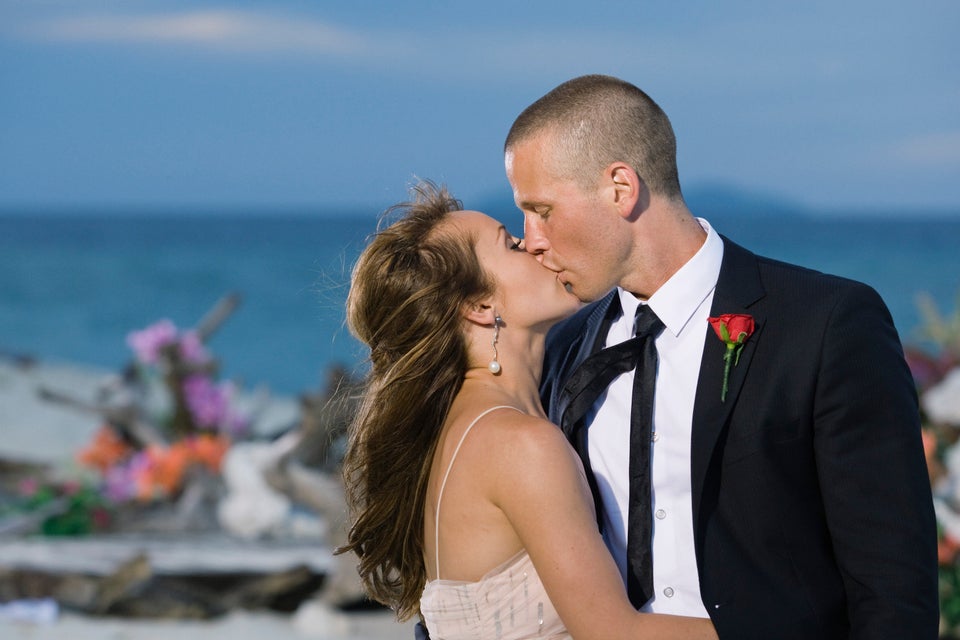 J.P and Ashley
Related