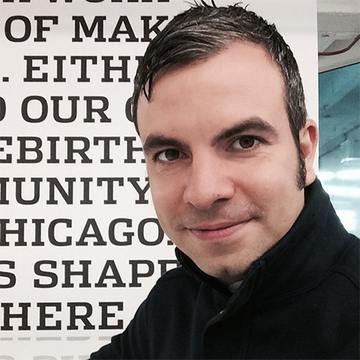 From his earliest days, JP Labrosse says, "I've been interested in doing work that has the potential for positive impact." Labrosse was the engineering team lead for two of the early Apple iPod products. He recalls, "Working at Apple was a highlight in my career. Our team was called 'Special Projects' with about 35 of us working in a separate building apart from the main Apple campus." He has since moved on to become a serial entrepreneur. His most recent innovation is the Stir Kinetic Standing Desk which launched in 2012. But his vision goes far beyond the office.
Labrosse says:
"At Stir, we see ourselves as a pioneer focused on the 'User Experience of Place' (UXoP). We want to positively amplify what people are doing, wherever they are. That first place is a desk." Labrosse coined the term 'User Experience of Place,' which sums up the vision that is leading his team in their goals for future innovations and products. He explains that "Within the User Experience of Place, it's not all about the product, it's about the interaction of technology without interruption. It's about how technologies can be there when we need them, yet be invisible when we don't."
Putting that principle to work with the new Stir desk involves their personalized technology coupled with the way the desk quietly moves for the user based on the user's preferences. Labrosse first used a height adjustable desk at Apple in 2002 and says the long work days didn't feel so exhausting while using that desk. He has been using height adjustable desks since then but the key to good health in regard to desks is actually in the movement of changing positions and most people (Labrosse included) don't adjust it frequently on their own.
He began to research and says, "I found this was very prevalent, about 70% of people with height adjustable desks were never moving them out of the seated position. It's analogous to exercise equipment, we all have good intentions but having the desk with a button doesn't mean we'll use it. I figured there was an opportunity to develop a desk that would be more much more engaging."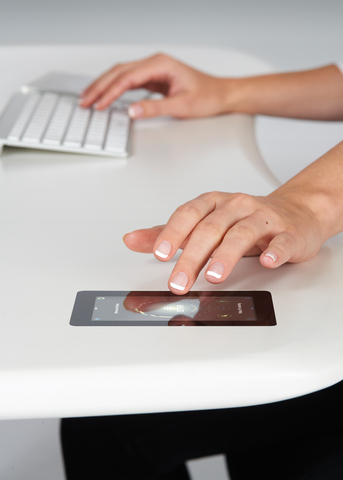 The Internet of Things
The timing seemed right for the Stir desk as the topic of the danger of a sedentary lifestyle was front and center in the media. Not only did changing desk positions have health benefits but Labrosse found that there's also an increase in productivity. He says, "There were opportunities within the 'Internet of Things' space. We could bring in sensing and quantification to develop a better product. The best products in the 'internet of things' space are things you barely notice, yet they are having a positive impact."
Music +Engineering = Innovation
Labrosse has always had a passion for music. He's been a drummer and percussionist for 30 years and sees a real synergy between music and design. "The great musicians and creators of music are designers of experience. My training in music solidified my process as a designer. Music is about having a visceral response and great products do that too. Improvisation drives innovation. The skills that a DJ uses to get groups of people to move together symphonically is a set of skills that entrepreneurs can utilize for building companies and keeping people moving together while creating something."
Labrosse has a degree in mechanical engineering and product design from Stanford. He started his first business when he was 19 yrs. old and has since been involved in building successful businesses in a diverse range of industries from toys to publishing and most recently a solar company acquired by First Solar in 2011.
Labrosse says all of Stir's future products will employ a new set of design rules for the Internet of Things space.
"Desks are a natural place to create a better experience because it's where a billion people spend something like half of their waking hours. It's where things happen in today's economies; where problems get solved, new ideas created, legacies built. We have solved the problem of getting people moving at desks and the roadmap moving ahead will be expanding the concept even more with glance-able access to information without attaching technology to your body."
Labrosse's New Set of Design Rules for Products in the 'Internet of Things' space:
1. Using Contextual Data for Personalization: There's an opportunity to meet the needs of individuals better rather than meeting an average need of a group of people.
2. Adapting and Anticipating: Spaces can respond to what's actually happening and make themselves better at meeting the needs of people within them.
3. Create Actionable Insights: There is the risk of data just for the sake of data but what matters is how it's used to make actionable insights and create positive change.
4. Interaction Without Interruption: The analogy with Sitr Desk is that you're working and the desk can communicate to you to invite you to move. We tried many different ways and landed on the 'whisper breath' technology. Its a haptic reminder to change things up and solves the problem of interaction without interruption.
5. Empowering the User: Our devices should be working for us.
Labrosse says, "70% of other desks don't get moved at all. With Stir desks, 95% of users change position on average once an hour, which health experts say is the ticket."
Connecting With Customers:

While Stir sells both direct to consumer online and wholesale through commercial dealers around the country, Labrosse is drawn to the online side because of the customer interaction. He says, "I look at all online comments. It's a designer's dream to see positive feedback about the impact the desk is having on people's lives. It's also been a great way to get ideas from customers. Connecting with customers and having a tight feedback loop is important in early stage business and a very rewarding part of our growth."
Company Culture:
Several members of the Stir team have worked together for many years. Labrosse says, "One of the things we are great at from a company culture standpoint is building a culture of innovation." Labrosse says this culture is beneficial because:
It creates a pipeline of products that we can develop.
We've found a way to engage every member of the team in creating a future for the company. We use an innovation database as an internal resource. Whether you are VP of Product or you are on front lines as customer service rep, there are great ideas and opportunities that come to light every day. It's part of our daily practice to catch those ideas and to sift through them. Everyone isn't just thinking about their specific area, they see the bigger picture. That's the exciting part of this company.
Labrosse says that one other part of their company culture that's effective is celebrating victories.
"When building a company, there's daily challenges that can be very difficult. So, we celebrate both big and small victories. We simply highlight something good that happened. Victories can be a giant product launch or a big sales win or a even a great call from a satisfied customer. Every few weeks we have an all company meeting and celebrate all of those victories. It's very invigorating and helps keep the focus on continuing to push the envelope."
Future Goals:
Labrosse says:
"We are looking at what other things might enable a better experience for people wherever they are. For example, open office environments are very popular, but there's lots of distracting sound. We have technologies that we are developing to address that issue. We also have a broader vision about how a product can recognize you and personalize your experience wherever you go. Whether you're walking into your own office or walking into a shared public space for the first time, our future products will recognize you and provide a truly personalized experience. That is what's exciting and this is the next frontier in terms of how these intelligent 'user experience of place' products can have a positive impact on daily experience.
Full Circle:
Labrosse says his parents have always served as a great inspiration. They have owned a French restaurant in Acton, MA. for 44 years. He started working there at a very young age and would spent his paychecks on music equipment. When he was 16 yrs. old., he moved from behind the scenes into the dining room as a waiter. He says his mother taught him right away about how to be the best waiter.
Labrosse says, "She explained that the best experience for customers is when they are in the mix of conversation and have no sense that the wait staff is very close by but the moment that their napkin drops, someone is there to catch it before it hits the ground."
It seems that his mom taught him way back then about what he now calls the 'User Experience of Place.' He says,"That restaurant interaction without interruption was the same principle. Now it's about how technologies can be there when we need them and be invisible when we don't."
REAL LIFE. REAL NEWS. REAL VOICES.
Help us tell more of the stories that matter from voices that too often remain unheard.