JPMorgan Chase has suffered big, unexpected losses at a closely watched trading desk, providing fodder to supporters of a new financial regulation the bank's CEO has loudly opposed.
The biggest U.S. bank by assets said on Thursday that it had lost $2 billion on bad bets on credit derivatives, made by a London trading desk, run by a man other traders have alternately dubbed "The London Whale" and "Voldemort." The office is intended to hedge the giant bank's credit risk, not increase it.
In a regulatory filing on Thursday, the bank said that, since the end of March, its chief investment office "has had significant mark-to-market losses in its synthetic credit portfolio, and this portfolio has proven to be riskier, more volatile and less effective as an economic hedge than the firm previously believed."
In a quickly scheduled conference call Thursday evening, CEO Jamie Dimon, who has been persistently critical of government efforts to regulate banks, said JPMorgan's trading losses were due to "egregious and self-inflicted mistakes," from trades that were "poorly executed and poorly monitored."
In recent months, news reports had alleged the office's trading desk was engaged in speculative trading, not hedging. Supporters of financial regulation used the reports as evidence of the need for the "Volcker Rule," a feature of the Dodd-Frank financial-reform act that would prohibit government-insured banks from taking big market bets with their own money. Critics of the Volcker Rule countered that banks sometimes need to be able to make big market bets as a way of hedging their risks. JPMorgan's losses suggest, at the very least, that even such a hedging operation can be subject to large, unexpected losses.
In the surprise conference call on Thursday, Dimon acknowledged the trading desk's losses, but said they did not change his opposition to Volcker Rule -- though he admitted they did not help his argument.
"It puts egg on our face, and we deserve any criticism we get," he added.
And the bank is already getting plenty of criticism. In an email to the Huffington Post, Dennis Kelleher, president of the financial-reform advocacy group Better Markets, said the bank's admission "shows the need for financial reform, especially a strong Volcker Rule, to limit such risky betting."
"Jamie Dimon and JP Morgan Chase just proved what anyone not getting a paycheck from a Wall Street bank already knows: gigantic too-big-to-fail banks are too-big-to-manage," he added. "They must not be allowed to continue to threaten our financial system and our economy."
"The enormous loss JP Morgan announced today is just the latest evidence that what banks call 'hedges' are often risky bets that so-called 'too big to fail' banks have no business making," Senator Carl Levin (D-Mich.) said in a press release.
Dimon said the bank had lost $2 billion on the bad bets since the end of March, offset by about $1 billion in separate gains, resulting in a net loss of about $1 billion. Such numbers are manageable, relative to the size of the bank's quarterly profit, but far larger than the bank, or most of Wall Street, expected.
JPMorgan Chase's share price tumbled more than 5 percent in extended New York trading, and other stock market futures were dragged down with it.
The London trading desk responsible for the loss was made infamous recently by stories by Bloomberg and the Wall Street Journal that said "The London Whale" had taken such large positions in credit derivatives that it was distorting the market for them.
JPMorgan Chase insisted at the time that the desk was doing nothing more than hedging credit risk for the rest of the firm. It also said it was "very comfortable" with the desk's positions. Dimon, in another conference call less than a month ago, called stories about the desk "a tempest in a teapot."
The Securities and Exchange Commission declined to comment on the news.
-- D.M. Levine contributed reporting to this story.
See below for Jamie Dimon hates on regulation: A history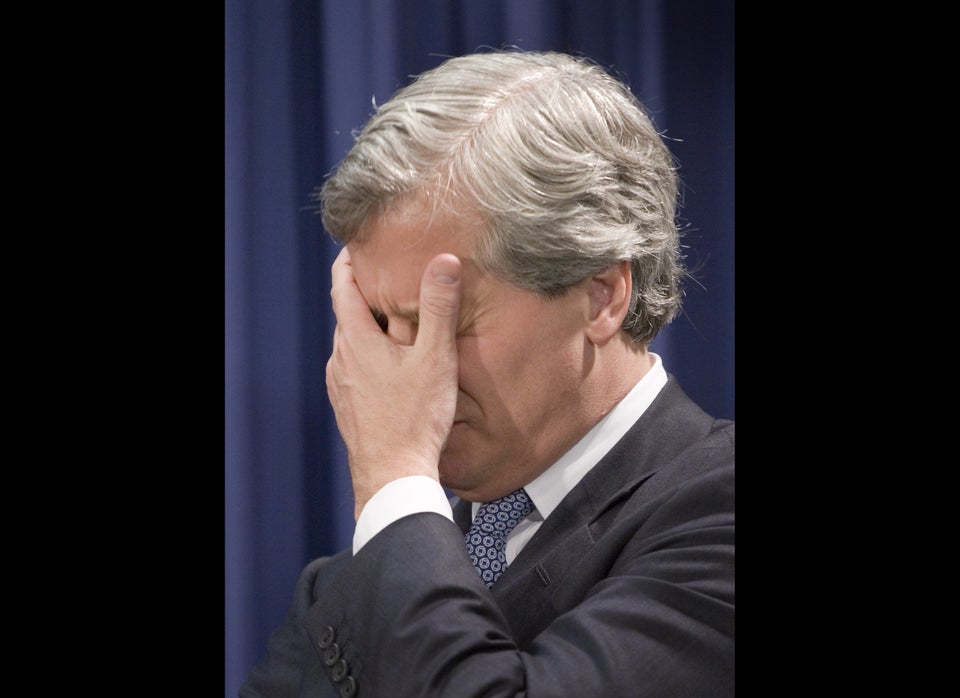 Jamie Dimon Hates On Regulation: A History
Support HuffPost
The Stakes Have Never Been Higher
Related
Popular in the Community