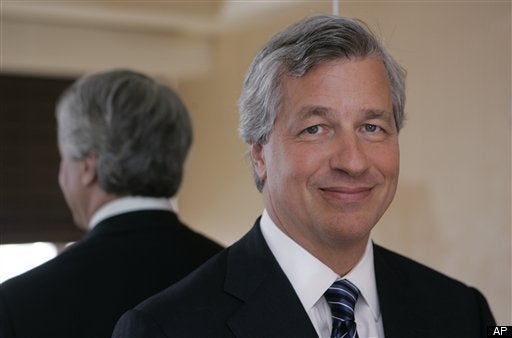 JPMorgan Chase, the nation's second-biggest bank by assets, beat estimates in reporting $4.8 billion in income last quarter, a 47 percent jump, as the bank largely benefitted from choosing to not set aside cash to cover future losses.
The firm said profits for 2010 reached $17.4 billion, a record for the lender.
The firm's revenues were up 13 percent last quarter, reflecting increased loan demand from businesses and households, and two percent for the year. Consumer loans were up eight percent. Mortgage applications rose 33 percent versus the same period last year.
JPMorgan Chase is largely seen as a barometer for the health of the economy, particularly when it comes to households. It's the third-biggest home mortgage lender, according to data compiled by Mortgagestats.com, and it has the third-most domestic deposits of any bank in the U.S., according to the Federal Deposit Insurance Corporation. The firm is also a leader in credit cards and personal loans.
The bank's increased lending likely boosts the case that the economy is indeed recovering: Increased demand for loans means more consumers and businesses have confidence to borrow, which means increased sales and, possibly, future hiring. During a conference call with bank analysts, JPMorgan chief executive Jamie Dimon said he sees increased lending this year.
"At the end of the day," said Christopher Whalen, a noted bank analyst at Institutional Risk Analytics, the bank is "a bet on whether the U.S. economy is going to see higher unemployment and lower home prices in 2011."
Whalen added that he thinks home prices will slide 10 percent this year, and that the bank's chief executive, Jamie Dimon, is being "too aggressive" in decreasing the amount of money it sets aside for future losses (which boosts its bottom line).
The bank set aside $3 billion to cover possible future losses; it reserved $7.3 billion during the same period last year.
"But JPM CEO Jamie Dimon is paid to walk the edge of the razor," Whalen said, referring to the bank's stock ticker. "So far, the credit picture from JPM is very upbeat, but we believe that caution is warranted."
For 2010, the lender set aside $16.6 billion for losses, compared to $32 billion the previous year. In a statement, the bank noted that fewer borrowers were falling behind on their obligations.
Fewer credit card users fell behind on their payments last quarter versus the period ending Sept. 30. And the drop was more pronounced when compared to the same period last year, when about 6.3 percent of credit card holders were at least 30 days late, versus 4.1 percent in the three months ending Dec. 31.
The bank put aside less money to cover increasing demands that it buy back soured mortgages it sold to investors and taxpayer-owned Fannie Mae and Freddie Mac. But it increased the money it set aside to cover the cost of litigation resulting from those very same issues.
JPMorgan had set aside $3.3 billion as of Sept. 30 to cover those buy-back requests after increasing it by about $1.5 billion that quarter. But even though demands to buy back bad mortgages climbed five percent to $1.6 billion, the lender only set aside an additional $349 million for future requests. After taking into account losses from such demands, JPMorgan actually has less money set aside today than it did Sept. 30.
Douglas Braunstein, the company's chief financial officer, said losses from Fannie and Freddie demands will soon recede. Dimon said he sees the issue stretching out another three years.
The bank's litigation expenses climbed to $1.5 billion last quarter. This year, it has collectively set aside about $5.8 billion to cover legal costs "predominantly for mortgage-related matters," it said.
The firm lost depositors last year as its deposits slid about one percent to $930 billion. Those choosing to bank with JPMorgan received on average 0.51 percent interest last quarter, two basis points lower than the same period last year.
Meanwhile, thanks to the Federal Reserve's policy to inject an additional $600 billion into the financial system and the rise in economic activity, interest rates rose, increasing JPMorgan's cost to fund its operations. That resulted in a narrower spread between what the bank pays to borrow and what it charges households and businesses, but it didn't lead to a decrease in profits.
The lender's consumer-oriented units made money last quarter, versus the same period last year when both the credit card and retail unit generated losses.
*************************
Related
Popular in the Community