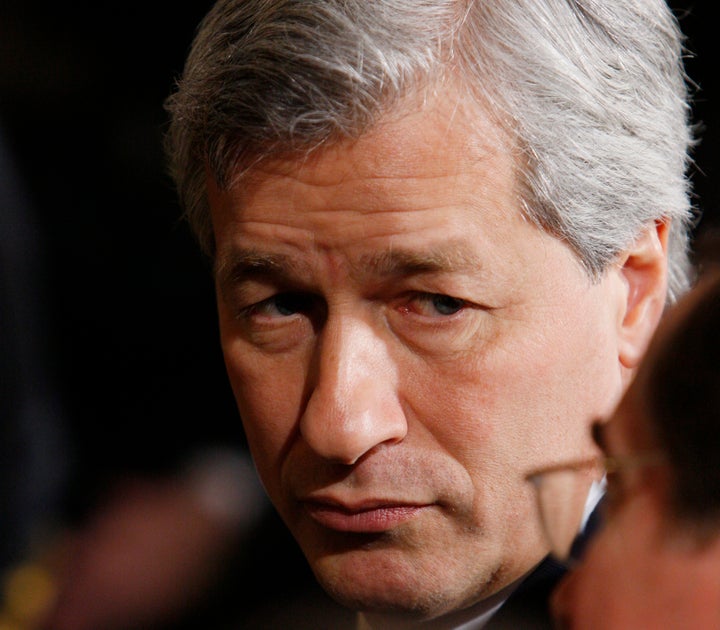 JPMorgan Chase, the nation's second-biggest bank by assets, exceeded Wall Street's expectations Wednesday, reporting surging profits and higher employee pay despite lower revenues and decreased lending as the lender set aside less money to cover losses.
The banking behemoth, which grew even larger in the three-month period ending in March, said profit skyrocketed to $5.6 billion, 67 percent more than the same period last year. The lender reported a profit-per-share of $1.28. Analysts forecast $1.16, according to Thomson Reuters.
JPMorgan is the first major financial firm to report its quarterly numbers, and analysts and investors traditionally consider the lender's results as a harbinger of other big banks' profits as well as a status check on the overall health of the economy. The $2.2 trillion bank has about 5,300 branches nationwide, 26.6 million checking accounts, and one of Wall Street's biggest trading and capital-raising units.
The New York-based lender was able to satisfy Wall Street's appetite for profits despite the ongoing economic duress thanks to a maneuver banks often employ to juice their profits.
Even though quarterly revenue decreased 8 percent compared to the same period last year to $25.8 billion, and profit before setting aside cash for sour loans shrank 19 percent to $9.8 billion, the lender set aside $5.8 billion less for possible losses.
That enabled the firm to report profits of $5.6 billion, whereas in the first quarter of last year JPMorgan said it earned $3.3 billion.
Banks make their money off loans, and big banks with robust Wall Street units add to that with trading and investing operations. JPMorgan said it had $686 billion in outstanding loans as of March 31, a decrease of about $28 billion, or 1 percent, from the same time last year.
JPMorgan arguably has more money to lend, though. Its deposits surged 8 percent to $996 billion, its highest ever, and it now has a deposits-to-loans ratio of 145 percent. This time last year the ratio was 130 percent. Banks use deposits, which pay low rates, to fund loans, booking the profit off the higher rates they charge borrowers.
Overall, banks are reporting lower loan volume as current loans are repaid and lenders aren't replenishing their accounts with new ones, Federal Reserve data show.
In a sign that perhaps the worst truly has passed, JPMorgan reported that fewer of its borrowers are falling behind on their payments, continuing the trend of the last few quarters. Fewer homeowners were late on their mortgages and delinquency rates on credit cards were also lower this past quarter.
But losses on JPMorgan's home-loan operations continue to mount. The firm said it set aside $1.1 billion for sour mortgages; $650 million to deal with what it termed "foreclosure-related matters" -- likely a reference to the ongoing multiple federal and state probes into the firm's shoddy foreclosure and mortgage practices; and $420 million to satisfy industry demands that it buy back toxic mortgages. JPMorgan has now set aside $3.5 billion in total to deal with such requests, a 75 percent increase from the $2.0 billion set aside as of last year.
JPMorgan chairman and chief executive Jamie Dimon said the firm is experiencing "extraordinarily high losses" on its home mortgage operations.
"Unfortunately, these losses will continue for a while," Dimon added. "Rest assured, we are fully engaged in fixing our problems and addressing our mistakes from the past."
The firm set aside $8.3 billion to pay its employees. Its compensation-to-revenue ratio increased 6 percent to 33 percent. Its traders and investment bankers took up 40 percent of their unit's revenues, an increase of 5 percent from the same period last year.
Elsewhere, JPMorgan reported that it earned 1.11 percent on its deposits with other banks, nearly doubling the rate the firm earned in the first quarter of last year.
But its own customers earned just 0.53 percent on their deposits at the banking giant, a paltry increase of just 0.02 percent.
*************************
Related
Popular in the Community