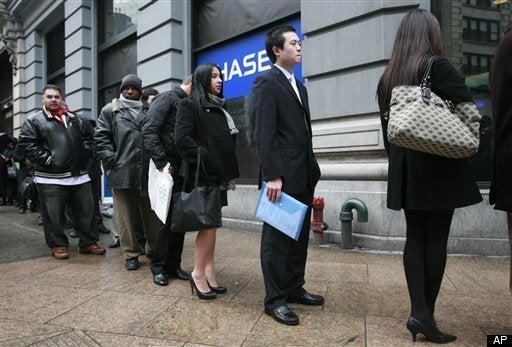 A recent report by JPMorgan Chase claims that the enhanced unemployment benefits which were enacted to fight the recession have actually increased the unemployment rate by 1.5 percent.
Since the start of the recession, Congress has passed several measures that ultimately have increased the length of time a person can receive unemployment benefits to 99 weeks in some states, with 53 of those weeks fully paid for by the federal government. Congress passes these measures with broad bipartisan support because unemployment benefits are widely regarded by economists to be among the most effective forms of economic stimulus, since benefits recipients immediately plow the money back into the economy by using it to pay for things like rent and food.
JPMorgan's analyst looks at it a different way: "[T]he availability of these benefits has almost certainly played a significant role in the record rise in the duration of unemployment," the report says. "Consequently, they have also had a role in the stunning rise in the unemployment rate over the last two years."
The two-page report also suggests that the "jobless recovery" we've so far witnessed -- expanding national output but stagnant job growth -- is also the fault of the extended benefits, since laid-off workers are spending the money they receive but not taking available jobs. "[T]he program's support to consumption and restraint on forming employment matches may have a role in explaining the good growth/great productivity/bad labor market nexus that has characterized the recovery so far."
More than six million people -- 40 percent of the total unemployed -- have been out of work for longer than six months. Per JPMorgan's report, some of those people are counted as unemployed because the benefits they receive may encourage them to continue to seek jobs (people who have given up hope of finding work are not counted as unemployed). But some of the unemployed are just being picky:
By softening the blow of losing a job, unemployment benefits "allow unemployed persons to become more selective in what job offer they accept, thereby raising the average duration of unemployment and increasing the unemployment rate," the report says.
"It's absolute hooey," said Judy Conti, a lobbyist for the National Employment Law Project, which advocates for increased aid to laid-off workers. Conti said that recipients of unemployment benefits do, in fact, spend more time unemployed -- but only in a normal jobs climate with an unemployment rate near 4 or 5 percent, not in a market with almost six jobseekers for every available job. "We have an economy where white-collar workers are happy to take inferior jobs in some circumstances because that's what's out there."
A bill extending eligibility for Emergency Unemployment Compensation -- those 53 weeks of federally-funded benefits -- is currently languishing while the Senate debates a health reform reconciliation bill to improve the measure signed into law by the president on Tuesday. If the Senate doesn't take up the extension, eligibility for those unemployment-boosting benefits will begin to expire on April 5, while Congress is in the middle of a two-week break.
The economist who wrote the report for JPMorgan has a knack for counterintuitive analysis -- he reported last week that lending to businesses by big banks had, in fact, increased in February, a conclusion the Wall Street Journal noted "seems to fly in the face of weekly Fed reports which show outstanding commercial and industrial loans on bank balance sheets have contracted since October."