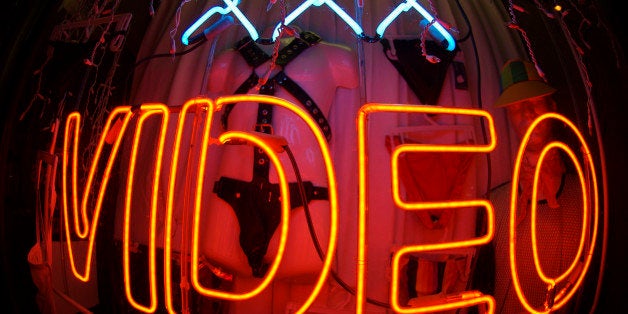 The adult movie business in the United States, as NBC News reported earlier this year, is grappling with tough times "because of piracy and an abundance of free content on the Internet." CNBC noted in March:
Income in the adult film industry is down by 50 percent from about a decade ago due to shrinking profits. Only a few performers are lucky enough to be on the A-list. . . . The rest, on average, earn a yearly salary of just around $50,000--a few thousand dollars shy of the national median household income--and, of course, have no pension plan or 401(k) plan.
Now, it's just gotten a whole lot harder for some of those performers to find a bank to park their cash. As if to add further financial insult to an already injured and consolidating industry, the leading adult trade publications in Southern California, AVN and XBIZ, reported in late April that JPMorgan Chase is sending letters to performers terminating their bank accounts. According to VICE News, word is "surfacing that shows the US Department of Justice may be strong-arming banks into banning porn stars" as part of Operation Choke Point. As The Huffington Post reported, that operation "attempts to curb money laundering by scrutinizing banks and payment processors that facilitate transactions with illegal businesses -- petty fraudsters running payday lending scams, sham telemarketing operations and other shady groups."
Well, it now seems that adult stars are being lumped together with "shady groups," despite the fact that their business is perfectly legal. Of course, it's hard for some people, based upon their moral or religious grounds, to feel any sympathy for people who make their living on their backs and knees. But the current actions taken by JPMorgan Chase fit a larger pattern, according to Mark Kernes, senior editor for legal affairs for AVN Media Network and AVN.com.

"The adult industry has a long history of being discriminated against by banks and credit card companies. Several years ago, American Express canceled the billing services it had previously been providing to adult retailers and webmasters, and I believe some other credit card companies have followed suit. And last year at about this time, City National Bank canceled the checking account of, and denied a home loan to, popular actress Chanel Preston without providing a legitimate reason," Kernes told me in a recent email.

Kernes, who has reported for more than 20 years on legal issues facing the adult entertainment industry, pointed out in that email that the Federal Deposit Insurance Corporation lists pornography as "merchant categories that have been associated with high-risk activity." In an April 28 article on AVN, Kernes elaborates that "from the few industry members who've had their bank accounts closed who were willing to speak to AVN, the most common excuse given to them for the closures has been 'risk management,' the exact reason cited in the FDIC memo for why banks should avoid doing business with any type of company on the FDIC's 'blacklist.'"

Although Kernes said he is "unclear how much government pressure is being brought to bear on" JPMorgan Chase, he stresses that "for the banks to claim that the government wants them to cancel adult industry members' accounts as part of the 'risk management' mandated by Operation Choke Point is absurd, and certainly a type of class discrimination on the banks' part."

For now, the letters are coming to some to porn stars. After receiving a notice from JPMorgan Chase, performer Teagan Presley called the bank and, according to XBIZ, was told "that because I am, I guess, public and am recognizable in the adult business, they're closing my account." As Kernes writes on AVN, "it's not as if the banks have necessarily experienced any problems with the porn people's accounts; it's apparently just that they work in the 'pornography' business or are related to someone who does, and 'pornography' appears on the FDIC's blacklist."

Regardless of one's personal views about either adult movies or their performers, one must wonder whether JPMorgan Chase, which reportedly paid more than $20 billion in penalties and settlements in 2013 alone, might have more important things to do, like cleaning up its own financial house. And if the Department of Justice really is pressuring banks to target members of the adult industry, then surely its priorities might need to be recalibrated. Similarly, if it turns out the pressure is due to the FDIC's blacklisting of pornography, then it sadly reflects a guilt-by-association mentality; if one works in the adult industry, no matter what segment of it, then one must also be blacklisted.

We're not likely to see any politicians or lawmakers, however, coming to the defense of the adult stars and questioning JPMorgan Chase about why the performers are being targeted. After all, there aren't too many cars on the road today, be it in the Porn Valley of San Fernando or elsewhere, sporting bumper stickers proclaiming "I Watch Porn and I Vote."
Popular in the Community