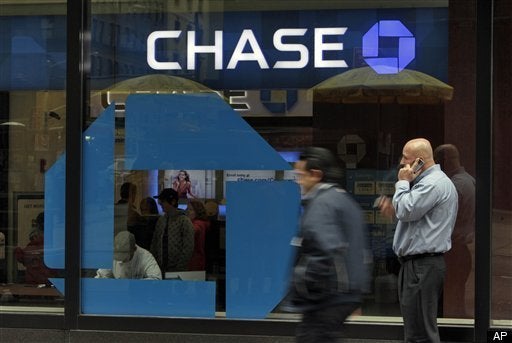 The nation's second-biggest bank is warning investors that underwater homeowners may walk away from their mortgages.
In a Monday filing with the Securities and Exchange Commission, JPMorgan Chase told investors and regulators that homeowners who owe more on their mortgages than their homes are worth may not continue to make their payments -- even when they're able to.
"Declining home prices have had a significant impact on the collateral value underlying the firm's residential real estate loan portfolio," the bank stated. "In general, the delinquency rate for loans with high LTV [loan-to-value] ratios is greater than the delinquency rate for loans in which the borrower has equity in the collateral.
"While a large portion of the loans with estimated LTV ratios greater than 100% continue to pay and are current, the continued willingness and ability of these borrowers to pay is currently uncertain."
Because of its size and reach, the bank, with more than $2 trillion in assets, is a bellwether for the industry, as well as for the broader economy. If the financial services giant can't reassure investors that underwater homeowners will continue to be willing to make their payments, it's a sign of how much the recent phenomenon of "strategic defaults" has grown.
About one in eight defaults in February were strategic, according to an April 29 research note by a team of Morgan Stanley analysts led by Vishwanath Tirupattur. Strategic defaults are those in which the homeowner could have continued to make payments but chose not to. The rate of strategic defaults has tripled since mid-2007, notes Tirupattur.
Underwater homeowners, those whose homes are worth less than the mortgage, now comprise about a quarter of all homeowners with a mortgage, or about 11.3 million homeowners, according to CoreLogic, a real estate research firm. Another 2.3 million have less than five percent equity in their homes (for example, a homeowner who owes more than $285,000 on a $300,000 house). All told, about 29 percent of all homeowners with a mortgage are either underwater or very close to it.
These are the homeowners most likely to strategically default, research shows. In fact, the deeper underwater homeowners are, the more likely they'll walk away from their mortgage, according to findings by a team of academics at Northwestern University and the University of Chicago.
"Such so-called strategic defaults, once rare, are now common enough to jeopardize the already-weak housing and mortgage markets," wrote economists Celia Chen and Cristian deRitis of Moody's Economy.com in an April 13 note. "If the trend continues, strategic defaults could both accelerate the pace of home foreclosures and also make it harder for new borrowers to obtain mortgages. Both factors would in turn worsen the decline in house prices."
For JPMorgan Chase, the problem is getting worse.
As of March 31, 27 percent of the home mortgages in its consumer credit portfolio were worth more than than underlying property, meaning those homeowners are underwater, according to the bank's Monday filing with the SEC. At the end of the previous quarter, which ended Dec. 31 of last year, that rate stood at 26 percent, according to the bank's filing.
Those numbers don't include mortgages the bank acquired through its taxpayer-assisted purchase of failed lender Washington Mutual, the biggest bank failure in U.S. history, or those insured by U.S. government agencies or mortgage giants Fannie Mae and Freddie Mac -- taxpayers ultimately will pick up whatever losses the bank experiences on those mortgages.
JPMorgan's Washington Mutual loans, though, are detailed in the bank's SEC filing -- and they're even worse than JPMorgan mortgages: The entire portfolio -- $98 billion of unpaid mortgage principal -- is underwater.
And those mortgages are even deeper underwater at the end of this year's first quarter than they were at the end of last year's fourth quarter. The options ARMs loan-to-value ratio was at 113 percent, meaning they were 13 percent underwater; now they're at 119 percent, according to JPMorgan's Monday filing. Home equity loans were 15 percent underwater; now they're 20 percent. Prime mortgages were at 6 percent; they've climbed to 11 percent. Subprime jumped from 10 percent underwater to 13 percent.
A review of recent SEC filings from the three other banks holding at least $1 trillion in assets -- Bank of America, Wells Fargo and Citigroup -- did not yield any similar statements warning investors about homeowners walking away from their mortgages.
But the threat posed by strategic defaults has gotten so large that a top executive at taxpayer-supported Freddie Mac posted a note on the firm's website pleading with homeowners to not intentionally walk away from their homes.
"Knowing the costs and factoring in the time horizon, some borrowers have made the calculation that it is better to purposely default on the mortgage. While I understand how that might well be a good decision for certain borrowers, that doesn't make it good social policy," argued Freddie executive vice president Don Bisenius in a May 3 note. His main argument? It affects neighbors' property values.
In a March 8 note, Bisenius contrasted strategic defaulters with "responsible" homeowners.
"But unlike some who walk away from their mortgage obligations -- a practice known as strategic defaults -- most responsible homeowners pay their mortgage regardless of current property values," he wrote.
The firm identified the risk as early as March 2008. But during a conference call with investors and analysts, Dick Syron, Freddie's former chairman and CEO, in noting that the firm had seen a rise, used different terminology to phrase it.
"[T]he term that['s] used for people walking away when they are caught up upside down, more
frequently used in autos than it is in homes, is ruthlessness. Right? And we are seeing an increase in ruthlessness and I think, it is probably not just speculators or investors, but [I] think it is a different period and the changes... we have seen an enormous amount... [have] the potential for changing consumer behavior," Syron said according to a transcript of the call.
It's that change that JPMorgan Chase is warning its investors about.
Popular in the Community