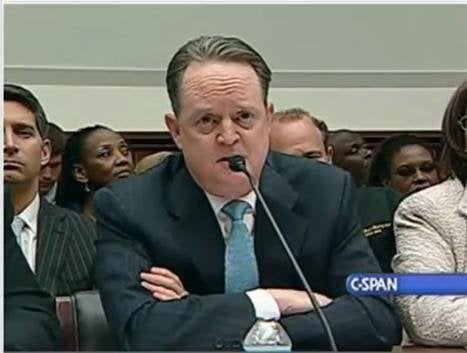 David Lowman, chief executive for JPMorgan Chase's home mortgage division, may have gotten a little ahead of himself at yesterday's House Financial Services hearing yesterday. When Representative Barney Frank asked Lowman whom homeowners should turn to to address concerns and to get some resolution on unanswered questions, Lowman offered, "Come to me." About 50 people in audience took him up on the offer after the meeting adjourned. So, Lowman, fled right the hell out of there!
Here's a video of the exchange between Frank and Lowman:
FRANK: I was approached yesterday, I believe, in my office in Newton, by an attorney who reported to me that he's got people who are in modification programs with Chase who are still getting collection letters. I'm wondering if you would know about that, or how do we solve that. I assume it's not appropriate.
LOWMAN: We do make mistakes. We're dealing with a lot of customers and a lot of transactions. I would be happy to address --
FRANK: Along those same lines, I've also been told by a national organization, NACA, that does a lot of work here, that they've had difficulty getting some answers on some pending requests for modification towards...is there a channel? What do people do when they don't get the answers that they thought they were going to get? Who do they talk to?
LOWMAN: Well, we have a special group that deals specifically with community groups, including NACA, and through those channels is how you would --
FRANK: Apparently, you know, in some cases, the channels aren't working, is there an appeal, or what do they do if they're feeling frustrated.
LOWMAN: Come to me!
Minutes later, around 50 borrowers burst from the audience and presented Lowman with a 6-page document alleging his bank reneged on a pledge to help struggling homeowners.

The activist who organized the protest said Lowman did not want to talk and left the hearing.

"He ran. He ran like a dog with its tail between his legs," said Bruce Marks of the Neighborhood Assistance Corporation of America (NACA), which helps homeowners avoid foreclosure. "He was scared to death because he doesn't really want to talk to homeowners."
And that's the story of JPMorgan Chase's innovative "Come To Me With Your Complaints" customer service program, which lasted about 30 seconds.
Popular in the Community