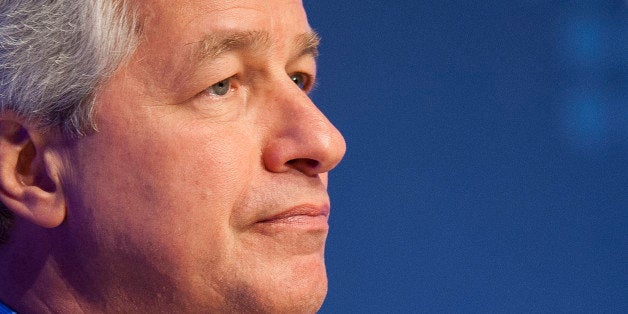 JPMorgan Chase has racked up more than $31 billion in fines, penalties and legal settlements since 2009, according to a rough tally by The Huffington Post -- evidence the bank is too big to be safely managed.
Like pretty much every other day, Thursday was another bad-news day for America's biggest bank. The New York Times reported JPMorgan might be criminally charged for allegedly ignoring Bernie Madoff's Ponzi-scheming through a big chunk of the 2000s. This came just days after the bank cut a deal with federal regulators to pay $13 billion to settle charges it knowingly sold bad mortgage bonds ahead of the financial crisis. The bank is also close to settling similar mortgage-related claims with a group of private investors for nearly $6 billion, The Wall Street Journal reported on Thursday.
These latest estimated settlements -- along with dozens of other settlements that have included fines and restitution paid to regulators, investors and homeowners in the U.S., U.K. and elsewhere in the past five years -- have ballooned JPMorgan's total legal costs during that time to about $31.3 billion, by our count. The recent figures do not include the many investigations still ongoing, including probes into alleged manipulation of the LIBOR interest rate, alleged bribery in China and more. (Story continues after the infographic.)
A JPMorgan spokesman pointed HuffPost to the bank's regulatory filings, in which it periodically tells investors how much money it sets aside for legal costs. The bank earlier this month said it had $23 billion in reserves for such costs. The spokesman also pointed to CEO Jamie Dimon's annual letters to investors, in which Dimon discusses the pros and cons of being ginormous. The pros obviously include being able to digest $31 billion in legal costs with hardly any discomfort.
If you get all your news from the financial press, you might have the mistaken idea that these legal costs are the petty punishments of a government that hates success and redistributes wealth. Jon Stewart on Wednesday documented the spectacle of Jim Cramer, Maria Bartiromo, Charlie Gasparino and other JPMorgan apologists in financial news rushing to the bank's defense. Another member of JPMorgan's PR team, America's cuddliest capitalist, Warren Buffett, has also moaned this week about the shoddy treatment of JPMorgan and its sainted CEO.
As Stewart eloquently put it, "F*ck all y'all."
And, yes, $30 billion is a lot of money. But that $30 billion is just the cost of doing business for JPMorgan, which has netted about $82 billion in profit since 2009. That figure includes the bank's $400 million loss in the third quarter, the one time the bank's legal headaches finally hurt its bottom line. The bank's stock price is near an all-time high, proving just how much damage these costs are doing -- by which we mean none.
To bleeding-heart liberals, the bank's missteps, including the complete management failure that led to the London Whale debacle, are reason enough for Dimon to lose his job. Losses like those in the third quarter might help convince more conservative types of the same thing. But as ProPublica's Jesse Eisinger points out, Dimon's job is probably safe. Nobody at the bank is calling for his head, and if Lloyd Blankfein can survive the whole "Vampire Squid" era at Goldman Sachs, then Dimon can probably survive this.
Anyway, firing Dimon might send a very useful message, but it will probably not keep the bank out of trouble. When you've got a global outfit with $2.4 trillion in assets, populated by bankers incentivized to take risks and push regulatory envelopes to keep turning profits, you're going to break rules. The bigger the bank, the more rules get broken.
So the problem is not so much Dimon, but the fact that the bank is simply too big to fail and/or jail. A mere $30 billion in fines is plainly not enough to change the bank's course significantly. Getting it to admit wrongdoing, as the Securities and Exchange Commission has admirably done, won't change much, either. Prosecuting the bank for crimes might make a difference, but it is doubtful the Justice Department is going to take that risk.
If there's a silver lining, it's that the $30 billion in legal costs, along with JPMorgan's sinking reputation, have at least pushed the bank to keep a closer eye on its bankers and their rule compliance -- at least for the moment, while we're all paying attention. The bank is also dumping some businesses, including commodities warehousing and private equity, partly to avoid more regulatory stinkeye. That is helping keep it from getting any bigger, at the very least. So, there's that.
Calling all HuffPost superfans!
Sign up for membership to become a founding member and help shape HuffPost's next chapter