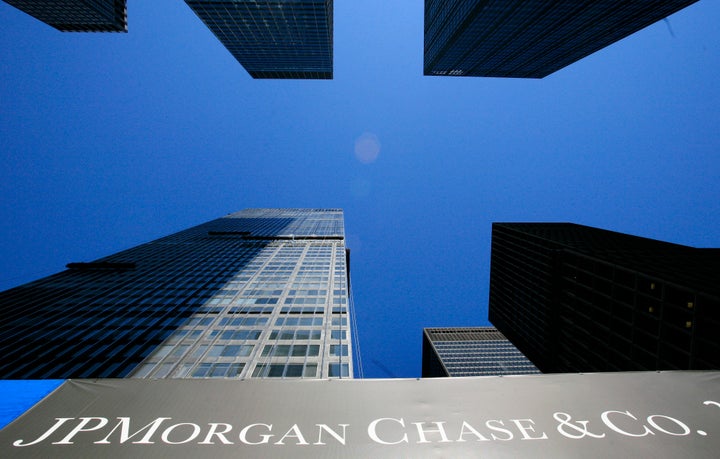 JNEW YORK (By Claire Baldwin) - JPMorgan Chase & Co posted a 67 percent increase in first-quarter earnings, topping Wall Street expectations, as it set aside less money to cover bad loans.
But the news was not all positive for the second-largest U.S. bank. It said it was still suffering from high mortgage losses. The bank's book of consumer loans shrank by 10 percent in the quarter, and loans to companies did not rise enough to offset that.
But the results were good enough to lift JPMorgan shares 1.2 percent in premarket trading. JPMorgan is the first of the big banks to post quarterly results, and its earnings often give investors a hint of what to expect from other financial companies.
"These were good numbers. They beat estimates, but not massively. I think the financial sector generally is holding up but is not performing quite as well as we would like to see," said Peter Dixon, an economist at Commerzbank in London.
JPMorgan said it earned $5.56 billion, or $1.28 a share, up from $3.33 billion, or 74 cents a share, in the same quarter last year.
Wall Street analysts, on average, had expected $1.16 per share.
The bank set aside just $1.17 billion to cover bad loans, down from $7.01 billion a year earlier.
Chief Executive Jamie Dimon is often credited with skillfully piloting his bank through the financial crisis, but many investors are now looking for signs of revenue growth.
In recent quarters, the bank has boosted profit mainly by setting aside less money to cover credit losses, rather than by generating more money from new customers.
Pre-provision profit, a measure of how much money the bank earns before accounting for credit losses, fell 20 percent to $9.23 billion. Loans on the bank's books fell 4 percent to $686 billion, indicating demand for loans is tepid compared with how quickly existing loans are being repaid.
"The key is loan growth," said Adrian Cronje, chief investment officer at wealth management firm Balentine in Atlanta.
"That's what will ultimately turn this recovery into a durable expansion, but it seems like that's not yet happening."
JPMorgan's investment banking profits fell to $2.37 billion from $2.47 billion a year earlier.
(Reporting by Clare Baldwin; editing by John Wallace)
Popular in the Community