 That didn't take long. Less than a week after JPMorgan Chase disclosed massive trading losses, investors who own bank stock have filed three different lawsuits alleging that bank officers failed to disclose information about the bad trade, which led to a sharp decline in the share price.
The shareholder suits, filed in U.S. District Court in Manhattan this week, claim that the bank misled investors ahead of its surprise announcement last Thursday that it lost $2 billion.
"The suits are going to pile up and pile up fast," said Dennis Kelleher, CEO of Better Markets, a nonprofit focused on financial reform. "It's no surprise that there are lawsuits, and there are going to be many more because in April, the CFO and CEO said that there was no risk. A 'tempest in a teapot' is what Jamie Dimon said."
Kelleher added, "And then a month later he said, 'Oops, the teapot blew up and it's going to cost you all a lot of money and we don't know what we're doing."
The first case to hit the dockets was a class action brought on Monday by Robbins Geller Rudman & Dowd, a well-known San Diego-based plaintiffs law firm, on behalf of investors who purchased JPMorgan stock between April 13 and May 11 of this year. The lawsuit alleges that JPMorgan CEO James Dimon and former Chief Investment Officer Ina R. Drew, along with others, "deceived the investing public regarding JPMorgan's business, operations and management."
Drew, who oversaw the division responsible for the massive losses, stepped down as Chief Investment Officer earlier this week. In a shareholders' meeting on Tuesday morning, Dimon sounded a note of contrition, as he had when news of the losses first broke last week. "This should never have happened," Dimon said. "I can't justify it and unfortunately these mistakes were self-inflicted."
The first lawsuit further alleges that Dimon and the others included misleading information about the bank's finances in company reports and press releases.
"Because of their possession of such information, the individual defendants knew or recklessly disregarded that the adverse facts specified herein had not been disclosed to, and were being concealed from, the investing public," the suit says.
Calls to lawyers for the plaintiff were not immediately returned. JPMorgan declined to comment on Wednesday.
The Wall Street Journal and Reuters reported on two other shareholder suits that were filed late Tuesday.
"What the Company did not reveal was that those losses were the result of a marked shift in the company's allowable risk model, undisclosed to investors, and the similarly clandestine conversion of a unit within the company that was touted as providing a conservative risk-reduction function into a risky, short-term trading enterprise that exposed the company to large losses instead," said one of the complaints.
After losing about 11 percent in the two trading days after the news of the loss broke, the stock rebounded more than 1 percent on Tuesday. That same day the FBI announced that it had opened an inquiry into the trading loss.
The central question in these cases and in the investigations begun by the FBI, SEC and Federal Reserve appear to be: Did the bank and its officers directly mislead the public and investors about the risks being taken by its chief investment office?
"What did [Dimon] know and when did he learn of the problems that caused the firm to become sufficiently concerned to begin unwinding its positions?" asked James Cox, a corporate and securities law professor at Duke University. "Was Dimon then just managing the press or managing the markets to aid in unwinding those transactions?"
The shareholders' suit brought on Monday by Robbins Geller points to excerpts of a transcript from a JPMorgan investor conference call with analysts and investors that took place in April. On the call, Dimon was asked about news reports that the CIO office was engaged in risky bets on credit derivatives. He downplayed the risks the London office was taking: "It's a complete tempest in a teapot. Every bank has a major portfolio; in those portfolios you make investments that you think are wise to offset your exposures."
Dimon has since apologized for the losses.
The plaintiffs seek unspecified monetary damages and a jury trial.
Emily Peck contributed reporting to this article.
Support HuffPost
The Stakes Have Never Been Higher
Related
Before You Go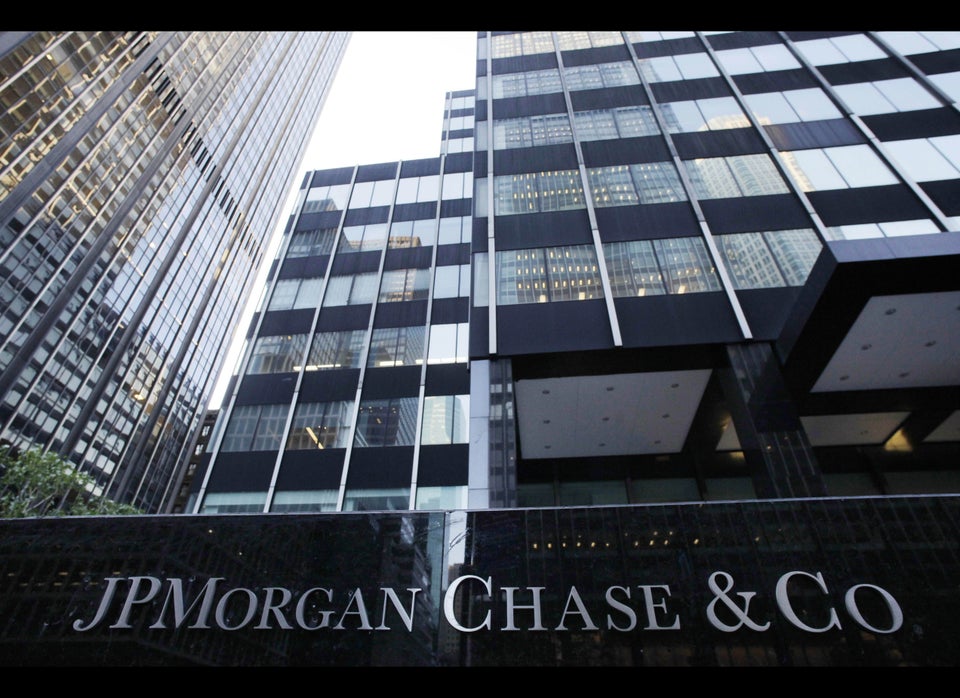 JPMorgan Whale Fail And Nine Other Big Bank Disasters
Popular in the Community