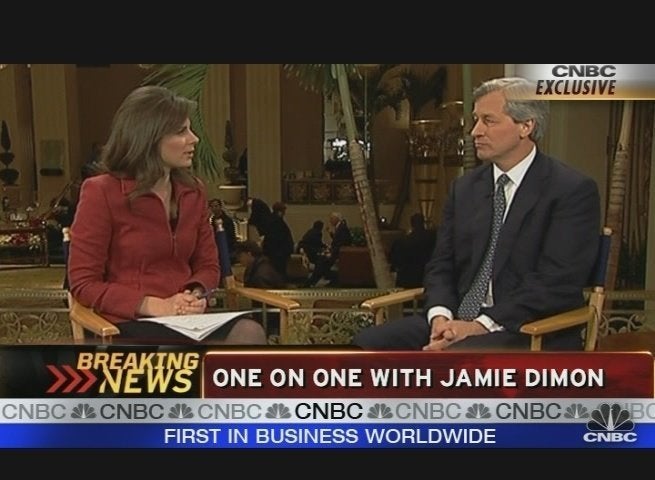 CNBC's Erin Burnett sat down for an exclusive interview with JPMorgan Chase CEO Jamie Dimon today, talking about a range of topics related to the financial crisis. Dimon seemed weary of answering questions -- particularly on TV, as he noted at one point -- but Burnett coaxed some interesting pieces of information out of Dimon.
For example, Dimon explains that while some are frustrated with banks that aren't using TARP money to lend, lend, lend, he and others in the financial industry have learned recently that there are some loans that shouldn't be made:
Also, Dimon does not see a depression happening, despite all of the negative economic indicators:
WHEN: Today, Thursday, Dec. 11th at 2:00 PM ET

WHERE: CNBC's "STREET SIGNS"

Following is the unofficial transcript of an exclusive CNBC interview with JP Morgan Chase Chairman & CEO Jamie Dimon on CNBC'S "Street Signs" today.

-----------------------------------------------------------------------------------------
ERIN BURNETT: MR. DIMON, THANK YOU SO MUCH FOR BEING WITH US. WE APPRECIATE YOU TAKING THE TIME. BAILOUTS, BAILOUTS, IS THE TALK OF EVERYONE RIGHT NOW. TODAY IN WASHINGTON, THE REAL QUESTION IS WHETHER OR NOT THIS BRIDGE LOAN TO THE AUTO COMPANIES IS GOING TO PASS. IF THIS THIS DOESN'T PASS, WOULD IT REALLY BE CATASTROPHIC FOR THE ECONOMY? OR IS THAT JUST FEAR?

JAMIE DIMON: I THINK IT DEPENDS ON HOW IT HAPPENS. I'M REALLY NOT AN EXERT IN THAT. BUT I THINK RIGHT NOW AT THIS TIME, IT WOULD BE PRETTY PAINFUL TO THE ECONOMY BECAUSE WE'RE ALREADY IN A SENSITIVE TIME. I KIND OF APPLAUD THE EFFORTS OF PEOPLE THAT TRY TO FIX IT AND, YOU KNOW, THESE CAR COMPANIES, TRY TO MAKE THEM HEALTHY SO GOING FORWARD WE DON'T HAVE TO DO THIS AGAIN.

BURNETT: DO YOU THINK PAUL VOLCKER IS THE RIGHT CAR CZAR?

DIMON: I HAVE NO IDEA.

BURNETT: IN TERMS OF BAILOUTS, THE TARP HAS A BAD REPUTATION IN THIS COUNTRY. THAT'S PART OF THE REASON THERE'S SO MUCH CONCERN ABOUT THE AUTO COMPANIES. YOU GOT $25 BILLION. IS IT ALL IN THE DOOR NOW, FULLY INVESTED, IT'S THERE?

DIMON: YEAH. FIRST OF ALL, WE DIDN'T ASK FOR IT, DIDN'T WANT IT, DIDN'T NEED IT OPINION WE WERE ASKED BY THE SECRETARY OF THE TREASURY, CHAIRMAN OF THE FEDERAL RESERVE TO DO THIS. THEY THOUGHT IT WOULD BE GOOD FOR THE SYSTEM. THEY WANTED ALL NINE OF US TO DO IT, BECAUSE THEY DIDN'T WANT TO HAVE A STIGMA OR ANYTHING ATTACHED TO PEOPLE AVOIDING IT.

BURNETT: BECAUSE THEY DIDN'T WANT TO EXPOSE THE GUYS THAT REALLY NEED IT?

DIMON: POSSIBLY. BUT WHEN THE GOVERNMENT ASKS YOU TO DO SOMETHING LIKE THAT, YOU WANT TO DO IT. WE AGREED. WE DIDN'T THINK JP MORGAN SHOULD BE SELFISH AND GET IN THE WAY OF WHAT THE GOVERNMENT WAS TRYING TO DO. WE DID GET THE MONEY. WE GOT $25 BILLION IN. WE'RE GOING TO TRY TO DO EXACTLY WHAT THEY WANT US TO DO, WHICH IS MAKE MORE LOANS, HELP THIS ECONOMY GROW. IN FACT, WE ARE MAKING A LOT MORE LOANS.

BURNETT: LET'S GET THE ANSWER TO THOSE QUESTIONS. IT'S VICIOUS ON CAPITOL HILL. HERE ARE A COUPLE OF QUOTES JUST FROM YESTERDAY WHEN THEY WERE TALKING ABOUT THE STATUS OF THE
T.A.R.P. KAREN MALONEY, DEMOCRATIC OF NEW YORK SAID, WE PUT 7.8 TRILLION WORTH OF TAX PAYERS'S MONEY OUT THERE FOR THE PURPOSE OF CREATING CREDIT. IT HAS BEEN A DISMAL FAILURE. DAVID SCOTT (D-GA.) SAID WE'VE BEEN LIED TO, WE'VE BEEN BAMBOOZLED. $25 BILLION IN FOR YOU. HAS IT GONE OUT THE DOOR IN LOANS?

DIMON: YOU'VE GOT $25 BILLION. WE HAD $150 BILLION IN CAPITAL AND WE HAVE $2 BILLION OF ASSETS. BUT OUR COMMERCIAL LOAN BALANCES ARE UP 18% THIS YEAR, A NUMBER LIKE $10 BILLION. HALF OF THAT IS FROM MUNICIPALITIES, HOSPITALS, PEOPLE IN NEED. WE JUST ANNOUNCED ANOTHER $5 BILLION PROGRAM. OUR CREDIT CARD LOANS ARE UP, OUR STUDENT LOANS ARE UP, OUR -- ALMOST EVERY CATEGORY -- LARGE CORPORATE LOANS ARE UP. WE HAVE TO DO IT SAFE AND SOUND. ONE OF THE WAYS WE GOT HERE IS BY UNSAFE LENDING. WE'RE TRYING TO DO IT THE RIGHT AWAY. IN SOME AREAS, YOU TIGHTEN UP. IN SOME AREAS, YOU MAKE LOANS. LAST QUARTER ALONE, I BELIEVE WE DID $8 BILLION IN NEW CREDIT CARD LINES. NEW ONES. THAT DOESN'T MEAN WE DIDN'T TIGHTEN UP OTHER ONES, BUT WE'RE TRYING TO DO THE RIGHT THINGS THAT MAKE SENSE FOR JPMORGAN BUT ALSO MAKE SENSE FOR THIS COUNTRY.

BURNETT: BECAUSE YOU'RE TRYING TOLL PEOPLE, GIVE ME $25 BILLION, IF I GO AND LEND IT RIGHT AWAY TO PEOPLE THAT WON'T PAY MONEY BACK, YOUR MONEY IS GONE. YOU'RE ASKING PEOPLE TO TRUST YOU.

DIMON: NOW YOU UNDERSTAND, PEOPLE WANT TO SEE ACCOUNTABILITY AND THEY HAVE THE RIGHT TO ASK THESE QUESTIONS AND GET RATIONALE ANSWERS. ANOTHER PLACE, I HEAR BANKS AREN'T LENDING TO EACH OTHER. I BELIEVE TODAY, IN THE LAST MONTH OR SO, WE'VE HAD $60 BILLION THAT WE LEND OUT EVERY NIGHT TO OTHER BANKS, $60 BILLION.

BURNETT: AND HOW DOES THAT COMPARE TO -- LET'S JUST SAY PRE-LEHMAN, PRE-LEHMAN AND POST-LEHMAN. WHAT WOULD THAT BE?

DIMON: PRE-LEHMAN, IT WAS $5 BILLION OR SOMETHING LIKE THAT. WE'RE TAKING A LOT OF THE EXTRA MONEY THAT WE HAVE FROM DEPOSITS, AND THE T.A.R.P. MONEY AND STUFF AND PUTTING IT IN THE INTERBANK MARKETS.

BURNETT: I'M GLAD YOU RAISED THAT POINT. A COUPLE OF WEEKS AGO, WE HAD ON BOND MANAGERS OF VANGUARD AND PIMCO. WE SAID, LET'S GRADE THE T.A.R.P. ON WHETHER BANKS ARE LENDING TO EACH OTHER AND BANKS ARE LENDING TO CONSUMERS. THEY GAVE IT A D AND AN "F" AND OVERALL THEY GRADE INFALTED IT TO A C PLUS. IT SOUNDS TO ME LIKE YOU'RE SAYING, GUYS, YOU'RE WRONG.

DIMON: NO. BECAUSE I DON'T KNOW WHAT EVERYBODY ELSE IS DOING. I DO THINK THERE'S A LOT OF MONEY SITTING AROUND WAITING TO GO BE PUT TO WORK. I DO THINK THAT OVER TIME THESE GOVERNMENT PROGRAMS ARE POWERFUL, THEY'RE LARGE AND I HOPE THEY'RE GOING TO BREAK THESE LOGJAMS AND REMEMBER, THE PEOPLE WHO WERE NOT DOING IT NOW, WHO WERE DOING IT BEFORE AND STOPPED DOING IT MAYBE WILL ONE DAY START INVESTING MONEY AND DOING THINGS AGAIN. SO IT'S JUST LIKE PUSHING A STRING. YOU WANT TO BE VERY CAREFUL AND SAY, YOU HAVE TO MAKE THESE LOANS, A LOT OF LOANS, A BANK HAS TO SAY NO. IT'S THE WRONG THING TO MAKE A LOAN THAT SOMEONE CAN'T AFFORD TO PAY BACK. WE'VE ALWAYS KNOWN THAT. WE'VE LEARNED OUR LESSON AGAIN THE HARD WAY IN SOME OF THE MORTGAGE MARKETS.

BURNETT: AND YOU GET FRUSTRATED WHEN YOU HEAR PEOPLE LIKE BARNEY FRANK HAS ACCUSED YOU OF HOARDING?

DIMON: I DON'T THINK HE'S ACCUSED US. I DON'T GET FRUSTRATED. I THINK BARNEY FRANK IS A SMART AS THEY COME CONGRESSMAN. THEY WERE RAISING RATIONAL ISSUES. AND THERE ARE RATIONAL ANSWERS. THERE IS NO COOKIE CUTTER APPROACH. THERE IS NO COOKIE CUTTER ANSWER. SO THERE ARE MAYBE PEOPLE OUT THERE HOARDING. I KNOW A LOT OF BANKS WHO SAY THEY AREN'T MAKING LOANS BECAUSE THEIR CLIENTS DON'T WANT IT. THESE ARE MOSTLY COMMERCIAL MIDDLE MARKET LOANS BECAUSE THERE CLIENTS ARE NO LONGER INVESTING. THEY'D BE WILLING TO MAKE THEM, THEY JUST DON'T HAVE THE CLIENTS ASKING FOR MORE MONEY. THEY'RE NOT INVESTING IN PLANT OR EQUIPMENT. AND WE HAVE A RECESSION AND THAT HAS A WHOLE OTHER ROUND OF IMPACTS.

BURNETT: FOR THE $25 BILLION, WOULD YOU BE WILLING AND ABLE TO SAY HERE IS THE $25 BILLION THE GOVERNMENT GOT AND I'M GOING TO ACCOUNT FOR THAT $25 BILLION. I'M GOING TO TELL YOU WHERE EVERY SINGLE DOLLAR OF IT WENT. IS THAT SOMETHING YOU WOULD BE ABLE TO AND WILLING TO DO?

DIMON: NO, BECAUSE WE'RE ABSOLUTELY WILLING AND ABLE TO DESCRIBE WHAT WE DO. BUT THE $25 BILLION -- THINK OF YOUR CHECKING ACCOUNT IF IT'S GOT $25,000 AND YOU MAY SPEND MILLIONS ON SOMETHING AS A BUSINESS, IT GOES IN A POOL. IT'S ONE OF A CERTAIN SUM OF MONEY. BUT IT'S CAPITAL, SO IT IS LEVERAGEBLE AT ONE POINT. BUT I JUST SAID, OUR COMMERCIAL LOANS ARE UP -- I THINK IT'S ALMOST $10 BILLION. OUR CREDIT CARD LOANS ARE UP YEAR OVER YEAR $5 BILLION. OUR INTERBANK LENDING IS $60 BILLION UP FROM A VERY SMALL NUMBER. WE'D BE HAPPY TO SHOW PEOPLE, THERE ARE LOANS ARE GOING UP AND WE'RE TRYING TO DO IT IN A CONSERVATIVE WAY. THERE ARE CERTAIN CATEGORIES DOWN A LITTLE BIT TOO. BUT IN TOTAL, OUR LOANS ARE UP. CONSUMER AND COMMERCIAL.

BURNETT: CONSUMER IS UP. SO -- DIMON: CREDIT CARD IS UP $5 MILLION. STUDENT LENDING IS UP. AUTO I THINK IS FLAT TO DOWN A LITTLE BIT, BUT WE'RE STILL MAKING A LOT OF AUTO LOANS.

BURNETT: JAMIE, I GUESS THE BIG QUESTION EVERYONE HAS IS HOW BAD IS IT OUT THERE FOR THE ECONOMY?

DIMON: YOU KNOW, IT'S REALLY HARD TO PREDICT. I'VE NEVER REALLY SEEN PEOPLE PREDICT THE ECONOMY SUCCESSFULLY.

BURNETT: I KNOW YOU ROLL YOUR EYES SOMETIMES.

DIMON: THAT'S ONE OF THE REASON WHY I DON'T REALLY LIKE TO GO ON TV. NO ONE REALLY KNOWS THE ANSWER. BUT WHAT WE HAVE SEEN IS A DRAMATIC DOWNTURN IN ALMOST EVERY SINGLE ECONOMIC INDICATOR THERE IS. CONSUMER SPEND, BUSINESS SPEND, FACTORY ORDERS AND IT'S GLOBAL. IT'S GOING TO SYNCHRONIZE. THE WHOLE WORLD NOW. JAPAN, EUROPE, AND YOU'RE GOING TO SEE A BIG SLOWDOWN IN INDIA AND CHINA. IT MAY NOT BE NEGATIVE, BUT A BIG SLOWDOWN. WE DON'T KNOW WHEN IT'S GOING TO LEVEL OFF OR TAKE OFF. I HAVE GREAT LONG-TERM FAITH IN THE AMERICAN ECONOMY. I JUST TRAVEL AROUND THE WORLD AND PEOPLE THINK AMERICA IS ON ITS LAST LEG. I'LL MAKE YOU A BET WE'RE THE FIRST TO RECOVER. WE'VE BEEN THROUGH TOUGH TIMES BEFORE. GOOD COMPANIES AND GOOD COUNTRIES THEY REFORM, THEY GET BETTER, THEY LEARN FROM THE PAST AND MOVE ON. I'M CONVINCED WE'RE GOING TO DO THAT. BUT WE'RE PREPARED FOR A TOUGH '09.

BURNETT: WHAT IS A TOUGH '09?

DIMON: IT'S ALL GOING TO BE UNEMPLOYMENT DRIVEN. AND BY THE WAY, IT'S FAR MORE, OUT OF RESPECT FOR PEOPLE LOSING THEIR JOBS, I HAVE FAR MORE SYMPATHY TO THEM THAN THEY DO TO US AS A LENDER. BUT IT'S ALL UNEMPLOYMENT. UNEMPLOYMENT WILL DRIVE COMMERCIAL LOSSES, REAL ESTATE LOSSES, ALL CONSUMER PRODUCT LOSSES, THEY'LL FOLLOW THE UNEMPLOYMENT TREND. IF WE'RE LUCKY, IT WILL HAVE TWO MORE QUARTERS OF THIS AND WE'LL START TO SEE A RECOVERY. I WOULD PUT IT IN THE LITTLE LUCKY CATEGORY. IT'S POSSIBLE IT'S GOING TO GET WORSE AND WE'RE IN FOR A TOUGHER TIME. AS A BUSINESS, WE HAVE TO BE PREPARED. WE CAN'T RUN THE BUSINESS SAYING, WELL, IF IT DOESN'T GET BETTER, WE'RE IN DEEP TROUBLE. WE HAVE TO RUN THE BUSINESS SAYING, WE CAN HANDLE WHATEVER THE ENVIRONMENT IS GOING TO BE OUT THERE.

BURNETT: SO WHEN YOU'RE LOOKING AT UNEMPLOYMENT, I KNOW NOW THERE'S DIFFERENT WAYS OF LOOKING AT IT. IF YOU COUNT PEOPLE WHO HAVE ALREADY GIVEN UP LOOKING FOR JOBS, YOU'RE ALREADY LOOKING AROUND 10% AND IT COULD GET WORSE. THE GREAT DEPRESSION WAS 25%. WE'VE ONLY HAD ONE DEPRESSION. DEFINING WHAT A DEPRESSION IS HARD TO DO. IS IT FAIR TO SAY, JUST BEING A TRUTH TELLER HERE, THAT WE'RE REALLY ON THE VERGE OF THAT SORT OF A SIGNIFICANT SEISMIC EVENT?

DIMON: NO. I THINK THE CHANCE OF A REAL DEPRESSION IS VERY, VERY SMALL. YOU NOW HAVE THE GOVERNMENTS AND THE CENTRAL BANKS OF THE WORLD PUTTING EVERY OUNCE AND EVERY FIBER TO STOP THE SNOWBALLING ECONOMY AND THEY'VE ALREADY PULLED OUT THE FINANCIAL SYSTEM. BUT IF YOU HAVE FISCAL STIMULATION AROUND THE WORLD, IT'S PRETTY POWERFUL STUFF. I THINK THEY'RE GOING TO DO WHAT THEY HAVE TO DO. WE KNOW A LOT MORE THAN WE KNEW THE LAST TIME WE HAD A DEPRESSION. I DON'T EXPECT A DEPRESSION.

BURNETT: WHAT ABOUT MORTGAGES? THERE'S ONE IMPORTANT STATISTIC HERE THAT EVERYONE HAS BEEN TALKING ABOUT. THE MORTGAGES IN THE FIRST QUARTER, A LOT OF PEOPLE CAME OUT AND SAID THEY'RE GOING TO REWORK MORTGAGES. 60% OF THOSE MORTGAGES ARE COMING BACK INTO FORECLOSURE NOW. THAT'S A STUNNINGLY DEPRESSING NUMBER. AND THE PRELIMINARY NUMBERS WE HAVE FOR THE SECOND QUARTER ARE ACTUALLY A LITTLE BIT WORSE. YOU HAVE YOUR OWN PLANS. WHAT'S YOUR NUMBER?

DIMON: THE FIRST THING IS, MORTGAGES CONTINUE TO DETERIORATE. THE CONSUMER SIDE, AND OBVIOUSLY THE VALUE OF THE HOMES, THOUGH IN SOME PLACE THERE ARE SIGNS, THERE ARE MORE SALES, THERE IS MORE ACTIVITY, THE ABILITY TO PAY IS MUCH HIGHER, MUCH EASIER FOR AMERICANS TO AFFORD AT THESE INTEREST RATES AND THESE LOWER HOME PRICES. THAT'S GOING TO GIVE A GREAT OPPORTUNITY TO A LOT YOUNGER PEOPLE, NEW FAMILIES TO BUY HOMES A LOT CHEAPER. WE HAVE A VERY CREATIVE FORECLOSURE PROGRAM, WHICH DOES NOT WAIT FOR YOU TO BE DELINQUENT. WE'RE TRYING TO, USING STATISTICS, ANALYZE TO SEE IF PEOPLE ARE GOING TO HAVE A PROBLEM, CONTACT THEM AHEAD OF TIME, A LOT OF THEM DON'T WANT TO RETURN OUR PHONE CALL, AND SAY, LOOK, BEFORE YOU GO DELINQUENT LET'S TALK ABOUT WHAT WE CAN DO FOR YOU. WE THINK WE'RE GOING TO TOUCH 600,000 MORTGAGES WHERE WE WILL REDUCE THE INTEREST OR MODIFY THE MORTGAGE IN A WAY THAT THEY NOW CAN PAY. WE UNDERWRITE THE MORTGAGE AGAIN, WE REAPPRAISE THEIR INCOME, THAT THEY WANT TO STAY IN THEIR HOME, WHAT THE REAL VALUE OF THE HOME IS. WE GO THROUGH ALL OF THAT AND THE REASON YOU HAVE THE RE-DEFAULTS, I THINK, SOME OF THE STUFF WAS DONE SLOPPY. AGAIN, YOU'VE GOT TO DO LENDING INTELLIGENTLY. BUT EVEN AT DEFAULT RATE, IF YOU SAVE 50%, IT'S STILL OKAY.

BURNETT: SO YOU'RE NUMBER IS NOT 60%?

DIMON: I BELIEVE IT'S CLOSER TO HALF THAT.

BURNETT: SO -- MEANING 30%?

DIMON: AND WE'VE HIRED 25 LOAN OFFICERS TO HELP PEOPLE. AND WE'RE DOING IT EVERY DAY TO TRY TO DO A BETTER JOB. IT'S PERSON BY PERSON. DO THEY WANT TO LIVE THERE -- DID THEY LIE ON THEIE INCOME, TO REDO THE ABILITY TO PAY AND TO TRY TO MAKE A GOOD, SAFE LOAN. IF THEY CAN'T DO THAT, THEY SHOULD DO SOMETHING DIFFERENT, WHETHER IT'S RENT OR WHATEVER.

BURNETT: RIGHT. SO 30% OF THE ONES THAT YOU'VE REWORKED ARE GOING INTO FORECLOSURE AGAIN.
THAT'S MUCH BETTER THAN THE OVERALL MARKET. ONE THING YOU MENTION WHEN YOU REWORK, WE'RE HEARING FROM THE GOVERNMENT THAT SAYS YOU CAN PAY A MORTGAGE BACK OVER 40 YEARS OR 50 YEARS AND YOU GET A LOT LOWER INTEREST RATE. BUT THERE IS A BIG PUSH TO REDUCE THE PRINCIPAL. PEOPLE'S HOMES WILL NEVER BE WORTH WHAT THEY PAID FOR THEM. YOU HAVEN'T DONE THAT. DOES IT NOT MAKE BUSINESS SENSE? DO YOU THINK THE COUNTRY SHOULD DO IT?

DIMON: THE IMPORTANT THING IS THE ABILITY TO PAY. SO IF I REDUCE THE CASH FLOWS THAT YOU HAVE TO PAY, IT DOESN'T MATTER IF I'VE USED THE PRINCIPLE OF THE CASH FLOWS. AS LONG AS OVER THE NEXT FIVE OR TEN YEARS, THAT BECOMES AN AFFORDABLE LOAN. SO THE BANK'S TRYING TO KEEP THE PRINCIPLE WHERE IT IS SO THEY DON'T LOSE MORE MONEY. THEY'RE GOING TO LOSE MONEY, ANYWAY, BY REWRITING THE LOAN. SO IT'S KIND OF -- MONEY'S -- IF I CUT THE COST OVER THE NEXT 10 YEARS BY $10 OR A CERTAIN PERCENT, THAT'S A SAVINGS --

BURNETT: SO YOU COULD CUT THE COST AT FULL?

DIMON: NO, YEAH, BUT WE PREFER IT TO DO IT THE OTHER WAY AROUND THIS WAY WE HAVE A CHANCE TO RECOVER -

BURNETT: AND YOU KEEP THE UPSIDE?

DIMON: WELL, WE KEEP SOME OF THE UPSIDE. REMEMBER, THE BANKS ARE LOSING ALL THE MONEY HERE. THERE ARE PEOPLE LOSING A LOT OF MONEY AND NOT ALL OF THOSE LOANS WENT TO PEOPLE WHO SHOULD HAVE THEM AND NOT ALL THE PEOPLE WHO TOOK OUT LOANS WERE GOOD BORROWERS. A LOT OF PEOPLE LIED ON THEIR INCOME. THEY LIED ON THEIR PURCHASE OF THEIR HOME. AND YOU KNOW, BAD UNDERWRITING BY BANKS THERE'S A LOT OF BLAME TO GO AROUND HERE. BUT I WOULDN'T FOCUS SO MUCH ON THE PRINCIPLE. YOU PUT SOMEONE IN A HOME THEY CAN NOW AFFORD AND THEY WANT TO STAY THERE. SO IF WE CUT THE INTEREST RATE, THAT CAN BE BETTER THAN CUTTING THE PRINCIPLE IN SOME CASES.

[COMMERICAL BREAK]

BURNETT: WELCOME BACK TO "STREET SIGNS." NOW AT THE YALE CEO SUMMIT AGAIN. WE'RE SITTING HERE WITH JAMIE DIMON, CHAIRMAN AND CEO OF JP MORGAN CHASE. TALKING ABOUT EVERYTHING
JAMIE, HOUSING PRICES. NEXT UP, YOU HAD SAID A FEW MONTHS AGO, YOU THOUGHT WE HAD
ANOTHER 25% OR SO TO GO DOWN. AND THAT WAS WHEN WE HAD ALREADY FALLEN 20% NATIONALLY IN THIS COUNTRY ON HOUSING PRICES. WHERE ARE WE NOW? HOW MUCH MORE ARE WE GOING TO SEE HOME PRICES DROP? I KNOW IT'S A NUMBER YOU MUST OBSESS OVER EVERY DAY.

DIMON: YEAH, I DON'T REMEMBER SAYING THAT NUMBER.

BURNETT: YOU WERE QUOTED. MAYBE YOU DIDN'T.

DIMON: AND I THINK, IT DEPENDS ON WHEN YOU GO BACK IN TIME, BUT THEY'RE GOING DOWN 3%, 4%, 5% A QUARTER NOW. YOU KNOW, IT IS POSSIBLE THEY GO DOWN 20% FROM HERE. IT'S POSSIBLE IT'S 10%. IT'S POSSIBLE IT'S -- BUT I JUST DON'T REALLY KNOW. BUT THAT PROBLEM IS CAUSING A LOT OF PROBLEMS IN COMMUNITIES, OBVIOUSLY, FOR HOMEOWNERS, TO LENDERS. SO YOU KNOW, STOPPING PRICES GOING DOWN WILL BE A VERY BIG FIX TO THIS WHOLE PROBLEM AND LOW MORTGAGE RATES IS VERY BENEFICIAL FOR THAT.

BURNETT: AND RIGHT NOW, THE GOVERNMENT PROGRAMS WE'VE SEEN, DO YOU APPLAUD THEM? YOU'RE SUPPORTIVE? OR WHAT IS THE ONE THING THAT YOU WOULD DO TO SAY THIS IS WHAT WE NEED TO DO DIFFERENTLY, RIGHT NOW, TO STOP PRICES FROM DROPPING?

DIMON: YOU KNOW, I THINK -- REMEMBER, THE FORECLOSURE, THE TIP OF THE ICEBERG. THE REAL PROBLEM IS ABILITY TO PAY AND THE COST OF HOMES. THE COST OF HOMES IS COMING DOWN
DRAMATICALLY AND THE ABILITY TO PAY, IF YOU HAVE A JOB -- IF YOU DON'T HAVE A JOB, OBVIOUSLY THAT'S GOING TO HURT THE ABILITY TO PAY, BUT THE COST OF THE MORTGAGE. SO IF MORTGAGES COST YOU 6% VERSUS 5% VERSUS 4.5%, THAT MAKES ALMOST -- THE 4.5% MAKES ALMOST EVERY HOUSE IN AMERICA REFINANCEABLE. THEY MAY NOT BE ABLE TO REFINANCE BECAUSE THEIR FICO SCORES OR THEIR HOUSE ISN'T WORTH IT --

BURNETT: BUT YOU THINK PEOPLE CAN PAY THAT RATE?

DIMON: YES. AND THE ABILITY TO PAY THAT RATE -- IT ALSO MAKES THE HOUSE, BY OUR ESTIMATE, I FORGET THE EXACT NUMBER, SOMETHING LIKE 10% OR 15% MORE AFFORDABLE. SO A LOT MORE PEOPLE CAN NOW BUY THAT HOME. THEY CAN FINANCE FOR A LONG PERIOD OF TIME. THEIR ABILITY TO PAY IS MUCH HIGHER AND EVENTUALLY THAT'LL STOP HOME PRICES FROM GOING DOWN, AND THAT'S THE BEST THING YOU CAN DO TO THE HOUSING MARKET, AND I THINK ULTIMATELY FOR THE ECONOMY. BUT I THINK SOME OF THESE PROGRAMS ARE DOING THAT INDIRECTLY. AND SOME OF THESE PROGRAMS, LIKE BUY MORTGAGES, WILL DO IT IN FACT DIRECTLY.

BURNETT: OBAMA'S STIMULUS PLAN AS PUT FORWARD. WHAT WERE YOU GOING TO ADVISE HIM IF YOU WERE TO SAY, "HERE IS THE SIZE I THINK IT SHOULD BE AND HERE IS SORT OF HOW I BREAK IT UP"?

DIMON: YOU KNOW, HE HAS A LOT OF VERY SMART PEOPLE WORKING FOR HIM NOW THAT KNOW MORE THAN I DO, INCLUDING TIM GEITHNER AND LARRY SUMMERS. AND THEY PUT IT THE BEST. I READ ONE OF THEM WROTE, "SIZABLE, SUSTAINED, SUBSTANTIAL, MEANINGFUL." AND THEY -- I'M NOT AN EXPERT IN THAT BUT, YOU KNOW, INFRASTRUCTURE IS SOMETHING TO CONSUMERS, THEY HAVE TO FIGURE THAT OUT. BUT I THINK WE SHOULD DO THAT NOW, MAKE SURE WE GET THE ECONOMY BACK ON A SOUND FOOTING. AND THEN, VERY IMPORTANTLY, FIGURE OUT HOW TO GET OFF OF ALL THIS AND HOW TO HAVE A REAL FISCAL RESPONSIBILITY AGAIN, BOTH FOR THE COUNTRY AND ALL THE COMPANIES ON THE T.A.R.P., ETCETERA.

BURNETT: YOU SAID TO CONSUMERS, YOU'RE BEING A STATESMAN. THERE'S LOTS OF WAYS YOU COULD DO THAT. YOU COULD GIVE THEM CHECKS, YOU COULD CUT THEIR TAXES. DO YOU THINK WE SHOULD HAVE A MASS TAX CUT?

DIMON: I THINK THAT SHOULD BE IN THE TOOL KIT, YES. AND I THINK IT SHOULD ONLY BE FOR LOWER PAID PEOPLE. OKAY -- YES, I THINK THIS AN IMPORTANT THING TO DO. PART OF THE PROBLEM WITH THE TAX CUT AGAIN YOU REALLY HAVE TO TALK TO THE EXPERTS. IF IT'S NOT SUSTAINABLE, AND YOU THINK YOU JUST GOING TO GET AN EXTRA $500, YOU MAY NOT SPEND THAT MONEY. BUT IF YOU THINK IT'S PERMANENT, YOU MAY LOOK AT IT A LITTLE BIT DIFFERENTLY IN HOW YOU TREAT IT. I THINK THEY HAVE TO GO THROUGH THAT. AND I'M A STUDENT OF THIS. I'M NOT AN EXPERT IN HOW YOU STIMULATE ECONOMIES.

BURNETT: BUT TAX CUTS FOR LOWER INCOME. AND WHAT ABOUT INFRASTRUCTURE? I MEAN, THERE IS A HUGE DEBATE THAT SOUNDS GREAT, BUT THERE'S THE QUESTION OF WHICH PROJECTS ARE READY TO GO. AND ARE THEY PROJECTS THAT REALLY DO HELP THIS COUNTRY IN THE FUTURE? ARE THEY KIND OF SILLY, FRIVOLOUS THINGS? DO YOU BELIEVE IN INFRASTRUCTURE AS A BIG PART OF A $500 BILLION PLUS PLAN?

DIMON: YEAH. THE POINT ABOUT INFRASTRUCTURE -- FIRST OF ALL, WE NEED INFRASTRUCTURE SPENDING. OUR ROADS, OUR ELECTRIC GRIDS, OUR HIGHWAYS, OUR AIRPORTS. SO TO ME, WE NEED TO BE DOING SOME OF THAT. AND I DON'T KNOW HOW FAST THE WORKS ARE READY TO GO. SOME OF THE EXPERTS, I'VE SPOKE TO SOME GOVERNORS AND MAYORS WHO SAY, "WE'VE GOT PROJECTS READY TO GO. THEY'RE ON THE DRAWING BOARD AND THEY'VE BEEN STOPPED OR IF WE GET THE EXTRA MONEY, WE'LL DO IT." SO I DON'T PERSONALLY KNOW, BUT IF THAT WERE TRUE AND THEY WERE GOOD PROJECTS, THAT WOULD GIVE YOU A GOOD SENSE OF COMFORT. IF IT'S A BRIDGE TO NOWHERE AND BECOMES PORK, IT WOULD BE ANOTHER HUGE MISTAKE FOR THIS COUNTRY.

BURNETT: A COUPLE OF QUESTIONS ABOUT YOU AND JPMORGAN PERSONALLY. THE FIRST ONE ON DEALS. OBVIOUSLY, YOU'VE BEEN IN THE ROOM WITH TIM GEITHNER AND HANK PAULSON AND EVERYONE ELSE, OR SHUTTLING AROUND IN ROOMS, FROM WHAT I HEAR HAPPENED BACK THIS FALL. BUT BEAR STEARNS, ORIGINALLY $2, THEN IT WAS $10. WASHINGTON MUTUAL, REPORTS ARE YOU PUT A BID ON THE TABLE FOR $8 BILLION IN THE SPRING AND YOU ENDED UP GETTING IT FOR $2 BILLION.
WHAT IS NEXT? IF I LOOK AT YOU VERSUS YOUR NOW, BIGGEST RIVAL, BANK OF AMERICA, YOU'RE MISSING ONE THING AND THAT'S A BROKERAGE UNIT.

DIMON: YOU KNOW, I'VE BEEN VERY CONSISTENT. I DON'T THINK A BROKERAGE UNIT IS A STRATEGIC IMPERATIVE FOR THIS COMPANY. WE'RE GOING TO BUILD A GREAT COMPANY REGARDLESS. YOU KNOW, IF SOMETHING COMES UP, WE HAVE AN OPPORTUNITY THAT MAKES SENSE FOR US,THE RIGHT PRICE SURE, WE'D CONSIDER. THAT'S OUR JOB TO CONSIDER THINGS. WE'RE PRETTY BUSY ON THE OTHER TWO, BY THE WAY, SO IT TAKES A LOT OF MANPOWER AND SYSTEMS AND TRADERS AND BANKERS AND
MARKETING PEOPLE. WE HAVE THOUSANDS OF PEOPLE EMPLOYED, STILL DIGESTING BEAR STEARNS AND WAMU.

BURNETT: IT'S ON TRACK?

DIMON: BEAR STEARNS HAS BEEN, YOU KNOW, A MUCH TOUGHER THAN WE PROBABLY ORIGINALLY ESTIMATED. WE'LL GET THE EARNINGS FOR SHAREHOLDERS, BUT THE COST OF DERISKING THE COMPANY IN THESE MARKETS HAS BEEN FAR MORE EXPENSIVE AND IT KIND OF USED UP ALL THE MARGIN FOR ERROR WE STARTED WITH.

BURNETT: MEANING THE $29 BILLION BACK, THE FED --

DIMON: LOOK, I THINK THAT'S THE EASY PART, OKAY? THE FED FINANCED $29 BILLION IN ASSETS.
I NEED TO GET ALL THE MONEY BACK. THEY CAN FINANCE IT VERY CHEAP. THEY'VE GOT STAYING POWER. WE FINANCED $250 BILLION OF ASSETS. WHICH WE HAD TO QUICKLY GET DOWN TO HALF THAT NUMBER. AND IN THAT PROCESS, IT PROBABLY COST US ONE WAY OR ANOTHER, $10 BILLION OR $15 BILLION. WE KNEW WE WERE TAKE THE RISK. WE'RE BIG BOYS. IT'S BEEN PAINFUL.

BURNETT: GOLDMAN OR MORGAN? ARE YOU, I GUESS, ALWAYS LOOKING, ALWAYS TALKING?

DIMON: I'VE ALWAYS -- GREAT COMPANIES AND ENORMOUS RESPECT FOR THEM. I PERSONALLY DO NOT BELIEVE IT MAKES ANY SENSE FOR TWO MAJOR INVESTMENT BANKS TO MERGE. IT WOULD JUST BE TOO HARD.

BURNETT: MEANING THEY MERGE OR YOU MERGE WITH ONE OF THEM?

DIMON: ANY OF THE BIG INVESTMENT BANKS. BECAUSE YOU HAVE TO LAY OFF SO MANY PEOPLE AND CONSOLIDATE SO MANY SYSTEMS. YOU LOSE CLIENTS, YOU LOSE THE BEST PEOPLE. I JUST DON'T THINK WE'VE EVER GOING TO SEE TWO MAJOR INVESTMENT BANKS MERGE. THE COST IS TOO ASTRONOMICAL.

BURNETT: TWO QUESTIONS ABOUT YOU.

DIMON: AND WHAT I JUST SAID ABOUT BEAR STEARNS, THINK OF THE RISK PRODUCTION THERE. YOU HAVE A $500 BILLION BALANCE SHEET WHICH YOU HAVE TO REDUCE, YOU CAN LOSE $20 OR $30 BILLION TRYING TO DO THAT QUICKLY IN THESE MARKETS OR MORE. SO I JUST DON'T THINK IT'S GOING TO HAPPEN.

BURNETT: YOU WAKE UP IN THE MORNING AND LOOK IN THE MIRROR. YOU'VE GOT A GOOD HEAD OF HAIR. A LOT OF PEOPLE DON'T.

DIMON:I LOOK AT BECKY QUICK IN THE MORNING.

BURNETT: YOU LOOK AT BECKY QUICK IN THE MORNING. THAT'S BETTER, I HAVE TO SAY. YOU'RE GOING TO BE GETTING TODAY YALE CEO SUMMIT WHERE WE ARE, THE LEGEND IN LEADERSHIP AWARD.
AND THAT'S ACTUALLY NOT AS GLOWING A COMPLIMENT AS YOU'VE GOTTEN FROM OTHER PLACES.
"NEW YORK POST" DUBS YOU "OUR HERO." "FORTUNE" DUBS YOU "THE TOUGHEST GUY ON WALL STREET." DO YOU FEEL STRESSED? EVERYONE IN AMERICA KNOWS WHO YOU ARE NOW, YOU AND HANK PAULSON. DO YOU FEEL UNDER PRESSURE OR DO YOU JUST IGNORE IT?

DIMON: I DON'T FEEL UNDER PRESSURE FROM THAT. THE PEDESTAL IS A TERRIBLE PLACE TO BE.

BURNETT: YOU'RE THERE. YOU'RE ON THE PEDESTAL.

DIMON: BUT WHENEVER WE SPEAK -- LISTEN, WE'VE MADE A LOT OF MISTAKES. WE TOOK A LOT OF RISKS IN BEAR STEARNS AND WAMU. IF HOME PRICES GO DOWN 25%, IT COULD COST US ANOTHER $10 TO $20 BILLION IN WAMU. SO WE'RE NOT SITTING HERE DECLARING A VICTORY. AND THE TRUTH -- OUR PEOPLE ARE WORKING AROUND THE CLOCK TO GET THE JOB DONE, THOUSANDS OF PEOPLE WHO ARE TIRED AND IT'S GOING TO BE A TOUGH YEAR. AND SO WE TRY AND DO THE RIGHT THING.

BURNETT: YOU DON'T FEEL LIKE A SUPERHERO SAILING IN?

DIMON: NO, ABSOLUTELY NOT. LISTEN, I SPEND MORE TIME WORRYING ABOUT MAKING MORE MISTAKES
THAT CAN HURT MY COMPANY AND THIS COUNTRY. THAT'S WHAT I WORRY ABOUT. YOU KNOW, I'M SURE I'LL GET KNOCKED OFF THE PEDESTAL SOON ENOUGH.

BURNETT: WELL OUR COUNTRY'S REPUTATION, IN A LOT OF WAYS, IS IN YOUR HANDS.

DIMON: I ALMOST WANT TO GET KNOCKED OFF THE PEDESTAL SO I DON'T HAVE TO HEAR THIS ANYMORE.

BURNETT: THIS BRINGS ME TO ONE FINAL POINT HERE. COMPENSATION. FROM WHAT I PULLED OUT LAST YEAR, YOU MADE $29 MILLION ALL-IN. A MILLION SALARY, $14.5 MILLION BONUS, $13 MILLION IN STOCK AT THE CURRENT PRICE, OBVIOUSLY JPMORGAN SHARES ARE DOWN ABOUT 20%
SINCE THEN. HAVE YOU MADE ANY DECISIONS ABOUT A BONUS THIS YEAR?

DIMON: THE BONUS DECISION IS A BOARD DECISION. AND OBVIOUSLY, I'VE HAD CONVERSATIONS WITH THEM AND THEY KNOW EXACTLY WHAT I THINK. BUT MY BOARD MEMBERS WHO SOME ARE PROBABLY WATCHING THIS WILL SAY, "THAT'S NOT HIS RESPONSIBILITY." I HAVE SOME VERY STRONG BOARD MEMBERS WHO ARE PROBABLY GOING TO DO THE RIGHT THING. AND WE WILL DO THE RIGHT THING. COMP FOR THE WHOLE COMPANY WILL OBVIOUSLY BE DOWN SHARPLY.

BURNETT: YES.

DIMON: AND SO, IT'S GOING TO BE A TOUGH YEAR IN COMP AND THAT'S PERFECTLY APPROPRIATE.

BURNETT: OKAY, BUT YOU DON'T HAVE TO TELL ME WHAT THEY THINK. BUT YOU CAN TELL ME WHAT YOU THINK.

DIMON: I CAN'T, BECAUSE I THINK THEY WOULD CONSIDER THAT A BREACH OF CONFIDENTIALITY BETWEEN ME AND THEM. I WOULD LOVE TO TELL YOU --

BURNETT: I WILL SAY, IN ALL HONESTY --

DIMON: WHATEVER WE DO WE'LL EXPLAIN IT FULLY TO THE WORLD. BUT I ALSO WANT TO POINT OUT, WE DON'T NOT HAVE -- CHANGE IN CONTROL, PARACHUTES, EXCESS OF DEFERRED COMP PLANS. SO A LOT OF THIS STUFF THE GOVERNMENT HAS TO DO, WE DIDN'T DO, ANYWAY. SO YOU KNOW, I UNDERSTAND THE CONCERN ABOUT COMP. AND YOU KNOW, WE -- WE ALWAYS TRY TO DO THE RIGHT THING AND WE ALWAYS LOOK AT THE LONG-TERM SUSTAINED PERFORMANCE. WE NEVER GOT THAT EXUBERANT ON ANY SHORT-TERM PERFORMANCE EVER.

BURNETT: I WILL JUST SAY, THAT I THINK I KNOW WHAT YOU'RE GOING TO DO AND I THINK EVERYONE ELSE KNOWS WHAT YOU'RE GOING TO DO, JUST KNOWING YOU AND KNOWING HOW YOU SPOKE.
WE'LL LEAVE IT THERE. BUT JAMIE, THANK YOU VERY MUCH APPRECIATE YOUR COMING IN AND TAKING THE TIME TO ANSWER ALL OF THESE QUESTIONS FOR EVERYONE. THANKS AGAIN TO JAMIE DIMON.