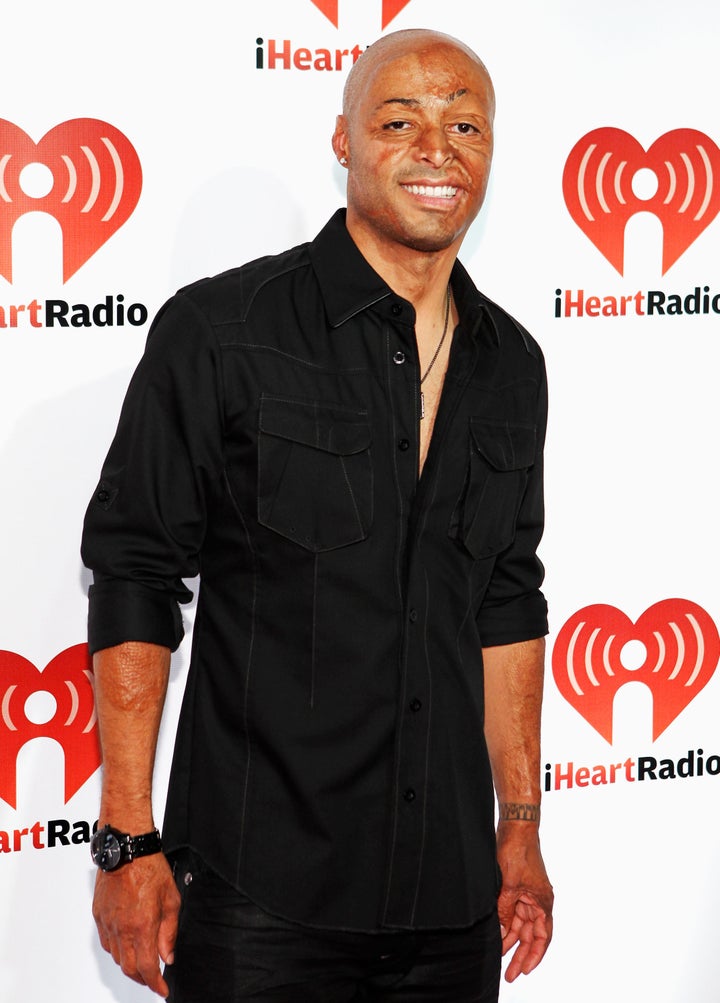 However, Martinez isn't just setting the bar for the dance floor, he's also challenging the idea of what it means to be a leading man in Hollywood. The actor's road to "Dancing" followed a very different path than those of his competitors.
"I'm representing all of our vets," Martinez told The Huffington Post. "The thing is, a lot of our vets come home and they feel displaced, and they don't feel like their voice matters, so for me to be a spokesman and have that honor to educate America about who we are and what we are, it's like I'm doing my job. I'll never have the opportunity to go back to Iraq and serve my country, but I tell people this is my way of serving. I don't have a weapon in my hand, and I don't have a uniform on my body, but my uniform now is my scars and weapon is my words, so I'm still serving."
Martinez joined the military at 19, and in 2003, he was deployed to Iraq. After serving two months as an United States Army infantryman, he was badly injured when his Humvee truck ran over a landmine. He suffered a coma and intense burns on over 40 percent of his body, lost most of the hair on his head and one of his ears.
Following his accident, Martinez spent over two years in the hospital, undergoing 33 surgeries in just 34 months, including skin grafts and tissue expansions, to repair the damage to his body. Even though there were times when he felt like giving up, his unwavering determination carried him through his difficult recovery. "I was in the hospital for two-and-a-half years, so I definitely believe that my injury and that recovery process gave me my determination and my will to go out there and fight," said Martinez. "When the body doesn't want to go on, the mind continues to fight."
Surprisingly, it was during this recovery period that his mother unknowingly put the idea of soap stardom into his head.
"I remember being in the hospital, and my mother would always watch Spanish soaps, called telenovelas," recalled Martinez. "And with me not being able to get up and do anything for myself, I was stuck watching telenovelas, and I couldn't do anything about it. That was our bonding time. I actually made a comment to my mother when I was in the hospital that one day I was going to be on a soap, and she laughed, and I was like, 'You just watch!' [laughs]."
After starting a successful career as a motivational speaker for veterans, Martinez wanted to find a platform where he could reach more people in a different capacity, so when the opportunity came to guest star on ABC's "All My Children," Martinez jumped at the chance to play a veteran on screen.
"Having been on the show for three years, I can honestly say that 'All My Children' is bigger than me, and it means so much to a lot of people," said Martinez. "For it to go off the air now, it's tough, but I'm still forever grateful for it."
When it comes to "Dancing With the Stars," Martinez's decision to join the Season 13 cast didn't come as instinctively. In fact, the Army vet would have declined the offer, if it hadn't been for his determined fans.
"My fans would say, 'You would be great on "Dancing With the Stars,"' and I would sort of entertain them with the idea, but I never really put much thought into it," said Martinez. "What really made me sign on was the fact that I wanted to step outside of my comfort zone. That's how we grow and continue learning; that's how we create those memories that we'll never forget. At the same time, I just want to share my story with as many people as I can."
It was his desire to share his story that made him an immediate fan favorite. In a season full of reality stars, television hosts and former singing sensations, Martinez stands out from his fellow competitors and not only because of his scars, but also for his mission. He doesn't just want to challenge himself to step out of his comfort zone, he also wants to challenge others to face their own fears and limitations.
"In this life, all you need is for someone to believe in you," said Martinez. "You can go a long way if someone believes in you. I've been incredibly lucky to have so many people believe in me, and I want to help people believe in themselves. There are people that didn't know who I was before, and that's okay because it's not like I'm Brad Pitt, but because of 'Dancing,' they know now, and I get to reach millions."
And if you think there's any competition between the "Dancing" stars off the dance floor, think again.
"There's no backstabbing and no drama," said Martinez. "It's just fun to watch people step out of their comfort zones and do things that they've never done before and witness them grow so much throughout the entire process."

When asked if he'd expected to be on top of the leaderboard in weeks one and two, the actor responded modestly.
"No," said Martinez, "But then again, I didn't have any expectations in regards to score and the leaderboard. Honestly, all I kept thinking about was my footwork and my extensions and just enjoying the moment and focussing on Karina [Smirnoff]. That big turn we did, we almost took out. In rehearsals we would try it and I would mess up and drop her. I was like, 'Oh my god, you're going to be broken by the time week one starts.' But then ultimately, we decided to keep it, and it came out just beautiful."
To watch J.R. Martinez and his partner Karina Smirnoff hit the dance floor on "Dancing With the Stars," tune into the week 3 performances Monday, Oct. 3 at 8PM ET on ABC.
PHOTO GALLERY
'Dancing With The Stars' Season 13
REAL LIFE. REAL NEWS. REAL VOICES.
Help us tell more of the stories that matter from voices that too often remain unheard.