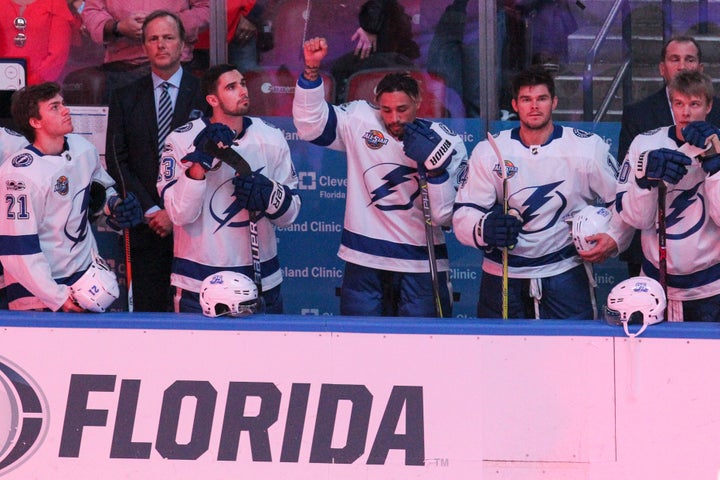 Tampa Bay Lightning forward J.T. Brown raised his right fist during the national anthem before a game against the Florida Panthers on Saturday night, becoming the first NHL player this regular season to join the silent protests that have been sweeping the NFL and other U.S. sporting leagues.
Unlike Colin Kaepernick, the football player last year who began taking a knee during the national anthem to protest racial inequality, Brown — who, according to The Tampa Bay Times, is one of about 30 black players in the NHL — chose to stand throughout the anthem. Video shows Brown with his eyes closed and head bowed as the anthem played, his left hand wrapped around his hockey stick and his right hand raised in a closed fist.
As ESPN notes, the NHL has no specific rules "governing what players must do during the national anthem."
Following the game, Brown said he chose to raise his fist during the anthem to "show my support."
"There are some issues that we have to talk about," the 27-year-old told the Times. "So, in my mind, just trying to bring a little more awareness, and any type of conversation that we can get started would be great. I know there's going to be negative backlash. But, in my heart, I know I did what was right."
In a statement, the Lightning said they "respect[ed]" Brown's decision to protest.
"We respect our players and individual choices they may make on social and political issues," the team said.
Popular in the Community