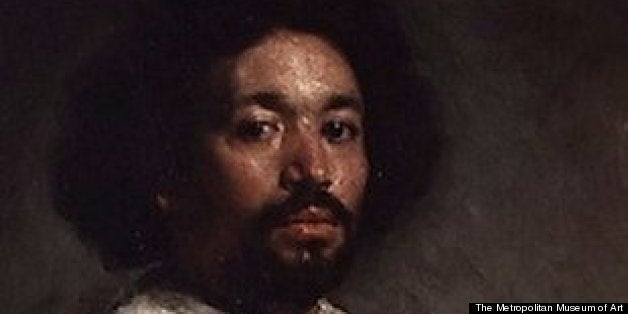 The portrait of Juan de Pareja by Velázquez that hangs in a gallery of the Metropolitan Museum of Art in Manhattan is surrounded by other estimable works, even a few of genius. But this work compels the viewer to look. It is a portrait of personal disappointment and anguish, and its great beauty deepens that anguish profoundly.
I felt this the moment I first saw the painting, and I go back to visit it every time I'm in New York (most recently, a few days ago). I've always sympathized with Juan de Pareja and worried why he was suffering so deeply in such seeming silence.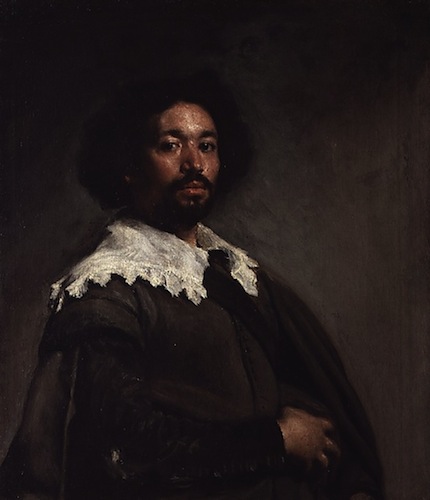 Velázquez, Portrait of Juan de Pareja. Used courtesy of The Metropolitan Museum of Art, New York.
In Rome in 1650, the Spaniard Velázquez was on a royal mission to obtain paintings, sculptures and other Italian artwork to decorate new rooms in the Alcázar. He spent two and a half years on this assignment, in search of the best the Italians could offer. Among his retinue was a man named Juan de Pareja, who was the mixed-race son of a female slave and, until 1654, a slave to Velázquez himself.
Juan had been born in Antequera, Spain, around 1610. As a young man, he had been consigned to work in Velázquez's studio, most probably as some sort of shop assistant. Velázquez's biographer Antonio Palomino writes that Velázaquez would not allow Juan himself to paint because, he believed, art of the sort that Velázquez did was too great for a slave to undertake. He believed that such art should be reserved for free men. Juan apparently painted anyway, in secret, without the master's knowledge.
By the time they got to Rome, Juan was one of the painter's principal assistants, and there Velázquez undertook to paint the portrait of him. In Sister Wendy's American Masterpieces, the art critic Wendy Beckett writes this:
Amazingly, this man was technically a slave; we still have the document of manumission with which Velázquez formally set him free. However, we can see from Velázquez's painting that the two were undeniably equals. That steady look of self-controlled power can even make us wonder which of the two held a higher opinion of himself.
Sister Wendy sees "self-controlled power" in Juan's look, but I'm not sure that that's all there is. Juan de Pareja is a slave, and the circumstances of his servitude are clear in his face. He's looking at us and, of course, at his master, with a gaze of quite genuine sadness, of the knowledge of having been betrayed by an accident of birth and victimized for it all his life... perhaps especially by his master.
I assume from the deep passion that is so evident in Velázquez's depiction that, despite his treatment of his slave, he understands him. Somehow Velázquez sees into Juan's anger, so much so that, in part, this is a painting about anger itself. Juan looks like he would prefer taking Velázquez by the lapels of his coat and shaking him violently for all that's been done to him. But of course he cannot do that. So instead he looks on with dignity, intensity, and silent disdain.

There is more than a hint of rage in his look. The irony is that the great painter Velázquez has taken the time to display the depth of his slave's pain, yet has done nothing -- at least to this moment -- to relieve the basis of that pain.
Antonio Palomino said that the portrait of Juan de Pareja "was generally applauded by all the painters from different countries, who said that the other pictures in the show were art but this one alone was 'truth'."
It is truth. I cannot imagine that Velázquez himself did not understand the depth of the story he was telling. The painting is too good, the anguish in Juan's face too profoundly expressed, for it to be anything but an accurate appraisal of the man's rage. The irony is that it was Velázqez's ownership of Juan's fate that surely was the cause of that rage. Conveying truth is a struggle for artists, as it should be. It should also be the goal for artists of whatever medium, and there are some, like Velázquez, who have achieved it. This stunning painting is an example.
Legend has it that the king of Spain was to visit Velázquez's studio one day, and that Juan de Pareja secured a place there where the king would inevitably come across one of Juan's own paintings. The king and his procession arrived, all dominion, pomp and authority. When he approached Juan's piece, the artist prostrated himself before His Majesty and explained that he was a slave, yet a member of Velázquez's studio, and had taught himself to paint. He asked for help, for recognition as an artist. The king replied that "any man who has this skill cannot be a slave," at which point Velázquez had little option but to grant Juan his freedom.
This story may be true, and Juan did have talent. His painting "The Calling of Saint Matthew" at The Prado in Madrid shows his technical mastery. But -- at least in this painting -- he shied from the kind of emotional profundity that Velázquez himself had found in him. Juan puts himself in the painting, to the far left, looking out at us. The character is of mild interest, a bit-player in the scene, and appears to be of indifferent importance to Juan himself.
Sadly, it took the cynical slave-owner Velázquez to convey the truth of Juan de Pareja's situation to us. What an irony that Velázquez understood his slave's heart so well, and showed it to us so clearly, yet thumbed his nose at the possibility that such a man could have artistic talent himself.
Nearly thirty years ago, when a British earl offered the family's Velázquez (i.e. the portrait of Juan de Pareja) for sale, protestors marched from many parts of England and Scotland, pleading with the government to save the piece for Britain, but governments, as we know, are penny-pinching creatures, and so this portrait of a man of North African descent, painted by a Spaniard while residing in Italy, finally came to rest in New York.
Of all the paintings I've ever seen, this one takes my heart the most.
(Terence Clarke's new novel The Notorious Dream of Jesús Lázaro will be published later this year.)
Related
Popular in the Community