On Monday night, Chelsie and Johnny Pabs hit us over the head with a dating metaphor by jumping off a bridge while tied together, Sharleen gave us the worst kiss in Bachelor history, and Kelly kept on running her mouth despite her looks and "job."
We're down to 15 girls and the claws came out this week. On the table were two one-on-one dates (AKA "dates") and a group date (AKA "what dating must be like when you're in a harem for Kublai Khan circa the roaring 1270s").
Cassandra (21 year old former NBA dancer AKA "unemployed") scored the first one on one and suited up in a red romper (why are these things popular?) for her date that promised to be a "wild ride." Wild ride it was, as she and Johnny Pabs hopped in an open top Jeep and cruised around Long Beach. Out of nowhere, JP pulled a sharp left across the beach and drove the Jeep straight into the water! Turns out this Jeep is a water car -- Johnny Pabs was NOT trying to kill Cassandra, Susan Smith-style (tasteless joke? Maybe). They drove the Jeep to a yacht where the couple stripped down to swimsuits, frolicked, and made out. That evening, they had a low key dinner date at Juan Pablo's house, during which they cooked, danced, and looked at photos of their kids. In case you missed one of the FOUR times Cassandra told us, she hasn't been on a date in three years. We get it, girl, you're SO DARN unlucky in love despite your beautiful face and good hair! Isn't life crazy? Cassandra also dropped this gem, "The last time a guy cooked for me was... never." Not to get all editor on you, girl, but you could rephrase that as, "A guy has never cooked for me." Just an idea. Two things happened during this date that blew my mind: (1) they didn't chug multiple bottles of wine despite being on a first date; (2) Cassandra scored a rose.
The next day was group date time, and the lucky 10 ladies were Kelly (dog woman smack talker), Renee (pledge mom), Sharleen (old soul), Danielle (lil bland), Alli (brunette Andi look-alike), Lauren (TX musician), Andi (ombre DA), Christy (who is a friggin' shape shifter and never looks the same from one day to the next), Lucy (free spirit nightmare), and Nikki the nurse.
As their limos pull onto the field (that can't be good for the grass -- sorry, LA Galaxy!), Johnny Pabs is kicking around a ball with some fellow soccer boys and the ladies are loving it. They gather and do some drills, during which JP quietly judges them so that he can separate them into two teams by skill (quiet judgment under the pretense of socializing? What is this, sorority rush? Alpha Theta Chi 'till I die!). They play a game of five on five and Sharleen takes a ball to the face and arm, Kelly shows us that she's awful to socialize with AND play sports with (multi-talented!), and Alli shows us how it's done.
The 10 ladies and Johnny Pabs clean up for the cocktail party (this crew goes to 11) and each woman gets some alone time with the Bach. Nikki rocks another great hairstyle (so much volume), Danielle reveals that she's adopted, and Alli says she wants to birth a soccer team (not figuratively). Andi rocks a fierce outfit and Johnny Pabs takes her to the fryer/kitchen area of the concession stand where they make out in front of a walk-in fridge. Oh, the romance of it all. Old soul Sharleen is in a hot, white dress with some maroon lips (bold look!) when she and JP head to centerfield to live out the worst kiss in Bachelor history.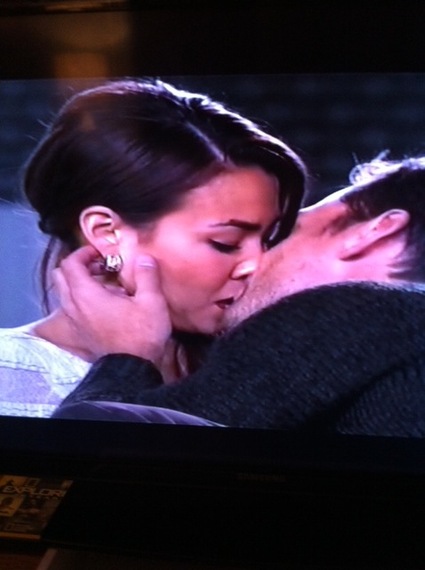 Nikki scores a rose, probably for having great hair and talking about her fears. I was happy for Nurse Nikki until she did the Cabbage Patch, at which point I commenced hating her.
The next day is Chelsie's one on one, much to Elise and her late mother's chagrin. I broke out in a wicked case of dumb chills as I watched Johnny Pabs and Chelsie car dance on their way to a Venezuelan restaurant. Post-chow down, they walk to a bridge where a Guy Fieri look-alike informs them that today's activity is a tandem ankle bungee jump (without donkey sauce). They get suited up (nice leg shackles!) and are about to jump, when Chelsie starts crying because she is terrified (I would be, too). Johnny Pabs calms her down because paternalism is SO sexy, but once Chelsie is assured that she doesn't need to do it, she wants to do it and they take the jump while rockin' jams play! The couple shares their first kiss while hanging upside down and Chelsie says that jumping off a bridge together while faux Guy Fieri looks on is the "epitome of building a relationship." Chelsie decides that if they can get through that experience, they can get through anything (which is a phrase I said to my lovely ex-BF about getting through my book release while he was switching from his truck driving job to a new union electrician job and turns out, YA CAN'T make it through that as a couple, but what do I know. Also, I'M FINE!).
That evening they have a candlelit dinner in front of the Pasadena City Hall (where they talk about fears) then a private concert with Billy Currington singing his hit, "Hey Girl" which probably sounds like an idiotic song to you, sweet reader, but it actually rules. Chelsie scores a rose.
The next day, Johnny Pabs shows up at the mansion to cook breakfast. Everybody chows JP's Venezuelan breakfast then heads outside for a pool party (I just hope they waited 30 minutes) instead of a cocktail party that evening. At the pool party Kat rides JP's shoulders for a whole lot of chicken fighting, Kelly stands poolside being miserable, and Clare cries in the bathroom.
Finally, it's rose ceremony time and Cassandra, Nikki, and Chelsie already have roses. Who else joins the rose club?
-Andi (ombre DA is rocking a killer necklace and rad one-shoulder dress.)
-Renee (this house would spiral out of control if it weren't for her kindness.)
-Kelly (she was smart to bring along a cute dog to distract from her personality.)
-Sharleen (I guess they don't teach kissing in opera school -- which makes sense -- but girl needs to learn how to kiss.)
-Elise (showed her catty side this week and pulled out yet another sparkly dress -- it's like the miracle of Hannukah, but with sexy dresses instead of oil.)
-Kat (JP loves a girl who initiates chicken fights!)
-Alli (the Andi look alike who is good at soccer -- seems like a cool gal.)
-Clare (Andi called her a "ticking time bomb" and I think she might be right.)
-Lauren (Austin musician has been flying under the radar)
-Danielle (also a slow burn who is rocking a gorgeous flower in her hair.)
So who's hopping on the G train toward Court Square, but they'll be kicked off at Rejection Station? Christy and Lucy. Christy didn't make much of an impression, perhaps because Johnny Pabs couldn't keep track of who she was with her different looks and shape shifting. Lucy is America's nightmare "free spirit" and my, my, my how the mighty have fallen! The girl who arrived in a flowing bed sheet and flowered headpiece leaves the Bachelor mansion crying, carrying her shoes, and rocking a cheesy, gold bandage dress. Free spirit? More like walking cliché. I'll admit that her parting words (everyone deserves love) were sweet, but I'm glad to see her go.
What did you guys think of the eliminations? Does anyone else find Kelly hard to take? And are we ready to visit South Korea next week?
Support HuffPost
The Stakes Have Never Been Higher
Related
Popular in the Community