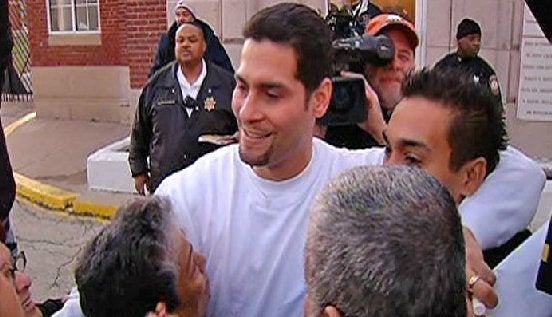 Juan Rivera Jr., who was exonerated in January of three murder convictions, is suing law enforcement officials in Lake County alleging they framed Rivera for the rape and murder of 11-year-old Holly Staker in 1992.
In the lawsuit filed Tuesday, Rivera's lawyers allege he was coerced into giving a false confession after four days of "intensive and abusive interrogation." The lawsuit further claims Rivera suffered a mental breakdown on the third night of the interrogation:
"As he was experiencing this mental collapse, the Defendants "hog tied" [Rivera] and placed him in a padded room. Medical personnel who observed Plaintiff soon thereafter diagnosed him with acute psychosis and observed that he had torn out pieces of his scalp."
Attorney for defense, James Sotos, called the allegations "offensive and untrue," reports the Tribune. Sotos maintains the police and prosecutors--all of whom are named in the suit--acted "appropriately and with integrity" and made a good-faith effort to solve the crime.
Rivera, who was 19 at the time he was arrested for Staker's murder, was sentenced to life in prison for the girl's stabbing death in 1993. As previously reported on HuffPost Chicago, his conviction was overturned on appeal, but he was re-tried and convicted again in 1998. Rivera was tried for Staker's murder a third time in 2009 using advanced DNA testing where he was convicted again despite conflicting DNA evidence.
According to the Innocence Project, the Illinois Appellate Court ruled in December of 2011 that Rivera's conviction was "unjustified and cannot stand." Charges against Rivera were dismissed in January of this year after River had served 20 years in prison.
WATCH an earlier report on Rivera's exoneration:
Popular in the Community