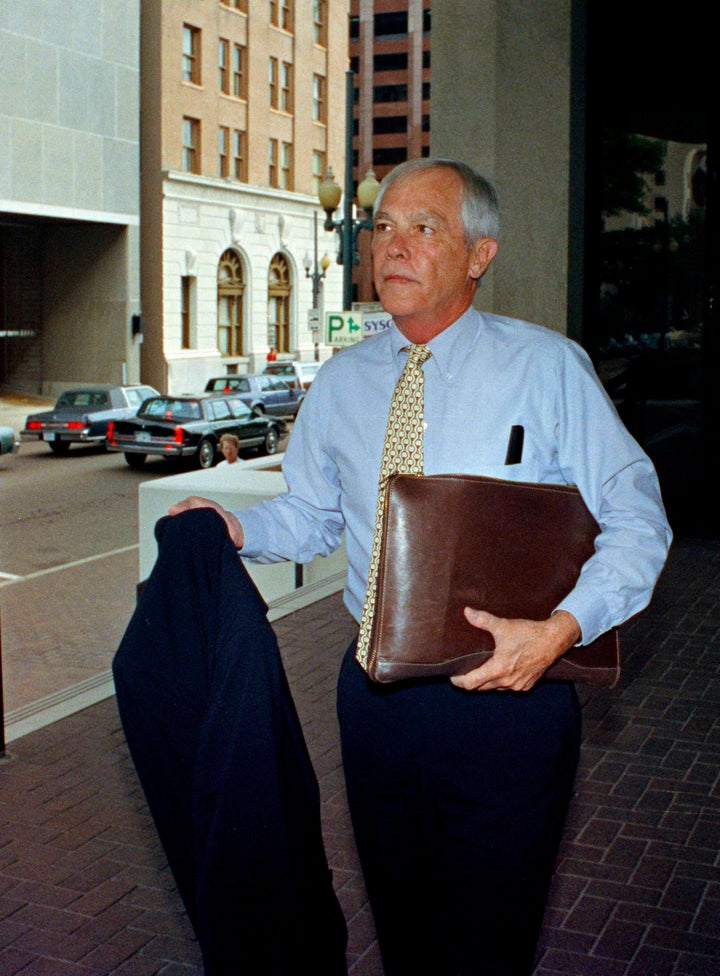 A Louisiana man convicted of killing five people during an armed robbery will get a new trial after the U.S. Supreme Court ruled Tuesday that prosecutors withheld key evidence that may have led to acquittal.
Juan Smith was convicted based on a single piece of evidence: an eyewitness who survived a shooting rampage committed by a group of men, several of whom were masked. While appealing in state court, Smith obtained statements by the witness to detectives indicating he could identify none of the men involved in the robbery.
The witness, Larry Boatner, later picked Smith in a photo lineup after seeing a newspaper picture that identified him as a suspect in the murders.
"I was too scared to look at anybody," Boatner told a detective in the undisclosed notes. "I wish I could give y'all a description."
In court, Boatner pointed out Smith as one of the killers, saying, "I'll never forget that face."
The justices ruled by an 8-1 majority that the failure of prosecutors to turn over Boatner's contradictory statements to the defense violated the Brady rule, a 50-year-old Supreme Court precedent requiring prosecutors to turn over all evidence favorable to the defense.
New Orleans District Attorney Leon Cannizzaro said in a statement that he would immediately move to retry Smith for the murders. "Tomorrow morning we will file a motion in this quintuple murder case to set it for trial within the next 60 days," he said.
In arguments before the Supreme Court last year, Donna R. Andrieu, a New Orleans assistant district attorney, attempted to convince justices that the witness statements were not materially relevant to Smith's case and that prosecutors were not obligated to turn them over to the defense.
But even the court's conservative members took a dim view of the prosecution position.
"May I suggest that you stop fighting as to whether it should have been turned over?" Justice Antonin Scalia told Andrieu at one point. "Of course it should have been turned over."
The decision represents yet another black eye for the New Orleans District Attorney's office, which has been admonished repeatedly in federal court in recent years for failing to provide defendants with exculpatory evidence.
Most notably, in 1999 Louisiana came within 48 hours of executing John Thomson, convicted in a 1985 murder in New Orleans, before a private investigator hired by his defense attorneys chanced upon blood evidence buried in crime lab archives that ultimately led to a retrial and a full acquittal. A prosecutor later confessed that he and others had "intentionally suppressed" the blood evidence, according to federal court documents.
In 2003, Thompson filed a civil rights suit against New Orleans prosecutor's office, arguing that Harry Connick, the district attorney, had shown deliberate indifference in ensuring that exculpatory evidence was handed over to defendants. A federal jury in Louisiana awarded Thompson $14 million in a civil rights lawsuit against the city, a verdict upheld on appeal.
But in a precedent-setting, 5-4 decision in March 2011, the Supreme Court overturned the jury award, ruling that Thompson had failed to show a pattern of deliberate violations of the Brady rule by New Orleans prosecutors. The decision, written by Justice Clarence Thomas, established broad immunity for prosecutors from civil suits stemming from their failure to provide exculpatory evidence to defendants.
In a blistering minority opinion read from the bench, Justice Ruth Bader Ginsburg rejected the majority's contention that Thompson had failed to demonstrate a pattern of willful misconduct by New Orleans prosecutors.
"Prosecutorial transgressions were neither isolated nor atypical," Ginsburg wrote.
"What happened here," she said, "was no momentary oversight, no single incident of a lone officer's misconduct."
While the court's decision in the Thompson case reshaped the legal landscape for prosecutors facing misconduct allegations, the decision to overturn Juan Smith's murder conviction will have only limited impact, said David Rudovsky, senior fellow at the University of Pennsylvania Law School.
"It's not a ground-breaking case," Rudovsky said. "I think it reinforces the Brady rule and makes it clear that the court takes it seriously."
For Smith, however, a retrial for the five murders could set in motion a chain of events that may ultimately release him from Louisiana's death row, where he faces execution for his conviction on a separate multiple homicide charge. A year after his conviction on the 1995 murders, New Orleans prosecutors charged him with participating in an unsolved home invasion that left three dead.
The prosecution relied almost solely on the testimony of the chief suspect in the crime, who was given a reduced sentence for implicating Smith and several other men in the shootings. Smith's role in the prior set of murders was presented to jurors during the initial trial and during the penalty phase, when he was sentenced to die.
Smith's appeal in this second case is pending until the resolution of his first murder conviction.
Popular in the Community