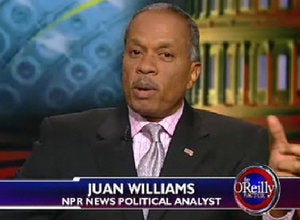 UPDATE: Juan Williams spoke to Fox News Thursday morning about his firing from NPR. He defended his initial comments and said that his NPR bosses had not talked to him before deciding to fire him.
Williams' comments came during a discussion with Bill O'Reilly on Monday's "O'Reilly Factor." O'Reilly asked Williams if he had been in the wrong during his now-infamous appearance on "The View" last week. (There, O'Reilly's statement that "Muslims killed us on 9/11" caused Joy Behar and Whoopi Goldberg to walk off the set in anger.)
Williams replied that he thought O'Reilly had, in fact, been right. He continued:
"I mean, look, Bill, I'm not a bigot. You know the kind of books I've written about the civil rights movement in this country. But when I get on the plane, I got to tell you, if I see people who are in Muslim garb and I think, you know, they are identifying themselves first and foremost as Muslims, I get worried. I get nervous."
Williams did go on to tell O'Reilly that he had to be "careful" to stress that he was not talking about all Muslims when he criticized some and that America was not at war with Islam. He also compared blaming all Muslims for the actions of extremists to blaming all Christians for the actions of Timothy McVeigh. (O'Reilly responded that he was "done" being careful.)
In a statement, NPR said that it had informed Williams of its decision on Wednesday night, and that his remarks were "inconsistent with our editorial standards and practices, and undermined his credibility as a news analyst with NPR."
Related
Popular in the Community