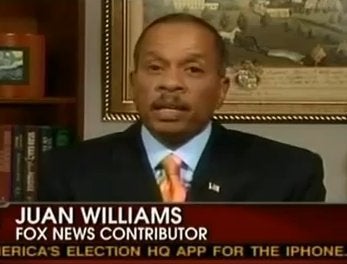 ORIGINAL POST: On Monday's "O'Reilly Factor," Fox News analyst Juan Williams told Bill O'Reilly that he supported his statement that "Muslims killed us on 9/11," and that he feels nervous when he sees Muslims on the same plane as him. (h/t Think Progress.)

O'Reilly's comment on "The View" last week caused Joy Behar and Whoopi Goldberg to walk off the set in anger, and, since then,
. O'Reilly covered the fallout from his appearance on both
and
shows, and he brought Williams on to discuss the incident.
WATCH:
O'Reilly asked Williams, "Where am I going wrong here, Juan?" Williams replied that thought O'Reilly was right.
"I think, look, political correctness can lead to some kind of paralysis where you don't address reality," he said.
Then, Williams said that he gets nervous when he sees Muslims on planes:
"I mean, look, Bill, I'm not a bigot. You know the kind of books I've written about the civil rights movement in this country. But when I get on the plane, I got to tell you, if I see people who are in Muslim garb and I think, you know, they are identifying themselves first and foremost as Muslims, I get worried. I get nervous."
Related
Popular in the Community