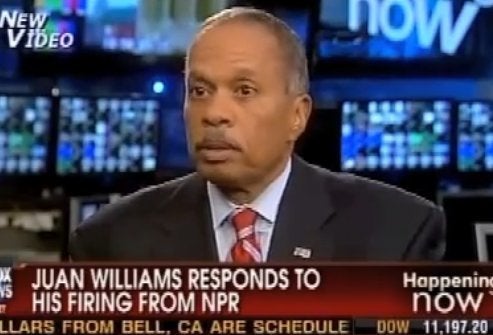 In the column, Williams excoriated NPR and its leadership for the decision to fire him. He said he was let go for "telling the truth" about his feelings of nervousness when he sees people he thinks are clearly Muslim on airplanes. He called his debate with Bill O'Reilly -- where he also told the Fox News host to be careful about painting all Muslims as extremists -- an "honest, sensitive" one "in the best American tradition of a fair, full-throated and honest discourse about the issues of the day."
Williams said that NPR's move to fire him was a "a chilling assault on free speech" that came about due to "political correctness and ideological orthodoxy" by the "self-righteous ideological, left-wing leadership at NPR." He also recounted the years of tension between him and his bosses at NPR that resulted from his association with Fox.
Williams concluded by comparing himself to Daniel Schorr, the longtime NPR contributor who found himself on Richard Nixon's enemies list.
"I can only imagine Dan's revulsion to realize that today NPR treats a journalist who has worked for them for ten years with less regard, less respect for the value of independence of thought and embrace of real debate across political lines, than Nixon ever displayed," he wrote.
ORIGINAL POST: Juan Williams appeared on Fox News' "Happening Now" Thursday morning to discuss his firing from NPR over his comments about Muslims on Monday's "O'Reilly Factor." (h/t Johnny Dollar.)
Williams said that he received a message from Ellen Weiss, NPR's senior vice president for news, telling him to call her. When he did, he said, she asked him to clarify his comments that he gets "nervous" when he sees Muslims on an airplane.
"I said, 'I said what I meant to say,'" Williams told Fox News, "which is that it is an honest experience that when I'm in an airport and I see people in Muslim garb who identify themselves first and foremost as Muslims, I do a double take. I have a moment of anxiety or fear given what happened on 9/11. That's just a reality."
WATCH:
Weiss, he said, told him that he had crossed the line. When he asked what line that was, she said that his statement had been bigoted. Williams said he had pointed out that he had gone on to tell O'Reilly that America had "an obligation to protect the constitutional rights of everyone in the country" and to prevent bigotry, but that "you cannot ignore what happened on 9/11 and you cannot ignore the connection to Islamic radicalism."
In response, Williams said, Weiss told him that the decision to fire him had already been taken.
"I said, 'I don't even get the chance to come in and we do this eyeball to eyeball, person to person?'" he continued. "She said, 'there's nothing you can say that will change my mind, this has been decided above me and we're terminating your contract.'"
NPR President Vivian Schiller also spoke out about the firing on Thursday. According to the Associated Press, Schiller appeared at the Atlanta Press Club, where she defended the decision, saying that Williams had violated NPR's guidelines barring its analysts from making personal or controversial statements. She also said that he should keep his feelings about Muslims between himself and "his psychiatrist or his publicist." (UPDATE: Schiller apologized for that comment on Thursday afternoon, saying in a statement that "I spoke hastily and I apologize to Juan and others for my thoughtless remark.")
In addition, Schiller released a statement about the firing to NPR member stations on Thursday. In it, she wrote that "this isn't the first time we have had serious concerns about some of Juan's public comments. Despite many conversations and warnings over the years, Juan has continued to violate this principle." Schiller also wrote that Williams had violated NPR's code of ethics by expressing views that he would not have expressed on NPR.
"Unfortunately, Juan's comments on Fox violated our standards as well as our values and offended many in doing so," she said.
Williams will appear on "The O'Reilly Factor" Thursday night to discuss the firing as well.
Related
Popular in the Community