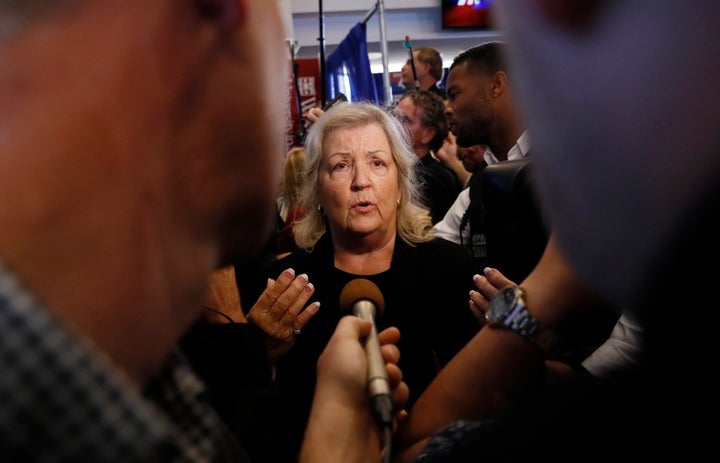 WASHINGTON ― In 1999, Juanita Broaddrick said then-President Bill Clinton had raped her 20 years earlier. She received skeptical media attention at that time, and several polls found that the American public didn't believe her.
Now, with the Me Too movement bringing greater scrutiny to bad men in politics, media and business  ― and even ending their careers ― journalists have revisited Broaddrick's story and found it more credible. Even Democratic voters now say they believe the sexual assault or harassment allegations against Clinton. For that, Broaddrick is glad.
But Broaddrick was in Washington on Thursday not just to tell her own story ― she'd also come to cast doubt on another woman's sexual assault claim, giving interviews to reporters at a Concerned Women for America rally in support of Supreme Court nominee Brett Kavanaugh. 
Inside the nearby Dirksen Senate Office Building, Christine Blasey Ford was preparing to testify that Kavanaugh had pinned her on a bed and groped her when they were both high school students in the early 1980s.
"I believed he was going to rape me," Blasey told the Senate Judiciary Committee. "I tried to yell for help. When I did, Brett put his hand over my mouth to stop me from screaming. This was what terrified me the most and has had the most lasting impact on my life."
Broaddrick said Democrats were hypocrites for choosing to elevate Blasey's claims Thursday after disregarding Broaddrick's two decades ago. "If you can listen to accusations like this, how can you not have listened to me back then?" she said.
There are some similarities between Broaddrick's and Blasey's stories. Both women waited decades to come forward about the alleged abuse. Both said they felt forced to reveal their identities because of pressure from investigative reporters.
But Broaddrick said her own story, that Clinton raped her in an Arkansas motel room in 1978, is more credible, largely because several other people confirmed she told them about the incident shortly after it allegedly happened. Blasey waited more than 30 years before telling anyone. She first disclosed the assault in a 2012 therapy session with her husband.
The fact that nobody said they heard about Blasey's assault around the time it occurred, Broaddrick said, is why she finds it unbelievable. "You compare that with mine ― data, dates, people I told, injuries," she said, referring to her claim that Clinton bit her lip.
"I think she's casting a very dark shadow on real victims," Broaddrick said. 
Republicans have said the lack of contemporaneous corroborating evidence is Blasey's biggest problem. Her lawyers provided sworn affidavits from her husband and three friends who said they'd heard her mention she'd been assaulted by Kavanaugh before he was nominated to the Supreme Court, but all the testimonials are from 2012 or later.
"Those are not people who witnessed the alleged event," Sen. John Cornyn (R-Texas) told HuffPost. "All the people she identified as witnessing the alleged event said they can't confirm it."
The only person other person Blasey said was in the room was Mark Judge, a classmate of Kavanaugh's who has said he never saw the judge behave in the way Blasey described. But Republicans have shown little interest in getting further testimony from Judge, a conservative writer.
Broaddrick said she hadn't heard about the people who've said Blasey told them about her allegation before Kavanaugh became Trump's nominee. "I'll have to read up on that," she said.
Calling all HuffPost superfans!
Sign up for membership to become a founding member and help shape HuffPost's next chapter