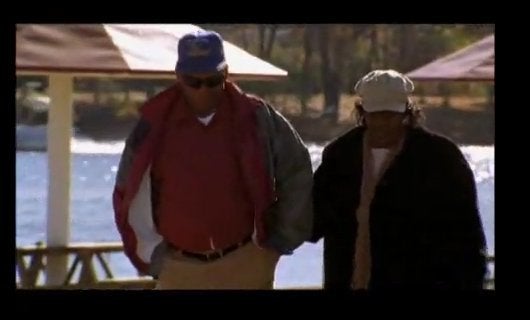 Just before the election, the Obama campaign bought 30 minutes of airtime for a spot that profiled four American families struggling to live the American Dream. Half a year later, one of those families, Larry and Juanita Stuart, an older couple living in Sardinia, Ohio, continues to scrape by. But that's not to say their role in the video didn't change their lives.
The Stuarts owned their own home and had looked forward to a comfortable retirement.
"But with [Juanita's] rheumatoid arthritis, and other ailments, her medical bills have been rising," said Obama in the ad. "To meet their payments, they've had to take a loan on their house. And they're losing equity."
And Larry Stuart, long retired from the B&O Railroad, had to go back to work. In the video, depressing piano music played as Stuart, 72, put on a Wal-Mart name tag. "Associate salesman," he said. "In other words, I just sell stuff."
The ad brought plenty of attention to the Stuarts. Friends called, and so did strangers. And so did a lawyer who represented somebody who wanted to become Juanita Stuart's anonymous benefactor.
"Someone that saw that ad, wanted to help me and so I've had surgery," Stuart told the Huffington Post. "I've had implants in three of my fingers."
The Stuarts' problems haven't gone away by any means, but the surgery provided an emotional boost.
"We're just like most middle class people... My dishwasher is not working, I can't afford for the plumber to come in," Stuart says, "but I'm so happy about my hand and my surgery, so life kind of balances itself out."
Stuart said she has no idea who the anonymous donor is.
"It's an angel from somewhere," she said. "I'm really really happy and I'm sure President Obama doesn't know about my anonymous donor and the help I've received for all my copays."
The Arthritis Foundation featured Stuart at its annual advocacy summit in March, where Stuart told her story and met with members of Congress.
"She has become a terrific advocate for the Arthritis Foundation," said Amy Melnick, the organization's chief public policy officer, in an interview with the Huffington Post. As for Stuart's anonymous angel, Melnick said, "That's terrific for her, but it's obviously not a solution for the nation. There are countless Americans who have that permanent joint damage who don't have access to medication."
Not everybody reacted like an angel to the Stuarts' story. The conservative site Free Republic questioned the Stuarts' existence (they had the wrong name-spelling). "Some Republicans felt that it was something not really legitimate about us," Stuart said.
Pleased as Juanita Stuart is to have help with her medical bills, her husband still has to punch the clock part-time at Wal-Mart.
"I work in the lawn and garden department. A lot of people buying grills, lawnmowers, flowers, fertilizer and mulch," he told the Huffington Post. A few days ago someone asked him how long he planned to keep working.
"In a few days I'll be 73 years old. I'd rather not be working," he said. He didn't know when he'd stop, but he said he knew exactly how he'd do it.
"I'm gonna leave the house, and when I get to the store, I'll hand my badge to the boss and walk back out."
Popular in the Community