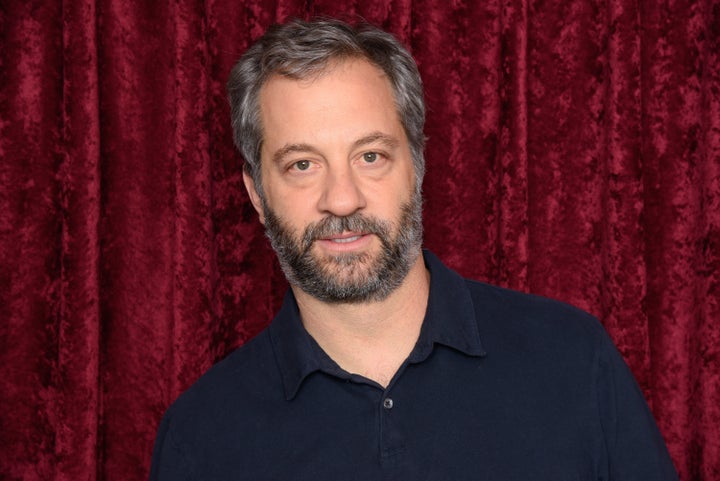 Much has been made of comedian, screenwriter and producer Judd Apatow's feminist bonafides (or, depending on whom you ask, lack thereof) in the past decade or so ― but what would Apatow say?
Coming off the series wrap-up of HBO's "Girls" and the success of Kumail Nanjiani's romcom "The Big Sick," both of which he co-produced, Apatow has drawn praise for throwing his reputation and producing weight behind women and creators of color. Though he was once hammered for creating slacker comedies (like "Knocked Up" and "40-Year-Old Virgin") about immature men who end up with hot, successful women, he won plaudits for his work on female-led projects like "Bridesmaids" and "Trainwreck." In 2014, Flavorwire dissected his "uneasy feminist awakening," and the next year Bustle called him "everyone's favorite feminist bff." If anything, some wondered if he was trying too hard to be feminist. "The problem with clamoring for more woman-led comedies is that actual comedy may be the thing that ends up being left by the wayside," opened an LA Weekly critique of "Trainwreck."
According to Apatow, this gets his approach exactly backward. "With 'Bridesmaids,' I never thought it'd be great if there was a movie that starred a lot of women and maybe that will help open some doors. It's great if that ends up happening, but that sort of thinking is never the starting point," he told Vulture. "Same thing with 'The Big Sick.' I'm not thinking about representing minorities. I'm not thinking about society. I'm thinking no one else's ever made a movie about someone like this. That means it's not going to be hacky. It'll be new. Now let's make it great."
By the same token, Apatow argued that his oft-reviled bro comedies were never evidence of his sexism. "I produced Roseanne's standup special in 1992. Freaks and Geeks was about Lindsay Weir," he pointed out. "So, I never felt like the idea that I wasn't interested in women or was portraying them negatively warranted much reflection. The 40-Year-Old Virgin and Knocked Up are satires of immaturity, and in a lot of ways, the projects I worked on that people suddenly thought were about championing women were just the female version of that — of showing someone figuring out how to grow up." As for the Bechdel test? He told Vulture that his wife, actress Leslie Mann, is a stickler for it.
There's a powerful truth to Apatow's comments, of course: Elevating art created by and about women and people of color, as well as other marginalized communities, doesn't mean compromising on quality. A more diverse industry stands to create fresher, funnier and more original entertainment. On the other hand, it's hard to see what he has to lose by taking representation and social good into account.
Apatow already ruffled the feathers of many progressives earlier this month, when he tweeted criticism of the backlash against HBO's alternate-history Civil War show, "Confederate." In response to a Reza Aslan tweet of Ta-Nehisi Coates' essay, "Don't Give HBO's 'Confederate' The Benefit Of The Doubt," he tweeted:
He later conceded that Coates' and others' criticisms were not technically censorship, but argued that they still sought to repress art:
Truly spoken like someone for whom the work, not social justice, comes first. Apatow has every right to this approach, of course -- and the success of his work, much of which has given a platform to talented women and people of color, speaks for itself. Still, maybe the next time we decide a Hollywood power player could be our new feminist bff, we'll actually ask him (or, better yet, her) first.
Popular in the Community