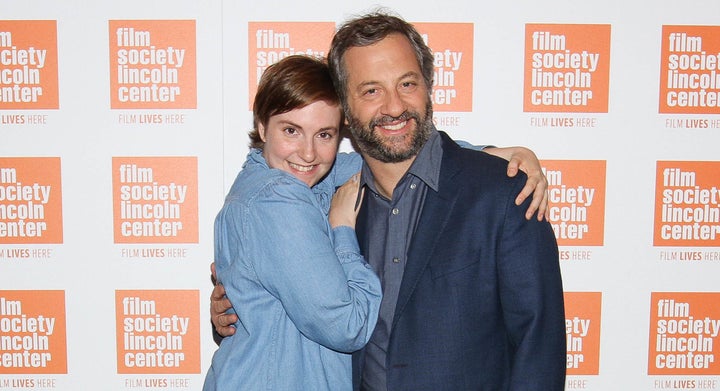 "Trainwreck" is the fifth movie Judd Apatow has directed, and he's already selling out packed houses for career retrospectives. The Film Society of Lincoln Center is hosting a five-day celebration of the director's work, and on Monday night he sat down with Lena Dunham for a 90-minute discussion. "I feel like I have enough work now that, if I died, my 'in memorium' reel would be impressive," Apatow quipped after taking the stage. Here are a few tidbits from their conversation, including an interesting run-in with Diane Keaton, how one reaction to "The 40-Year-Old Virgin" paved the way for "Knocked Up" and, of course, Bill Cosby.
1. At Jennifer Aniston's Christmas party, Diane Keaton once asked Lena Dunham whether she was a lesbian. Shortly after they started working together on the inaugural season of "Girls," Apatow took Dunham to Aniston's holiday soiree, where Keaton asked the director if Dunham was his wife. When Apatow said no, Keaton turned to Dunham and asked, "Do you even like men? Are you interested in men?"
"That may have been more about Diane Keaton's judgment of me and my ability to bring a woman," Apatow joked.
2. Apatow's movies can be crude, but he's the one who always wants to up the romance. Dunham said she and Amy Schumer have "commiserated" about Apatow's reputation for lewd humor. "People usually assume if you're working with Judd that he's the one who's coming in and adding the zany hand-job sequence or making sure someone farts, but it's so not that," she said. "He's actually the person who's like, 'Can we get a little romance in here or a little emotional truth and make sure people are falling in love and make sure people are connecting and make sure there's a reason for this movie to exist?' That is the secret power of Judd Apatow that I feel has not been properly expressed via modern media."
3. Standing next to supermodels during Taylor Swift's concert made Dunham take note of her limited height. Dunham joined Swift onstage in New Jersey last Friday for a mini-recreation of the "Bad Blood" video. Catching a glimpse of herself standing next to Swift, Hailee Steinfeld and models Gigi Hadid and Lily Aldridge made Dunham hyperaware of her appearance. "I was so thrilled to support my friend and so displeased to learn about the truth of my own height," she said. "I've been feeling pretty tall and feeling pretty sturdy, and it was amazing to be, like, 'Oh, I'm not tall, I'm chubby.' It's different. But I mean, on most days I feel really great and fine about my body, but I don't think standing next to, like, three supermodels or so is anything even the most confident woman needs to do. ... The minute I caught sight of myself in the Jumbotron, I knew something was very wrong."
4. Apatow never understood why he was thought of as the "dude guy." Apatow and Paul Feig, who directed "Bridesmaids" and "Spy," have become de facto figureheads for male comedy writers who craft smart roles for women, maybe becuase they were first seen as macho . But Apatow thought his versatility as a writer predated "Bridesmaids," which he produced. Consider these points: one of his first jobs was writing jokes for Roseanne Barr, Linda Cardellini's character was at the center of "Freaks and Geeks," and he looks at films like "Knocked Up" and "This Is 40" as "couples movies."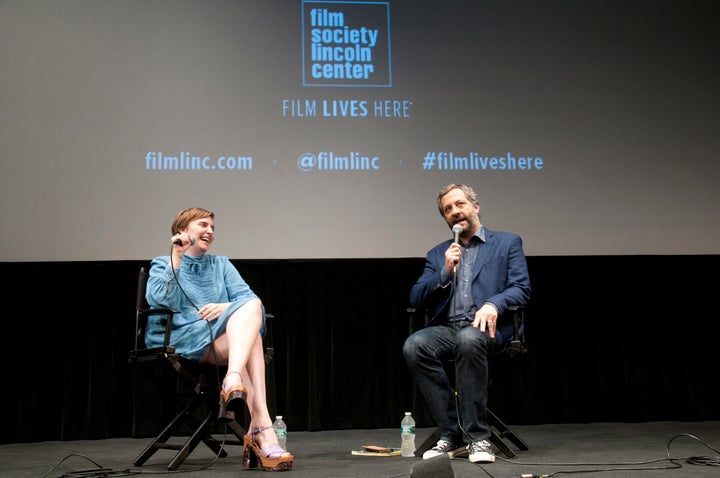 5. "The 40-Year-Old Virgin" gave Apatow the confidence to have the characters "fight a lot" in "Knocked Up." In reviewing "Virgin" for The New Yorker, David Denby remarked on the combative scenes in which Catherine Keener's character doesn't understand why Steve Carrell's won't have sex with her. "He said, 'You can tell that they'd be a great couple but that it was going to be hard but worth it,'" Apatow said of Denby's review. "And it gave me the courage in 'Knocked Up' to just have everyone really fight a lot. Because in movies you don't see men and women really have a knock-down, drag-out fight the way it often happens in life. ... Maybe it made Catherine uncomfortable to see that, but that was part of what I was going for, which is, 'This is what really happens when we lose our shit and we really get mean and all of our emotions spill out of our wounds.'"
6. Apatow would like to write a play. He's been kicking around a few ideas but has yet to put them to paper.
7. When it comes to diversity, Hollywood has a quota problem. Asked by an audience member to comment on the state of diveristy in the industry, Dunham and Apatow agreed that emphasis must be placed on hiring showrunners, directors and executives from a variety of backgrounds. "A lot of it is about supporting the creators," Apatow said. "You really do need the studios to be like, 'Oh, you know, there shouldn't just be Kevin Hart.' We love Kevin Hart, but shouldn't there be 15 Kevin Harts? And I feel like when something is successful, a lot of the powers that be feel like, 'We've got that covered.'"
Dunham pointed to the revered mastermind of "Grey's Anatomy" and "Scandal" as another example. "It's funny, the success of Shonda Rhimes is like, 'It's great, we did it! We can move on!' Shonda Rhimes should be proof that there's an audience that's incredibly hungry for work made by intelligent women of color who are filling their screens with other people of color that accurately represent just how diverse that community is, rather than side drug dealers popping in every three or four episodes."
"Something we thought about with 'Girls' was how important it was to make sure there are not just background actors accurately representing the diversity of New York, or even that we cast more people of color in important roles," she continued, "but also making sure that our writing staff was diverse and that we had people with varying perspectives who could talk to us about those perspectives, because if you're going to have a staff, what's the point of lining up six girls with pink hair and then calling it a day? I'm not saying that we've nailed that balance perfectly, but that's what we aspire to."
8. Dunham would participate in a roast of Bill Cosby "if [he] agreed to be roasted on a spit." "I have people tweeting at me, 'When's Judd going to let it go with the Cosby thing?'" Dunham said, referring to Apatow's outspoken commentary on the comedian's numerous rape allegations. "I'm like, when are we as a country going to let it go with the defending-rapists thing? It's not like he was really upset about the finale of 'Breaking Bad' and he just can't stop talking about it."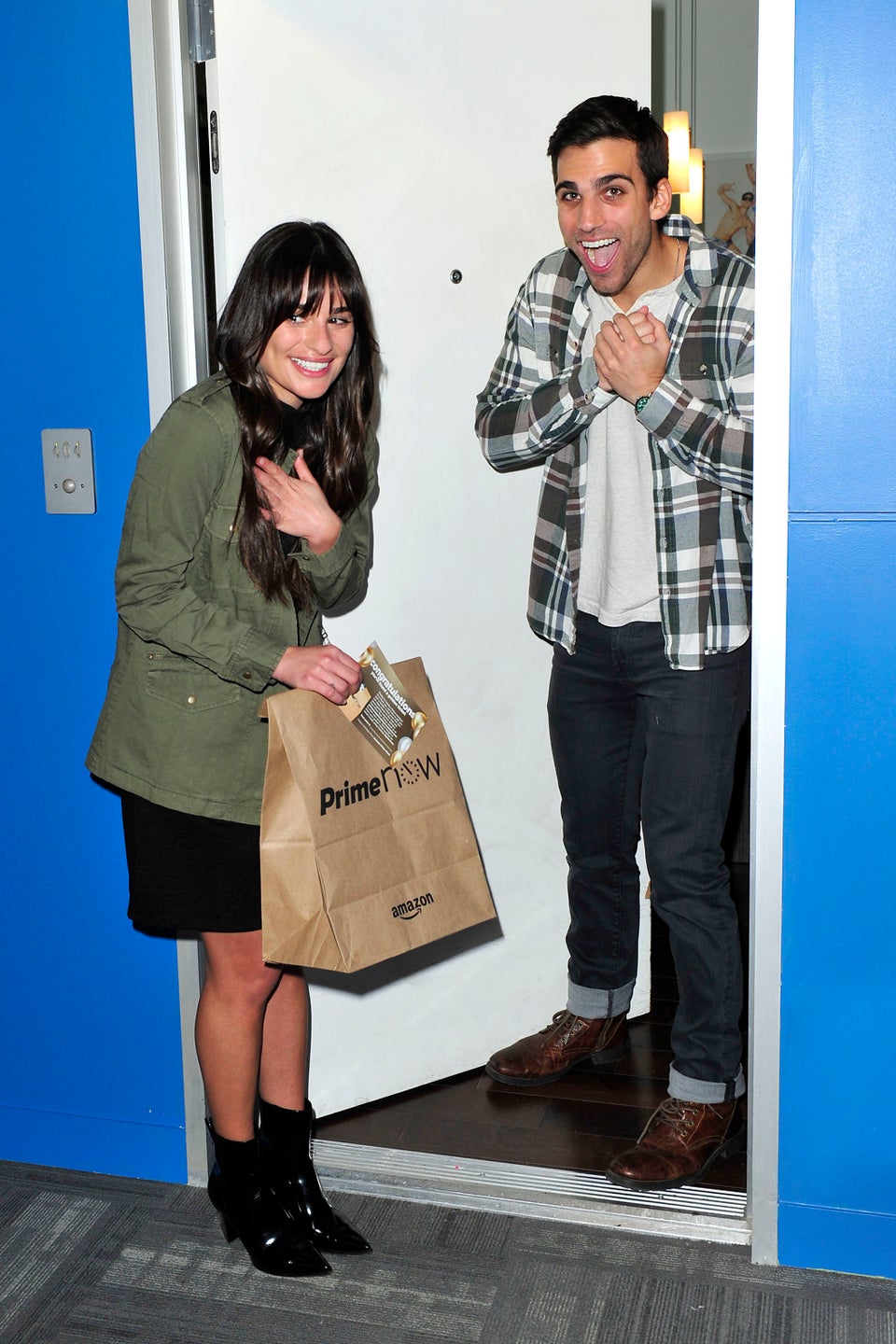 Celebrity News & Photos