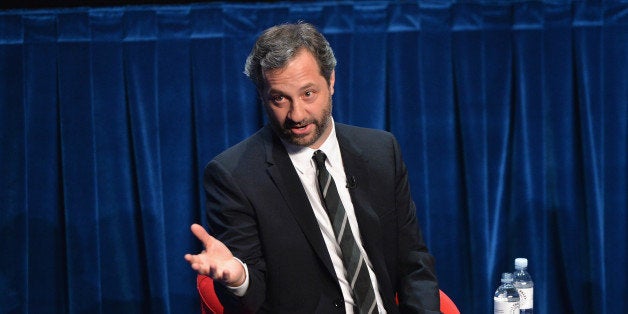 "Undeclared" fans, your decade-long prayers have been answered and a new Judd Apatow-created television show is in the works. Netflix has already picked up the comedy series "Love" for two seasons. According to Netflix, the first season will have 10 episodes while the second will have 12. Paul Rust ("I Love You Beth Cooper") and Gillian Jacobs ("Community") will star.
Apatow co-created and wrote the half-hour show with Rust and Lesley Arfin (she has credits on "Girls," "Brooklyn Nine-Nine" and wrote a book based on her Vice column, "Dear Diary"). The "Love" description reads: "'Love' follows Gus (Rust) and Mickey (Jacobs) as they navigate the exhilaration and humiliations of intimacy, commitment, and other things they were hoping to avoid."
"I am so excited to get to work with Paul and Lesley on this project," Apatow said. "Netflix has been supportive in ways I couldn't create in my wildest fever dreams."
"Judd Apatow has a unique comedic voice that manages to be delightful, insightful, and shockingly frank -- often at the same time," Netflix chief content officer Ted Sarandos said in a statement. "Together with Paul and Lesley, he's bringing a whole new level of agony and ecstasy to this modern day comedy of manners."
Earlier this summer, Vulture reported that Apatow's "Love" might be sold to Hulu. In his report, Josef Adalian wrote, "A person familiar with the pilot script describes Love as a character-based comedy revolving around relationships, romantic and otherwise, with one (very messed-up) couple in particular at the center." At the time, Jacobs, Rust and Arfin were attached.
Apatow and Rust shared their excitement about the project on Twitter:
Popular in the Community