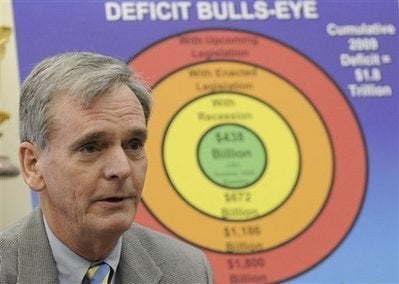 UPDATE: February 12, 4:20 PM ET: Judd Gregg has withdrawn his nomination to serve Commerce Secretary. From his statement:
I want to thank the President for nominating me to serve in his Cabinet as Secretary of Commerce. This was a great honor, and I had felt that I could bring some views and ideas that would assist him in governing during this difficult time. I especially admire his willingness to reach across the aisle.

However, it has become apparent during this process that this will not work for me as I have found that on issues such as the stimulus package and the Census there are irresolvable conflicts for me. Prior to accepting this post, we had discussed these and other potential differences, but unfortunately we did not adequately focus on these concerns. We are functioning from a different set of views on many critical items of policy.
UPDATE: February 2, 7:50PM ET: It's official. Barack Obama will name Sen. Judd Gregg as his Commerce Secretary on Tuesday, becoming the first president since Theodore Roosevelt to appoint three members of the opposing party to his cabinet.
David Rogers adds some notable details:
To a remarkable degree, Gregg has served as a trusted, behind-the scenes consigliore for every leader since the mid-'90s, from Mississippi's Trent Lott to Bill Frist of Tennessee and now Kentucky's Mitch McConnell. He is that Washington rarity: someone who thinks--often out loud-- about issues but can also operate privately in giving advice and respecting the discretion of leaders. [...]

Gregg's record--in the House, as New Hampshire's governor, and for 16 years in the Senate--has always been that of a fiscal conservative, albeit with more independence with time. Obama's historic election and the immense economic dangers now facing the nation have clearly influenced his outlook, just as they have been two recurring themes in recent interviews.

"His election confirms our creed...His Inauguration is a renewal event," Gregg said of the new president in December. More recently, he was impressed by Obama's analysis of the economic crisis before a Senate Republican luncheon last week.

"His presentation was a tour de force. It was surely impressive and it was comprehensive," Gregg said later. "I felt much better he had such a comprehensive understanding of what I see as the issue. He's clearly moving forward aggressively on all the different fronts."

For Gregg to cross over now and join the administration will make it harder for his fellow Republicans to demonize Obama and refuse to give the new president the running room he needs to put together his economic recovery plan.
UPDATE: February 2, 2PM ET: WASHINGTON (AP) -- President Barack Obama moved closer to nominating his secretary of commerce on Monday as his top choice, GOP Sen. Judd Gregg, revealed an apparent deal that would keep his seat out of Democratic hands.
"I have made it clear to the Senate leadership on both sides of the aisle and to the governor that I would not leave the Senate if I felt my departure would cause a change in the makeup of the Senate," Gregg said in a statement.
New Hampshire Gov. John Lynch confirmed the "understanding," stopping just short of promising to appoint a Republican or an independent to serve out the remaining two years of Gregg's term.
The deal would give Obama his top choice for a team tasked with steering the nation out of recession. Republicans get to keep Gregg's seat for two more years, retaining the crucial 41 Senate seats they need to filibuster majority Democrats.
And Democrats, who control 56 seats and caucus with two independents, stand a better chance of flipping Gregg's seat into their ranks in two years by running a candidate against his rookie replacement or an empty seat than Gregg himself.
The White House tried to stay out of the back and forth. But officials there did nothing to squelch the expectation that Gregg would be nominated to the post.
"Obviously, the president has great respect for Senator Gregg," White House press secretary Robert Gibbs said Monday. "I'm not going to get into personnel announcements before we are there."
Getting to a deal took days of negotiating after it became known last week that Obama was considering appointing the former Budget Committee chairman from New Hampshire to his Cabinet.
Gregg would become the third Republican in the Cabinet. The deal spares him blame for delivering Democrats complete control of the Senate and a re-election campaign in Democatic-leaning New Hampshire.
Lynch's agreement, meanwhile, shores up his bipartisan credentials at a time when he's confronting a decades-old budget crisis at home.
The Republican expected to be named to Gregg's seat is Bonnie Newman, who served as Gregg's chief of staff during his time in the House. Newman is a veteran of the Reagan White House. Under the deal, she would not run in the 2010 election.
There is a strong possibility that Barack Obama will ask Sen. Judd Gregg (R-NH) to serve as his Secretary of Commerce, Democratic Senate aides tell the Huffington Post.
The move would fill a vacancy that has lingered since Gov. Bill Richardson withdrew his nomination. And provided that Al Franken emerges victorious in the Minnesota recount, it would give Democrats in the Senate a 60th caucusing member, as New Hampshire's Democratic governor John Lynch would appoint Gregg's replacement.
Asked for a response, White House spokesman, Bill Burton, in an email to the Huffington Post, said the "president hasn't made a pick yet."
The potential of Gregg leaving the Senate will almost certainly set off an intense lobbying effort from his fellow Republican senators to persuade him to turn down the Commerce post. Already, a GOP operative writes in to say: "No way that Gregg takes it."
Popular in the Community