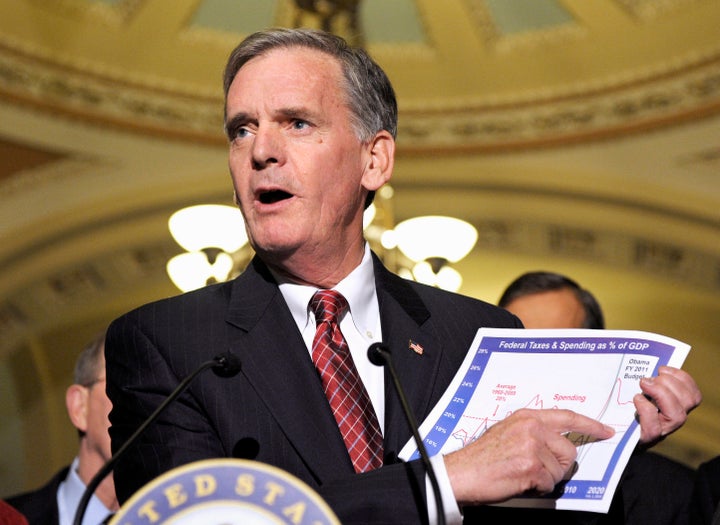 NEW YORK -- With Goldman Sachs' latest high-profile hire, the Wall Street giant is unlikely to shake its Government Sachs nickname or the reputation for exerting undue influence in Washington that it implies.
Goldman announced Friday that it had named three-term Sen. Judd Gregg an international adviser to the bank. The New Hampshire Republican will "provide strategic advice to the firm and its clients, and assist in business development initiatives across our global franchise," Goldman said in a statement.
"Judd Gregg's experience and insight will contribute significantly to our firm and our continuing focus on supporting economic growth," said Lloyd Blankfein, Goldman's chairman and CEO.
"A strong financial sector is critical to our nation and one of the key engines of job creation in our country," said Gregg, who was the ranking Republican on the Appropriations; Banking; Housing and Urban Affairs; and Health Education Labor and Pensions Committees. "I hope that I can bring to Goldman Sachs some ideas and perspectives that will help the firm continue to be a leader in supporting its clients in their pursuit of the capital, credit and advice they need to be successful."
In the wake of the financial crisis, which has been partly blamed on the excesses of Wall Street banks such as Goldman, Gregg was an outspoken critic of the Obama administration's effort to tighten oversight of the financial industry. He was also a defender of Goldman during the heated congressional debate over the $700 billion bank bailout.
Early last year, Gregg said that Democrats were overreacting to civil charges filed against Goldman for securities fraud by using the indictment to push regulatory reform. He noted at the time that the allegations had not yet been proven in court.
"It's really disingenuous for some people to pursue regulatory reform based off this one instance," the retired senator said on MSNBC. "This is a single event, we don't even know what the outcome will be."
During an April 2010 appearance on Fox News, Gregg corrected the host Greta Van Susteren's assertion that Goldman received a $10 billion bailout. The bank didn't need the money, and it's wrong to criticize them for handing out big bonuses, he said:
VAN SUSTEREN: Goldman Sachs got bailed out, right?

GREGG: They didn't ask. I don't think in Goldman's case they were looking to be bailed out.

VAN SUSTEREN: They took it, right?

GREGG: They were told to. If you're going to go back and do some history, what happened -- I was there at the time. [Treasury Secretary] Hank Paulson called in the top 10 banks and said you are all going to take this money, because if only those of you who are in real trouble take the money it is going to be a message to the marketplace that you guys are in trouble and the others are stronger and that is going to turn the playing field against you and you are going to get in worse trouble.

He said all the top 10 banks, you have to take this money there. So there were four or five who didn't want to take it -- Wells Fargo, Goldman, a number of others -- but ended up having to take it.

VAN SUSTEREN: So I'm wrong to think they got a bailout from taxpayers and turned around and paid big bonuses? I'm wrong in being sort of, like, hyper-critical of them?

GREGG: In the Goldman case I think it is hard to say that. You can make that case with Bank of America because of the Merrill deal with Citibank, and with a couple of others that clearly got support when they were in difficult straits and then gave large bonuses.
Popular in the Community