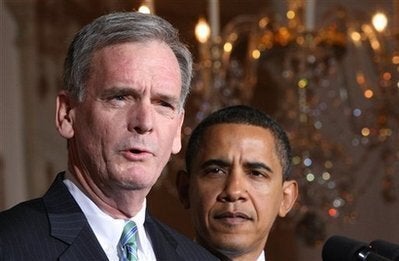 New Hampshire Senator Judd Gregg's decision to abstain from voting February 10 on the economic stimulus bill has not only left officials in Washington confused but has provoked a firestorm of protest in his home state.
When the Manchester Union Leader first reported in a brief, six-graph story that President Obama's nominee for Commerce Secretary had "recused myself from voting during the pendency of my nomination," the reader comments immediately poured in.
Ann, of Ashland, N.H. wrote, "I am very disappointed with SENATOR Gregg's decision. NH's representation has been compromised," followed by Tom of Campton, "Either do your job or resign," and then by Dennis from Merrimack, "I've got this violent urge to hurl! He should consider never returning to New Hampshire. What a disgrace!!!!!"
The surge of criticism was so strong that John Distaso, the paper's top political reporter, wrote another story: "Gregg's non-votes get reaction back home."
Gregg got some sympathy from state GOP chair John H. Sununu, who said Gregg is in an "unusual and difficult position ...There may actually be some implicit conflict on any bills that may have funding in them because they may have funding that's going to go through the department he is going to run."
But sources in New Hampshire and Washington said Gregg's decision was based more on political considerations than on possible conflicts of interest. If Gregg voted for the bill, he risked incurring the wrath of Republicans, especially those who will be voting on his nomination as Commerce Secretary. Conversely, if he voted against the bill, he risked a huge Democratic outcry, and the prospect of going into the Obama administration while suspected of questionable loyalty.
One of New Hampshire's leading conservatives, Charles Arlinghaus -- president of the conservative Josiah Bartlett Center for Public Policy and past executive director of the state Republican Party -- told Distaso, "It seems to me that if you're a senator, you should vote on everything. And if you're not going to vote, you should probably quit."
Some of the sharpest criticism was voiced by Washington-based conservative Grover Norquist, president of Americans for Tax Reform. "You recuse yourself because you have a conflict of interest and if he believes he has a conflict of interest by taking the job, he shouldn't take the job. And if he isn't being bought, then he should feel free to vote and vote against [Senate Majority Leader Harry Reid] when he feels Reid is wrong, even if Obama is with Reid. The point of having a Republican in your Cabinet is that you are saying you are open to different ideas," but that won't happen "if you're folding up your conscience and your New Hampshire interest and your track record into a little suitcase and putting it in a little corner and then doing what you're told."
"You don't approve of this stimulus package. You are a guy who wants lower spending, lower taxes, lower deficits, lower debt, Kudlow declared. "What are you going to do here, are you going to go out and sell something that you fundamentally opposed for 25 years?"

Gregg: "No I'm going to support something I think makes sense. And I think that a major stimulus package makes a lot of sense ... You've got to remember Larry, if we don't get this economy going, the numbers in this stimulus package are small compared to the loss of revenues for the federal government."

Kudlow: "We are hoping you keep the principles of your long and outstanding record."

Gregg: "I think you can be sure I will stick to my principles. But I will do it from within the tent, so I am not going to discuss what I am going to offer."
The White House press office deferred questions about Gregg to his Senate staff.
The Huffington Post asked Andrea Wuebker, Gregg's spokeswoman, "How does the Senator explain not voting on the stimulus when, as Commerce Secretary, the stimulus will be part of his mandate, and, on a broader level, he will become a key player in the Obama administration's economic team?"
"The Senator has recused himself from voting pending the confirmation hearing," she replied.
Support HuffPost
The Stakes Have Never Been Higher
Popular in the Community