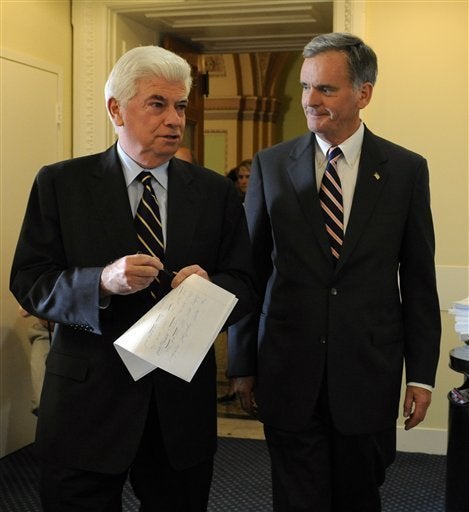 Democrats in Washington are concerned that should Sen. Judd Gregg be chosen as Commerce Secretary, New Hampshire's Democratic governor, John Lynch, will pass on the opportunity to appoint a Democrat in his place.
"This is the real deal, he is definitely in play," one high-ranking Senate Democrat told the Huffington Post. "But there is some hesitation about what Lynch will do with the replacement."
If the governor were to choose a Republican, the Senator added, "that would make a lot of Democrats mad."
But such is a scenario that seems to be developing. Appearing on CBS Face the Nation, Sen. Minority Leader Mitch McConnell offered the blanket prediction that Lynch would not use the opportunity of a vacancy to change the partisan composition in D.C.
"Sen. Gregg has assured me that if he accepts, it would not alter the makeup of the Senate in terms of the majority and minority," said the Kentuckian. "In other words, whoever is appointed to replace him would caucus with Senate Republicans, so I think it would have no impact on the balance of power in the Senate." Sen. Jon Kyl, appearing on Fox News Sunday, said much the same thing.
Serving in his third, two-year term, Lynch has carved out a niche for himself as a post-partisan figure in a decidedly non-partisan state. So it is not beyond the realm of possibility that he would use the vacancy appointment to bolster his own image and credentials. (Lynch has ruled out running for the Senate in 2010, but that was before the Gregg speculation began.)
The move would be a slight to the state's two Democrats in the House of Representatives, Paul Hodes and Carol Shea Porter. But if Lynch were to replace Gregg with another Republican, it will likely be of the moderate variety. One name being reported, by the Boston Globe and others, is Bonnie Newman, the former University of New Hampshire president who was Gregg's chief of staff.
Lost in the speculation over Gregg's replacement is a debate over whether Gregg is even suited for the Commerce post. The Democrat who spoke with the Huffington Post was sour on the idea, noting that the New Hampshire Republican was a fiscal conservative, would likely oppose the president's stimulus package, and has cast a "fair amount of gotcha votes" while in office.
"On the other hand you have got to admire Obama's discipline to message," the official added. "He seems committed to continuing this bipartisan message no matter how much pushback he gets from House or Senate Republicans."
CORRECTION: An earlier version of this article said that Lynch had ruled out running for reelection in 2010. He had ruled out running for the Senate in 2010 -- but that was before Gregg's name was floated as a potential commerce secretary.
Popular in the Community