And he hasn't even graduated high school yet.
But graduation day is fast approaching, and Grimm's legal battle — which at its core is about his rights as a trans student — will remain stuck in the court system well past the moment he gets his diploma. On Wednesday, his legal team and that of the Gloucester County School Board proposed a new schedule that will likely push the resolution of the case well into the fall.
Perhaps anticipating that delay, the same appeals court that last year gave his case a big boost also recognized Grimm for his persistence through it all. And it did so with language that was at once stark and inspirational.
Grimm "takes his place among other modern-day human rights leaders who strive to ensure that, one day, equality will prevail, and that the core dignity of every one of our brothers and sisters is respected by lawmakers and others who wield power over their lives," wrote in a court order last week U.S. Senior Circuit Judge Andre Davis, of the U.S. Court of Appeals for the 4th Circuit.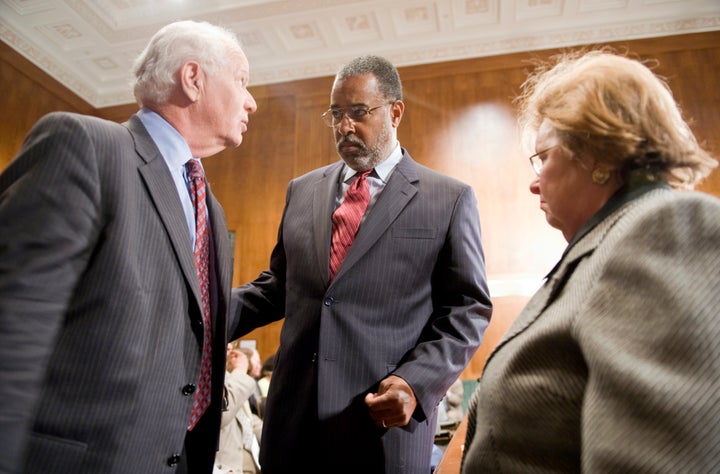 Last month, the Supreme Court sent Grimm's case back to the Richmond-based court for a do-over — a direct response to the Trump administration's rollback of Obama-era guidance directing schools on how to accommodate trans students. Relying on that guidance, Grimm sued his school district for barring him from using the restroom that all other boys use, which his lawyers contend is a form of sex discrimination.
With the federal guidance no longer in the books — and Grimm's case prolonged well after he graduates in June — the 4th Circuit had no option but to go back to square one and reconsider the case. But before the case moved any further, Davis and another judge in the 4th Circuit gave Grimm a tribute of sorts — likening his struggle to that of some of the greatest civil rights plaintiffs in American history.
"Our country has a long and ignominious history of discriminating against our most vulnerable and powerless," wrote Davis. "We have an equally long history, however, of brave individuals — Dred Scott, Fred Korematsu, Linda Brown, Mildred and Richard Loving, Edie Windsor, and Jim Obergefell, to name just a few — who refused to accept quietly the injustices that were perpetuated against them."
His case is part of a larger movement that is redefining and broadening the scope of civil and human rights
Davis added: "It is unsurprising, of course, that the burden of confronting and remedying injustice falls on the shoulders of the oppressed. These individuals looked to the federal courts to vindicate their claims to human dignity, but as the names listed above make clear, the judiciary's response has been decidedly mixed."
Grimm's lawyers were moved by Davis' words, which, among other flourishes, also quotes Martin Luther King, reprints a poem by Palestinian-American poet Naomi Shihab Nye, and links to Grimm's own testimony before school authorities pleading for equal treatment just as the rest of the student body receives.
To Davis, whose opinion is worth reading in full, Grimm's case is not just about a high school teen wanting to use a bathroom that aligns with his gender identity.
"It's about a boy asking his school to treat him just like any other boy," he wrote. "It's about protecting the rights of transgender people in public spaces and not forcing them to exist on the margins. It's about governmental validation of the existence and experiences of transgender people, as well as the simple recognition of their humanity."
Davis went on: "His case is part of a larger movement that is redefining and broadening the scope of civil and human rights so that they extend to a vulnerable group that has traditionally been unrecognized, unrepresented, and unprotected."
There's no telling what will happen next in Grimm's case and others like it advancing in the courts. But Davis' observations reflect that at least some members of the judiciary believe that the struggle for transgender rights is no different from other struggles past.
Davis ended his court order highlighting Nye's poem, not something that judges ordinarily do, David Cole, the legal director of the American Civil Liberties Union, which is representing Grimm, wrote in the New York Review of Books.
"Poetry and judicial opinions do not often mix," Cole wrote. "Judging is ordinarily a prosaic task: weighing arguments, applying tests of legal doctrine, finding facts, stating conclusions, declaring winners and losers, announcing law. This is not the stuff of poetry. But every once in a while, poetry is called for."
Calling all HuffPost superfans!
Sign up for membership to become a founding member and help shape HuffPost's next chapter
BEFORE YOU GO
PHOTO GALLERY
I Am Transgender