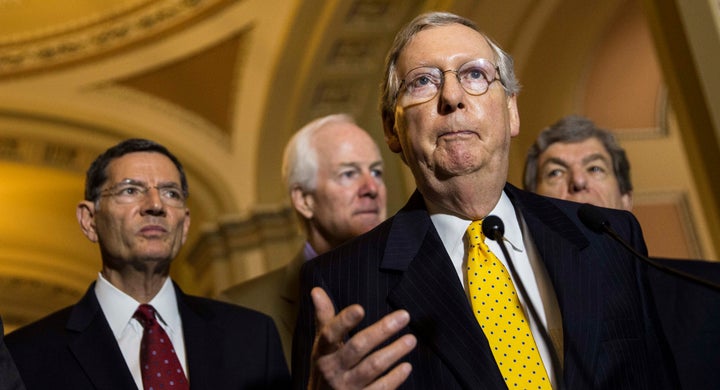 WASHINGTON -- It took them nearly three years to do it, but the Senate on Monday confirmed a desperately needed judge for the U.S. District Court for the Eastern District of California.
The Senate voted 69 to 21 to confirm Dale Drozd. The seat he fills has been empty for 1,069 days and is a judicial emergency, meaning the workload exceeds 600 cases or has totaled between 430 and 600 cases for more than 18 months.
Drozd was easily confirmed, yet he waited 327 days for a vote. Why? Because Republicans are intentionally slow-walking President Barack Obama's judicial nominees. Many are hoping to hold out until 2017, when a Republican may be in the White House and could fill out the federal bench with GOP-picked nominees. In the meantime, nominees aren't getting confirmed, courts are getting backed up for years and judges are burning out.
Judge Lawrence O'Neill may be the happiest person of all about Drozd's confirmation. He serves on the busy Fresno court that Drozd now joins. In an interview with The Huffington Post last month, O'Neill described the work schedule he keeps in order to juggle his more than 1,000 cases: 75-hour weeks, at least one full day every weekend and no breaks on holidays.
He credits the media for keeping pressure on the Senate not to blow off the entire judicial branch of government.
"Credit is given where credit is due," O'Neill said Monday. "The confirmation of Judge Drozd shows that the U.S. Senate acted because they heard and recognized the truth of the serious issues voiced by the judges of this District by way of a responsible and concerned media. The Senate's action today is more than appreciated by our judges, but the true beneficiaries are members of the public who need to use the Federal Courts."
There are 67 court vacancies left to fill. More than 30 have nominees pending in the Senate, and 10 of those nominees are ready for a confirmation vote. No votes have been scheduled.
Sen. Patrick Leahy (D-Vt.) urged Republicans to approach judicial confirmations the way he did when he chaired the Judiciary Committee under President George W. Bush. By this point in Bush's seventh year, Democrats had confirmed 33 of his judicial picks. Republicans have only confirmed seven of Obama's judicial nominees this year, including Drozd.
"I wanted to set different patterns. I wanted to take the confirmation of judges, at least, out of politics," Leahy said on the Senate floor. "Well, it went back to the same old, same old. … Let's stop this obstruction."