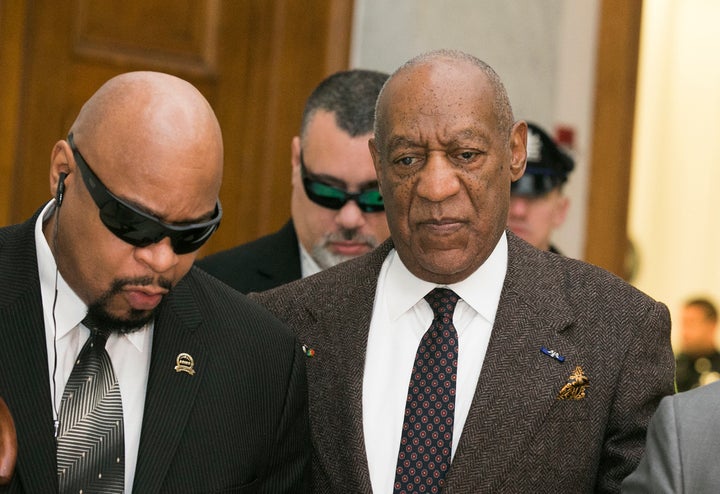 A Pennsylvania judge on Wednesday rejected entertainer Bill Cosby's request to dismiss the only criminal charge against him and said comments the entertainer once made about an alleged sexual attack can be used by the prosecution in court.
The ruling by Judge Steven O'Neill in the Philadelphia suburb of Montgomery County was a stinging defeat for Cosby's defense to the aggravated indecent assault charge. The case may now go forward, with the next step a preliminary hearing to determine if the prosecution has enough evidence for a trial.
Cosby, 78, was arrested in December on charges he drugged and molested then-Temple University women's basketball assistant Andrea Constand at his suburban Philadelphia home in 2004. It's the only criminal case to result from claims by roughly 50 women who've said they were sexually violated in some form by Cosby in alleged incidents going back to the 1960s.
A previous district attorney said there wasn't enough evidence to prosecute him then. But newly elected Montgomery County DA Kevin Steele followed through on a campaign promise to reexamine Constand's accusation.
Cosby's attorneys argued Steele relied on evidence that shouldn't be admitted in a criminal case, namely, depositions from 2005 and 2006 he gave as part of a civil lawsuit Constand filed against him. Under questioning then, Cosby admitted giving pills to Constand to "take some of the stress away" before he lifted her bra and slid a hand into her pants. The depositions conflict with statements Cosby made to authorities when they initially looked into Constand's accusation. Constand and Cosby later reached a settlement out of court.
Portions of the depositions became public in July, when a judge unsealed documents from Constand's lawsuit against Cosby.
Cosby's deposition shouldn't be used, the defense said, because Cosby only agreed to testify in the lawsuit after then-District Attorney Bruce Castor said he wouldn't prosecute the entertainer. Castor testified on Tuesday as a defense witness.
Castor said he believed that Cosby inappropriately touched Constand, but doubted a jury would convict him. He also testified that he hoped his decision not to press charges against Cosby would encourage him to answer questions in Constand's lawsuit.
An attorney for Cosby testified that he only let Cosby answer questions in the deposition because of oral assurances from Castor that there would be no criminal case.
Those conversations don't amount to an enforceable agreement because they weren't written down and approved by a judge, Steele argued.
Judge O'Neill sounded skeptical as well, questioning Castor about why the agreement wasn't put in writing, CBS Philadelphia reported.
Popular in the Community