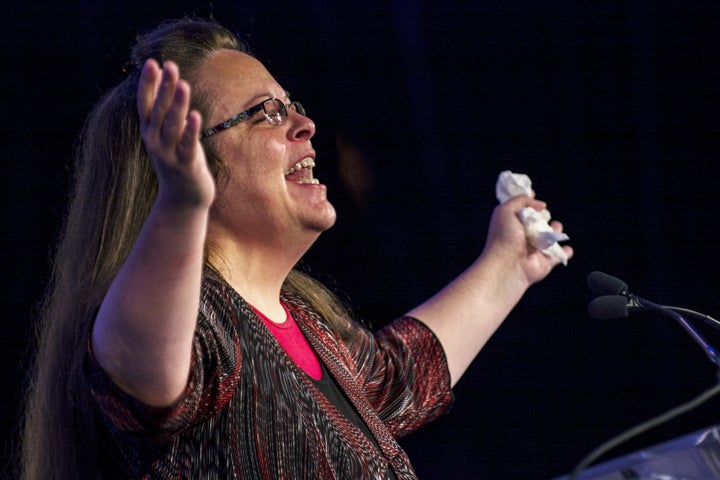 WASHINGTON — The American Civil Liberties Union will not be able to recoup legal fees it incurred in a lawsuit against Kim Davis, the county clerk in Kentucky who spent five days in jail after refusing to issue marriage licenses to same-sex couples, a federal court has ruled.
On Monday, U.S. Magistrate Judge Edward Atkins denied an ACLU motion requesting Davis, or rather Rowan County, pay $233,058.08 in attorney's fees and costs that the organization incurred during a lawsuit it brought on behalf of four couples. The judge's finding, however, is preliminary, and the ACLU plans to file an objection.
Filed in September, the motion was meant to "send a message to government officials that willful violations of individuals' rights will be costly," ACLU of Kentucky legal director William Sharp said at the time. Davis' legal representation, however, dismissed it as a final "Hail Mary."
Davis became a celebrated figure among religious conservatives after she refused to issue marriage licenses to same-sex couples following the Supreme Court's 2015 ruling that legalized gay marriage nationwide. She was jailed after a judge found her to be in contempt of court. Davis appealed that ruling, but the case was ultimately resolved when Kentucky Gov. Matt Bevin, responding to Davis' legal troubles, signed into law a bill that removed county clerks' names from state-issued marriage licenses. 
"The ACLU and others still want to punish Kim Davis for daring to take a stand for religious liberty, but today the court recognized that the ACLU does not deserve to get paid for its bullying," Horatio Mihet, Liberty Counsel's vice president of legal affairs, said in a statement. "Kim Davis never violated her conscience, and she still has her job and her freedom — that is a win for Kim and for all Americans who want to perform public service without being forced to compromise their religious liberties."
In his preliminary order, Atkins wrote that the ACLU is "not entitled to an award of attorneys' fees" because it was not a prevailing party in the legal action. 
In its motion, the nonprofit argued it had the right to recoup legal costs for "having to go through the expense of that litigation to secure a basic right that should not have been denied eligible couples in the first place — the ability to secure a marriage license and marry the person of their choosing." 
"We respectfully disagree with the preliminary recommendation issued by Magistrate Judge Atkins regarding the fees issue, and we will file our objections to that recommendation within two weeks explaining our bases for doing so," the ACLU of Kentucky's legal director, William Sharp, wrote in an emailed statement to The Huffington Post on Tuesday. "Then, once U.S. District Court Judge Bunning issues his final ruling on the issue, our clients will re-evaluate their options at that time."
This story has been updated to include a response from the ACLU.
REAL LIFE. REAL NEWS. REAL VOICES.
Help us tell more of the stories that matter from voices that too often remain unheard.
BEFORE YOU GO
PHOTO GALLERY
U.S. Celebrates Marriage Equality