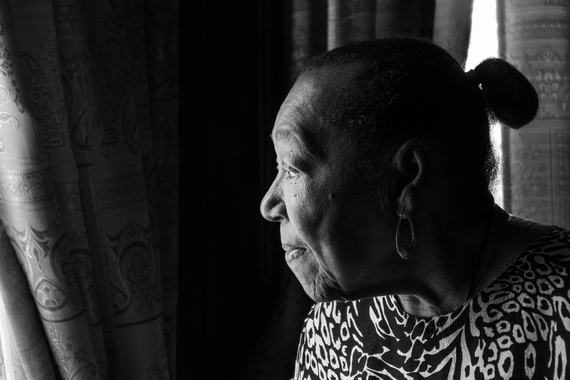 Lillie Williams said she was the subject of a reverse mortage/home repair scam orchestrated by Mark Diamond. Jon Lowenstein/NOOR
Life for Chicago businessman Mark Diamond got harder last week, even as questions remain for some about why he has not yet faced criminal prosecution.
On Wednesday Cook Count Judge David Atkins granted Attorney General Lisa Madigan's request for an injunction against Diamond while the 2009 cases her office filed on behalf of dozens of homeowners makes its way through the court system.
"The court finds that Plaintiff has carried its burden of proof to obtain a preliminary injunction against the Defendants," Atkins wrote in his 10-page decision.
In the 2009 suit Diamond was accused of bilking elderly black homeowners out of more than $1.3 million through a reverse mortgage/home repair scam.
Reverse mortgages are loans that allow homeowners 62 years or older to convert some of their home's equity into cash. Although the mortgage is not due until the homeowner dies or the house is no longer used as a primary residence, mortgage holders must pay insurance premiums.
Madigan told me in January for a story I wrote for The Chicago Reporter that she filed the injunction in October 2014 because her office had received an uptick last year in complaints about Diamond's activities.
"For too many years, Mark Diamond defrauded the most vulnerable people in our society," Madigan said in a statement. "He stole the financial security that these families struggled to build over a lifetime. It is deplorable that he got away with his scheme for so many years. The preliminary injunction provides a small victory for those who have already lost so much but will at least prevent additional people from losing their homes and savings to one of Diamond's reverse mortgage scams."
Diamond's lawyer Dennis Both declined requests for comment.
Diamond has been the subject of dozens of lawsuits in circuit and federal court in Illinois stretching back nearly 30 years. Many of the actions allege that he targeted elderly black homeowners on the city's South and West Sides. Madigan has sought to thwart Diamond's activities since she assumed office in 2002.
A number of these homeowners recounted their experiences in the injunction Madigan's office filed last year. Their testimony creates a consistent picture of Diamond's misrepresenting the nature and terms of the reverse mortgage, taking a substantial portion, if not all, of the money, and doing little, no or shoddy repairs.
The homeowners who testified included Clyde Ross, a member of the Contract Buyers League that fought for West Side residents' housing rights in the 1960s. Ross, who is in his 90s, said in his testimony that he wanted to make his home accessible for his son Tim, a disabled Marine who was injured in the war in Iraq. Diamond took more than $35,000 from Clyde Ross and left his home more dangerous than before he started, according to the testimony.
Legislation filed by Sen. Jacqueline Collins (D-16) that would require a cooling off period for prospective reverse mortgage applicants and that would prohibit those involved in granting a reverse mortgage from getting access to the money has not moved since passing the House in late May.
Collins said she was relieved that Diamond will not be able conduct the business activities that have allowed him to prey for decades on senior citizens of color, but noted that he is "not the only scammer at work in our neighborhoods."
"I urge the governor to sign the reverse mortgage consumer protection legislation I sponsored so these individuals have fewer opportunities to defraud homeowners," Collins wrote in a statement.
Catherine Kelly, spokeswoman for Gov. Bruce Rauner, said the governor will take seriously any legislation that crosses his desk.
The Rev. Robin Hood, founder of the Illinois Anti-Foreclosure Coalition and the nephew of one of Diamond's alleged victims, also applauded the move by Atkins and said he will not stop advocating until Diamond faces criminal charges.
"We will not quit until Mark Diamond and others like him, are completely out of business and face the full extent of the law," said Hood, adding that he had spoken with an attorney in South Dakota who said Diamond had victimized hundreds of families across the country. "We will seek restitution for all the victims, and their heirs."
"Now is the time for federal, state and local law enforcement to stop Mark Diamond and his enablers, Bankers, mortgagers and all that prey on the elderly," Hood wrote later.
Support HuffPost
The Stakes Have Never Been Higher
Related
Popular in the Community