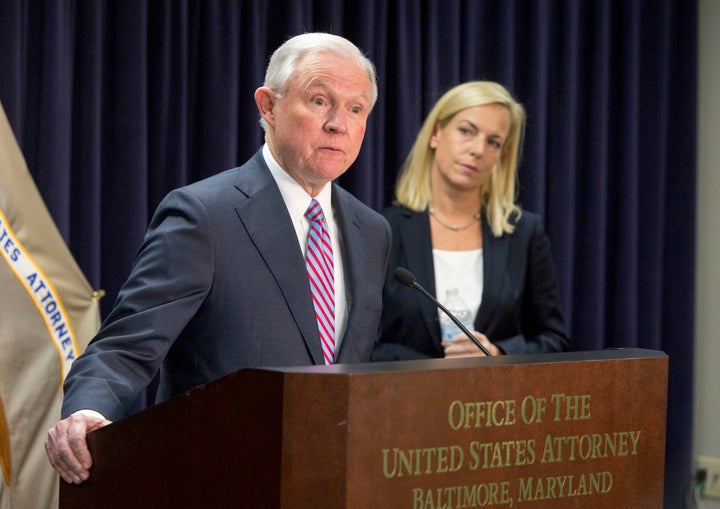 A federal judge threatened on Thursday to hold top Trump administration officials in contempt of court if the government does not bring back a mother and daughter who were put on a plane to El Salvador at the same time that he was hearing arguments in court about why the family should be allowed to stay in the U.S.
U.S. District Judge Emmet G. Sullivan said in court that the government must "turn the plane around," The Washington Post reported.
It was a dramatic illustration of the Trump administration's zeal for deportations running up against an increasing number of court challenges to its immigration policies. In this case, eight asylum-seekers represented by the American Civil Liberties Union and the Center for Gender and Refugee Studies filed a suit against Department of Justice and Department of Homeland Security officials over policies that they argued could lead to swift deportation to countries where the asylum-seekers would face extreme persecution.
Under a court order issued on Thursday, those eight asylum-seekers, including the mother and daughter, will be allowed to remain in the U.S. while Sullivan considers the case before the U.S. District Court for the District of Columbia. The deported mother and daughter were en route back to the U.S. later Thursday.
But Attorney General Jeff Sessions, along with Homeland Security Secretary Kirstjen Nielsen and other officials, could face consequences for the government's handling of the case if the judge believes they did not fully comply with his orders.
The fact that the mother, referred to as Carmen in court documents, and her daughter were put on a plane Thursday came as a surprise to the judge and to the ACLU.
The ACLU had asked that its plaintiffs be allowed to remain in the U.S. while the case proceeded. The government indicated that Carmen and her daughter would not be deported before 11:59 p.m. Thursday to allow Sullivan to hear arguments earlier in the day for why he should halt their removal, according to the court order.
But while in court arguing that deportation of their plaintiffs should be delayed, ACLU attorneys learned Thursday that Carmen and her daughter were already in the process of being deported. They informed Sullivan, who called the move "pretty outrageous."
The judge ordered the government to immediately return Carmen and her daughter to the U.S. If the government does not fully comply with the order, the judge said he would order officials to appear in court to explain why they should not be held in contempt. Along with Sessions and Nielsen, he singled out U.S. Citizenship and Immigration Services Director Lee Francis Cissna and Executive Office of Immigration Review Director James McHenry. 
A DHS official said in a statement that the department is "complying with the court's order, and upon arrival in El Salvador, the plaintiffs will not disembark and will be promptly returned to the United States."
The official did not respond to a request for comment on why the mother and daughter were put on the plane early Thursday in spite of indications, according to the judge, that they would not be deported until 11:59 p.m. at the earliest.
ACLU attorney Jennifer Chang Newell, managing attorney of the group's Immigrants' Rights Project, said in a statement that they "will not rest until our clients are returned to safety."
"In its rush to deport as many immigrants as possible, the Trump administration is putting these women and children in grave danger of being raped, beaten, or killed," she said in a statement.
President Donald Trump and top officials have criticized existing protections for asylum-seekers, arguing they allow too many people to stay in the U.S. under the claim they suffer persecution at home.
The administration is pushing for changes in Congress that would allow it to turn away more asylum-seeking immigrants. But Sessions has also made moves to narrow asylum claims in the courts, which he oversees as head of the Department of Justice. In June, he issued a decision instructing immigration judges that "generally," asylum claims related to gang or domestic violence should not be granted. Asylum officers under U.S. Citizenship and Immigration Services are also carrying out Sessions' order, which has already resulted in more people being denied asylum and expedited deportations, according to attorneys and advocates.
The ACLU and Center for Gender and Refugee Studies lawsuit argues the policies "unlawfully deprive [asylum-seekers] of their right to seek humanitarian protection." 
Calling all HuffPost superfans!
Sign up for membership to become a founding member and help shape HuffPost's next chapter
BEFORE YOU GO
PHOTO GALLERY
Immigrant Families At The U.S.-Mexico Border