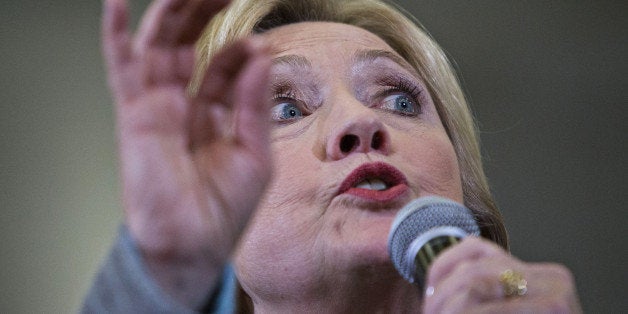 Once again, Hillary Clinton is being demonized for acquiring Bill's name for political expediency only, and for continuing to support and defend him despite his infidelity.
Perhaps she went too far in denigrating the objects of Bill's peccadilloes; that can be seen as antifeminist. Who of us would have reacted perfectly in the face of this public humiliation? But overall she has dedicated her life and career to improving the lives of women, children, and the disenfranchised, which far outweighs the lengths she went to in defending her husband. So let's forgive her for these transgressions.We all make compromises in our lives to get along with others and to remain married (except of course my husband, who married someone who was perfect.)
From 1975 to 1980, I served in the New Hampshire legislature and rose to the position of Assistant Minority leader. Soon after I was first elected, I ran to Filene's basement (oh, how we miss it!) and bought three business suits. The jeans and slogan tee-shirts I had worn for the past few years of mothering were just not going to work. I settled on a tan-tailored suit with a straight skirt, a maroon one with a pleated skirt, and a green and yellow tweed number with an A-line skirt. Not the traditional black straight jacket required of Japanese business women, but traditional enough that other legislators did not make the assumption that I was a liberal and not worth talking to. Some might say I sold out, but all I did was change the packaging so that the message within could be heard. Others would say I changed my identity, but really after high school shouldn't our identities be deeper than clothing?
We are constantly packaging and repackaging ourselves. In informal situations, I introduce myself as Ruth, but when I need instant credibility, I'm Dr. Nemzoff. Packaging comes in many forms, including the title and name we use. Part of social grace is learning how to introduce oneself in different situations.
I ran for the legislature using both my name and my husband's, but the voting system could not take three names. I found myself hyphenated, which screamed I was a feminist and stymied conversation. On seeing my name, other legislators assumed they knew my views, but like most of us, my political opinions are complex. I don't fit into one box. I started using my birth name for professional purposes and found my ideas were more readily heard.
Hillary too changed the package so that she could work more effectively for the rights of women. Early on, while in Arkansas, she dropped "Rodham" and adopted "Clinton." We can denounce her as a turncoat or as one who changed her identity, but maybe she was realistic about how best to gain acceptance for her progressive ideas. Maybe she is a role model for all of us about how to understand and use social nuances to help others. We all dress according to the context. We wear ball gowns to dances, but not to class or the office. We all know that how we dress elicits a reaction. It is just good politics and socially astute to dress and package ourselves in a way that leads to the reaction we want.
I never had to "stand by my man" and forgive him for having an affair, but I, like every other married man or women, have made compromises. My husband didn't do 50 percent of the child care, he didn't make the car pool arrangements, but he was the primary breadwinner and is a fine human being who loved his children. His love for them was unconditional, and he helped with their homework when needed. If I had stood on the principle of men and women having 50-50 responsibility for childcare I would have left him. But I focused on the bigger picture comprising all of our shared responsibilities, which we did share 50-50. What defines a couple's responsibilities--some shouldered by each partner and others shared--changes over time as children grow and careers and care for aging parents change. Sometimes the partners' shares are larger or smaller, but over time in a good partnership they are equitable (and perceived as such).
None of of knows what's really going on in other people's relationships. Yet we all know that none of us is perfect. If we are to survive in a marriage we take the good with the bad, at least as long as the good outweighs the bad. Hillary kept her family together. Is there no applauding her for that? She was not the one who was unfaithful, why should she be blamed?
Hillary has proven her ability to use the status she gets via marriage and her own hard work to help other women. She has highlighted domestic violence, sex trafficking, equal pay, equal rights, reproductive rights, and universal health care. Women can trust her to represent their interests. She has manifested her willingness to improve our lot. It's time we forgive her for not quite living up to an unattainable level and respect her for the principled, committed, and exceptional person she is and for her commitment to improving the lives of others.
Calling all HuffPost superfans!
Sign up for membership to become a founding member and help shape HuffPost's next chapter