A U.S. judge on Thursday halted the deportation of 114 Iraqi immigrants arrested in Michigan over the past few weeks, saying they could face persecution or torture if they were sent back to their home country.
U.S. District Judge Mark Goldsmith said the Iraqis, arrested this month as the Trump administration works to increase immigration enforcement, would be allowed to stay in the country for at least another two weeks as he determines if the courts have jurisdiction over the deportations. The American Civil Liberties Union filed a class-action petition on behalf of the detainees last week to urge the courts to halt the deportations, calling them illegal and saying they would put the Iraqis in "extreme danger." The ACLU's petition notes many of those arrested are Chaldean Christians who would face "brutal persecution" in Iraq.
While Goldsmith has yet to fully rule on the petition, his temporary stay cited the potential for "loss of life" should the deportations go forward without an "orderly court process."
"Irreparable harm is made out by the significant chance of loss of life and lesser forms of persecution that Petitioners have substantiated," Goldsmith wrote in his ruling Thursday. "The public interest is also better served by an orderly court process that assures that Petitioners' invocation of federal court relief is considered before the removal process continues."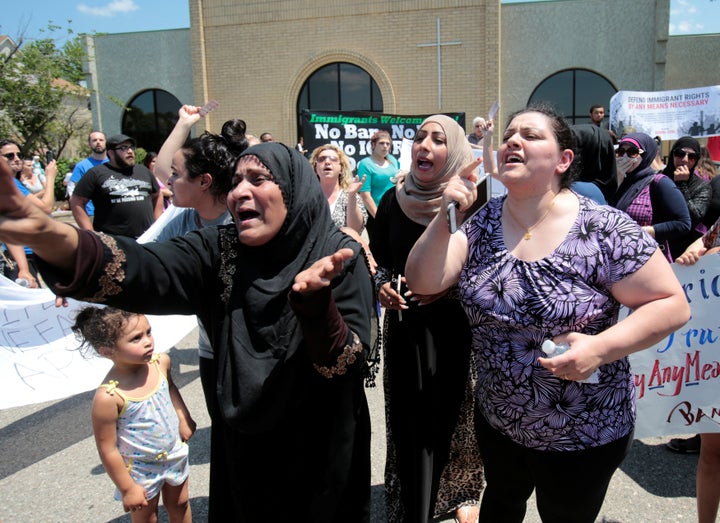 Most of the detainees have prior criminal convictions, but had been allowed to stay in the country because Iraq had refused to issue travel documents for them to return. Aside from those in Michigan, 85 others have been arrested around the country in recent weeks and eight have already been deported, Reuters reports.
Iraq reversed its longstanding policy on the travel documents earlier this year as part of negotiations with the White House to remove the country from President Donald Trump's controversial travel ban that targeted the residents of six Muslim-majority countries. The country was initially included in the ban's first iteration.
The ACLU on Thursday applauded Goldsmith's decision, saying the move "may very well have saved numerous people from abuse and possible death." 
Christians can face severe religious persecution in the Middle East, and both the Obama and Trump administrations have declared the treatment of the group a "genocide." As HuffPost's Akbar Shahid Ahmed notes, many Iraqi Christians in Michigan voted for Trump in the recent election, and community members have said they were startled the arrests went ahead despite the president's campaign promises to protect Christian refugees.
Authorities with Immigration and Customs Enforcement have defended the arrests despite the outcry. In a statement to the Detroit Free Press last week, Rebecca Adducci, the field office director for ICE Enforcement and Removal Operations Detroit, said the proposed deportations addressed "the very real public safety threat represented" by those detained.
"The vast majority of those arrested in the Detroit metropolitan area have very serious felony convictions, multiple felony convictions in many cases," Adducci said.
Calling all HuffPost superfans!
Sign up for membership to become a founding member and help shape HuffPost's next chapter