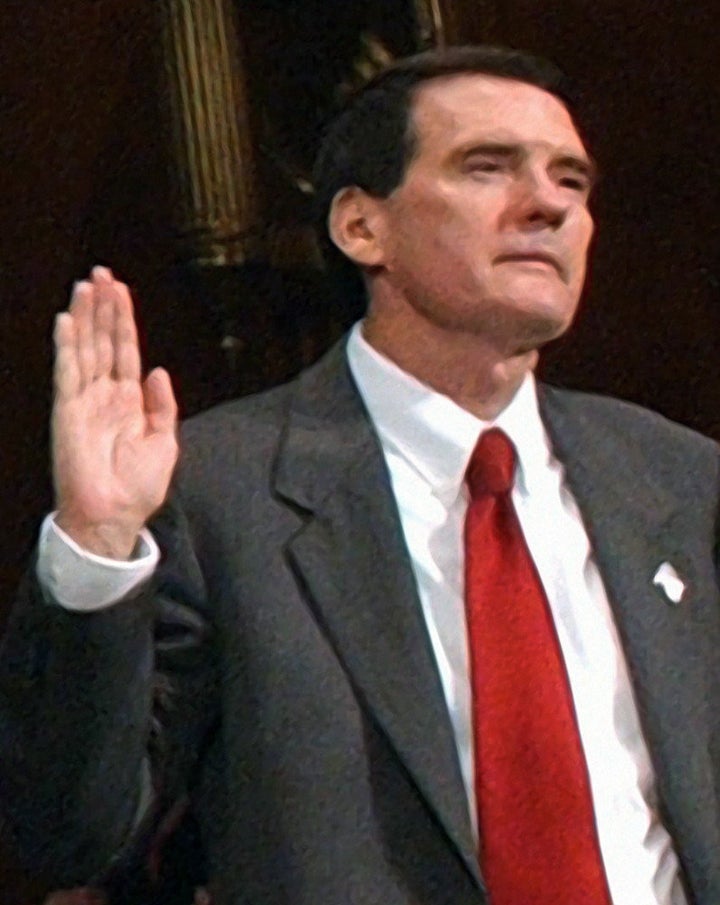 U.S. Marshal for Arizona David Gonzales confirmed to the Associated Press that the U.S. District Judge had died. He offered no other details on the shooting.
Arizona Central talked to Gonzales in 2009 after Roll allowed a $32 million civil-rights lawsuit to proceed against a local rancher. The case was filed by illegal immigrants and drew the ire of local talk radio hosts, who "spurred audiences into making threats."
In one afternoon, Roll logged more than 200 phone calls. Callers threatened the judge and his family. They posted personal information about Roll online.

"They said, 'We should kill him. He should be dead,' " Gonzales said.
Both Roll and his wife were given a U.S. Marshals Service protection detail at the time. Roll called the month-long protection experience "unnerving and invasive." According to Arizona Central, authorities identified four men believed to be responsible for the threats, but Roll declined to press charges at the recommendation of the Marshals Service.
Named Arizona's chief federal judge in 2006, U.S. District Judge John M. Roll won wide acclaim for a career as a respected jurist and leader who had pushed to beef up the court's strained bench to handle a growing number of border crime-related cases.
His death Saturday, at the hands of gunman apparently intent on assassinating Arizona U.S. Rep. Gabrielle Giffords, stunned those who mourned the loss of a devoted, talented and gentle man.
"I have never met a more sincere ... fair minded, brilliant federal judge or any judge for that matter in my whole life," Pima County Sheriff Clarence Dupnik said.
Dupnik emotionally recounted Roll's final morning. A typical Saturday: a trip to church, then to the store and most likely a plan to go home to help with chores. But before heading home, he apparently stopped to visit briefly with Giffords at an event she was holding for constituents.
"Unfortunately, he was in the wrong place at the wrong time," Dupnik said.
Mark Kimball, a Giffords aide who was at the shooting scene at a shopping center, told The Associated Press that he believed the judge, who lived in the area, had simply gone to the Safeway where the shooting occurred to shop. Five others died in the attack, and several others were wounded, including Giffords.
Kimball said Giffords had worked with the judge in the past to line up funding to build a new courthouse in Yuma.
Roll, 63, was appointed to the federal bench in 1991 by President George H.W. Bush. Roll previously served as a state trial judge and as a judge on the midlevel Arizona Court of appeals. He previously worked as a county and state prosecutor.
Named chief judge for Arizona in 2006, Roll pushed for more judges placed on the court's bench as border violence has swelled the district's caseload.
"Judge Roll was a widely respected jurist, a strong and able leader of his court, and a kind, courteous and sincere gentleman," said Chief Judge Alex Kozinski of the 9th U.S. Circuit Court of Appeals, the federal circuit that includes Arizona. "He worked tirelessly to improve the delivery of justice to the people of Arizona."
U.S. Sen. John McCain, R-Ariz., said he recommended Roll for federal appointment.
"Words are inadequate to express such a profound loss to his family, friends, state and country, but it is appropriate to note that a man of great qualities and character was struck down today," McCain said.
Chief Justice John Roberts said in Washington that the killing of Roll was a terrible loss for the judiciary. The judge served Arizona and the nation selflessly and with great distinction, Roberts said.
As a federal judge, Roll handled a wide variety of cases.
He ruled in 2009 that federal wildlife officials used incorrect criteria when deciding against designating critical habitat and develop endangered jaguars.
In the 1990s, he was among several federal judges who ruled that the Brady gun law's requirement for a records check by local authorities violates the Constitutional's 10th Amendment.
Roll was a Pennsylvania native who got his law degree from the University of Virginia. He is survived by his wife, Maureen, three sons, and five grandchildren.
Related
Popular in the Community