The judge who sentenced former Stanford University swimmer Brock Turner to a lenient six-month jail term for sexually assaulting an unconscious woman believed he was "remorseful," even though Turner never admitted guilt, according to a newly released court transcript.
Judge Aaron Persky's explanation of the punishment he imposed at the June 2 hearing in California's Santa Clara County Superior Court shows that he considered whether Turner, 20, was sorry, and that both Turner and his victim were intoxicated.
One factor is "the vulnerability of the victim," Persky said. "And the victim in this case was extremely vulnerable. That's an element of the crime. ... So I have considered that."
Prosecutors during the hearing requested Turner be sentenced to six years in state prison. District Attorney Jeff Rosen said in a statement afterward that the "punishment does not fit the crime."
"The victim in this case was extremely vulnerable. ... I have considered that.""
This week, the Santa Clara County court recorder began releasing the hearing transcript after requests from several media outlets, including The Huffington Post. The Guardian website posted the full transcript on Tuesday.
Persky brought up the issue of alcohol several times, according to the transcript, but repeatedly said it was a minor factor in his decision. Turner's blood alcohol level was 0.13, and the victim's was estimated to be 0.24 -- three times the legal limit for driving.
"I have also considered the fact that he was legally intoxicated at the time of the incident," Persky said of Turner. "Pursuant to the evidence at trial, this does affect judgment. And as I indicated previously, it's not an -- and, I think, as [the victim] wrote -- it's not an excuse. But it is a factor. And I think it is a factor that, when trying to assess moral culpability in this situation, is mitigating."
Persky continued: "The argument can be made that it's more morally culpable for someone with no alcohol in their system to commit an offense like that than with someone who was legally intoxicated at the rate of 0.16 or so." The judge added that he was not "relying on that" reasoning.
"Alcohol makes it worse -- it doesn't mitigate it, it makes it worse," Poe said.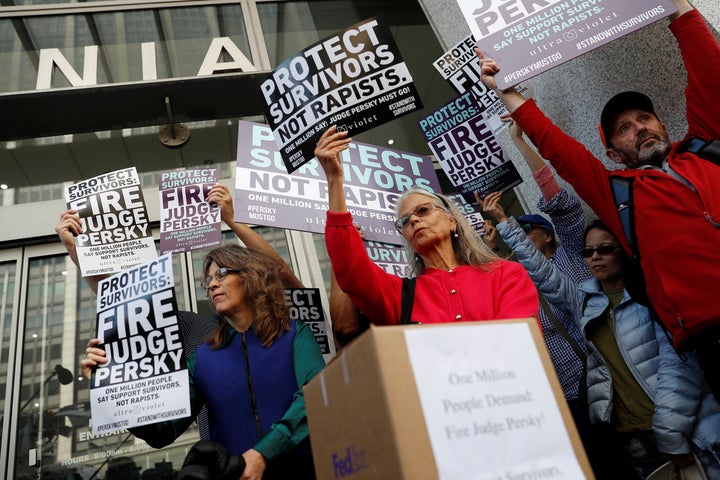 Persky ran through other factors, including that Turner was not armed, showed no "criminal sophistication," and had no previous criminal convictions, though he had a pending charge of possessing alcohol as a minor.
"Mr. Turner came before us today and said he was genuinely sorry for all the pain that he has caused to [the woman] and her family," Persky said. "And I think that is a genuine feeling of remorse. [The woman] has stated that he hasn't really taken responsibility for his conduct. And I think at one point she basically wrote or said that 'He -- he just doesn't get it.'
"And so you have Mr. Turner expressing remorse, which I think, subjectively, is genuine, and [the woman] not seeing that as a genuine expression of remorse because he never says, 'I did this. I knew how drunk you were. I knew how out of it you were, and I did it anyway,'" Persky continued. "And that -- I don't think that bridge will, probably, ever be crossed."
Persky added: "I'm not convinced that his lack of complete acquiescence to the verdict should count against him with respect to an expression of remorse because I do find that his remorse is genuine."
Popular in the Community