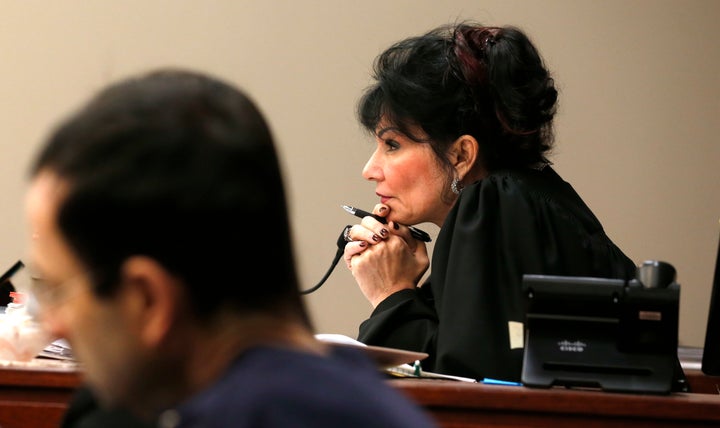 Larry Nassar, the former USA Gymnastics and Michigan State University team doctor imprisoned for serial child sexual abuse, has been denied his motion to appeal his sentence. 
"There's nothing I've done that prejudices me on this case," Judge Rosemarie Aquilina told Nassar's attorneys in court Friday morning. "Your motion is denied."
"At this point, justice cannot be served in terms of the appearance of impropriety," Nassar's attorney Malaika Ramsey-Heath said. "Dr. Nassar has the right to continue this process. This case is not over. It did not end upon conviction. The appellate process must be allowed to take place." 
Michigan's chief deputy attorney general, Laura Moody, argued that Aquilina used "strong but appropriate language" throughout the January sentence hearing. She added that if Nassar was attacked in prison, "it's because he's a convicted child molester," not because of anything Aquilina said during sentencing.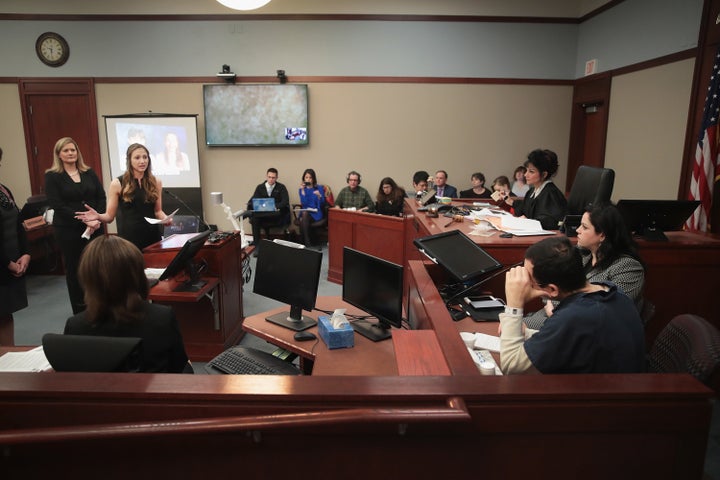 Aquilina, who presided over the appeal hearing, spoke for 20 minutes before handing down her decision to deny the appeal.
"Your briefs claim that I had my mind made up. That I didn't need to listen to anybody, that I was biased," Aquilina addressed Ramsey-Heath. "You're in fact wrong, and you're not a mind reader."
Aquilina said she "did the math" and broke down how she got to a minimum of 40 years for Nassar's sentence. 
"I'm doing this because I clearly want you to understand this took a lot of thought and no bias and no prejudice," she said. "If I gave him ... 25 years divided by seven counts means 3.57 years [for each victim]; 30 years divided by seven counts is 4.28 years; 35 years divided by seven counts is five years per count; 40 years divided by seven counts is 5.71 years."
At one point during the sentencing, she suggested that she would have been open to letting people do to Nassar what he did to his victims if it weren't unconstitutional. 
"Our Constitution does not allow for cruel and unusual punishment," she said at the time. "If it did, I have to say, I might allow what he did to all of these beautiful souls ― these young women in their childhood ― I would allow some or many people to do to him what he did to others."
Aquilina delivered a now iconic statement when she handed down Nassar's sentence, saying, "Sir, I'm giving you 175 years, which is 2,100 months. I just signed your death warrant." 
Moody argued that Aquilina's death warrant comment was "just fact," not bias. 
Aquilina ended the appeal hearing on a powerful note, telling Nassar's attorney before handing down her decision, "So, bias? No. Justice? Yes." 
Nassar is accused of sexually assaulting more than 260 athletes under the guise of medical treatment. He's serving three concurrent prison sentences of up to 175 years for sexual assault and child pornography.
REAL LIFE. REAL NEWS. REAL VOICES.
Help us tell more of the stories that matter from voices that too often remain unheard.