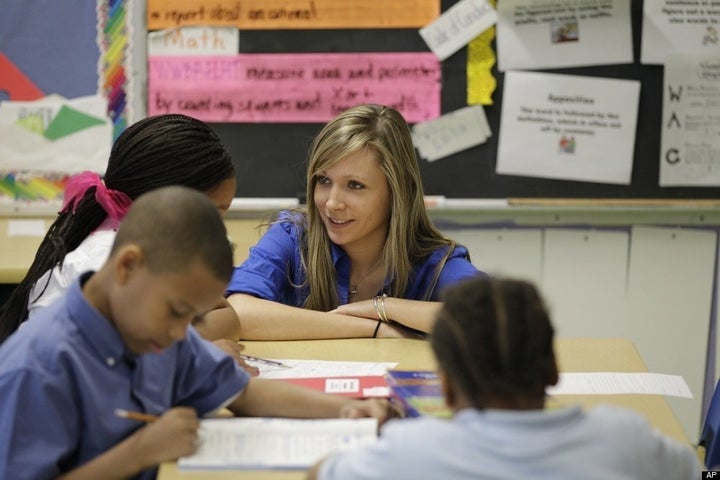 A federal judge has ruled that the layoffs of hundreds of Chicago Public Schools teachers must be rescinded, and that provisions must be made for their possible rehiring.
The Chicago Teachers Union is touting the ruling as a major victory for laid-off teachers, while CPS is downplaying the significance of the judge's order.
Due to glaring budget crises at the city and state level, over 1,300 teachers were laid off this past summer. At issue in this court case were the 749 of those fired who were fully tenured staff.
Judge James Coar's order requires that those teachers be given a "foot in the door" to apply for future openings at the district, and demands that layoffs not occur in the same manner in the future.
CTU President Karen Lewis trumpeted the ruling Tuesday. "They lost. We won. It's a 'W,'" she told WBEZ. "I don't care what CPS says."
What, exactly, was CPS saying? For one, it argued that 417 of the 749 laid-off teachers were re-hired at the last minute, thanks to an influx of federal funds.
Schools attorney Patrick Rocks also told the Sun-Times that the ruling didn't mean that the fired teachers were all going to be reinstated; instead, it would just give them a chance to compete for future jobs.
[T]he district might have a good chance if it appeals, said Terry Smith, a DePaul University law professor.

"Essentially the court concedes there is no (case law) out there that is directly on point," Smith said. "This is an opening for an appellate court to step in and say our analysis of the law is different."

Still, at least some teachers felt vindicated by the ruling. Again from the Trib, special ed teacher Evelyn McGuire said, "It makes a big difference, not just for the money, but just that we were right."
Calling all HuffPost superfans!
Sign up for membership to become a founding member and help shape HuffPost's next chapter