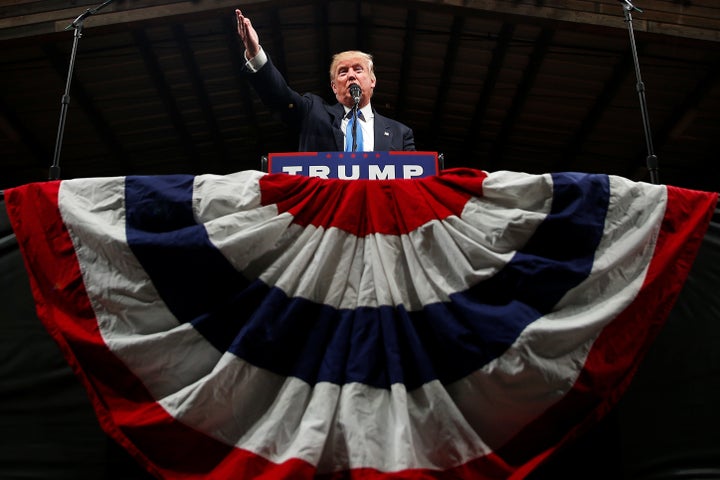 UPDATE: Nov. 5 ― In a 36-page ruling issued Saturday, U.S. District Judge John Michael Vazquez denied Democrats' request to hold the Republican National Committee in violation of its court-ordered obligations not to organize "ballot security" measures aimed at intimidating voters.
Vazquez also declined to extend the 1982 consent decree that gave rise to these prohibitions. He left open the door, however, to allowing the Democratic National Committee to submit more evidence post-election that might result in further sanctions for the RNC.
Angelo Genova, the lawyer who helped secure the original decree 34 years ago, said in a statement that he hopes the additional evidence will help establish that Republicans still need to be kept under court supervision over tactics he said amount to "voter suppression efforts."
"What the evidence shows, your honor, is that Republicans on the ground are responding to these calls," said DNC lawyer Rajiv Parikh, who added that these "vigilante-type" activities are only meant "to target and harass people based on race."
Calling the decades-old court agreement a "burden" on Republicans, the lawyer for the RNC roundly rejected the idea that the proof offered by Democrats is enough to amount to a violation of its terms.
"Even if the RNC were involved in poll-watching activities, that's explicitly allowed under the consent decree," said Bobby Burchfield, who has represented the RNC in earlier legal attempts to free Republicans from the onerous court order. "At best, what we have here, your honor, is a technical violation of the consent decree."
He added that if Democrats succeed in convincing Vazquez to extend the agreement for eight more years, which is what their lawyers requested in court papers filed last week, the DNC would be "completely emasculating the election process."
After hearing nearly two and a half hours of oral arguments from both sides and considering hundreds of pages of affidavits and other evidence, Vazquez said he'd rule on the matter later in the day or by Saturday, but indicated he is unlikely to extend the decree past its expiration date of December 2017.
One of the hurdles for the court is to determine whether comments by Trump, running mate Mike Pence and campaign manager Kellyanne Conway in recent months can be attributed to the RNC ― and result in sanctions that may keep the GOP under further court supervision.
Since he clinched the Republican nomination for the presidency, Trump has repeatedly relied on innuendo and vague fear-mongering to warn supporters that Democratic-aligned voters in urban areas might "cheat" to steal the election from him.
"Go down to certain areas and watch and study and make sure other people don't come in and vote five times," Trump said during a summer rally, despite almost non-existent evidence of voter fraud. He has made similar appeals at rallies in several states.
Vazquez, who is relatively new to the federal bench, now faces the difficult task of deciding what would be the proper scope and remedy for this new round of allegations. With the election only days away, the judge is likely to keep his ruling narrow but forceful enough to get the RNC to dissuade any potential poll watchers from crossing the line with voters.
Still, the RNC lawyer appeared doubtful that the judge could tailor relief in the case in a way that could accomplish much.
"What more can an injunction do to get the RNC to comply with the consent decree that is not already doing?" Burchfield said, adding that further enforcement could affect Republicans' "ability to function as a major political party in the country."
Friday's hearing took place against a backdrop of busy court activity for the DNC and its state affiliates. Lawyers for the party have filed a stream of emergency lawsuits in places like Ohio, Pennsylvania, North Carolina, Nevada and Arizona ― all of them aimed at keeping the Trump campaign or Republican state officials from engaging in conduct that may keep voters of color away from the polls.
This article has been updated with additional background from the hearing and the case.
REAL LIFE. REAL NEWS. REAL VOICES.
Help us tell more of the stories that matter from voices that too often remain unheard.