Federal prosecutors in Louisville, Kentucky, have won an emergency court order to enforce a "buffer zone" around the state's only remaining abortion clinic, preventing protestors from physically blocking the door as they have in the past.
The complaint, filed on Thursday, singled out members of the extremist anti-choice group Operation Save America, which will kick off a week of protests against the EMW Women's Surgical Center on Saturday. Group members have said their goal is to "shut down" what they describe as an "abortion mill."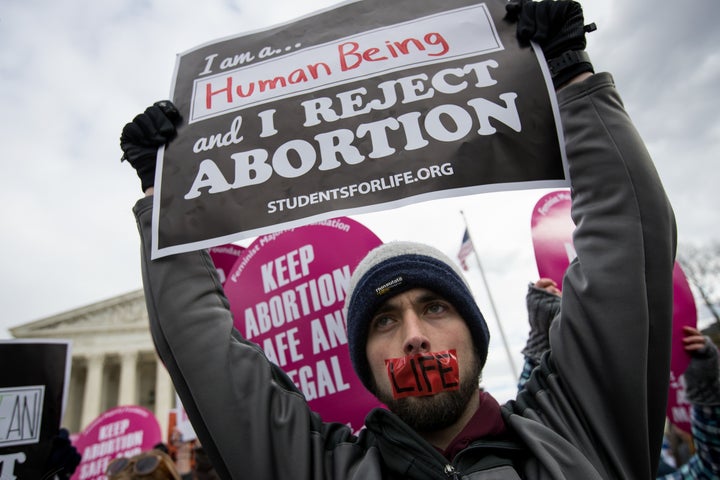 On Friday, U.S. District Judge David Hale issued a temporary restraining order against a group of individuals including Rusty Thomas ― founder of Operation Save America ― who used their bodies to block the entrance to the clinic during a protest last spring. They sat with their backs against the door and, after refusing to leave, were arrested. In doing so, the complaint argued, they violated the federal Freedom of Access to Clinic Entrances (or FACE) Act that passed in the mid-1990s to prevent aggressive protesting immediately outside of freestanding abortion clinics across the country.
Christine, a 30-something volunteer escort who helps women walk from their cars to the clinic door, was at the clinic on that Saturday in May and described the scene to HuffPost. (For privacy reasons, Christine asked that only her first name be used.)
"They swarmed the door, saying 'Rescue, rescue, rescue!' which was their cue, and then they all sat down," she said. "The police asked them to get up and they wouldn't. Several people went limp and had to be dragged away. There were clients coming up, and they couldn't get in."
Though it was the first time Christine had encountered protestors who physically block the door, she said she was not particularly surprised. She believes OSA's sole purpose outside clinics is to "harass" and "intimidate" women and their partners.
Before Friday's ruling, reproductive rights advocates warned that the federal complaint had important implications for the rest of the country, even though it concerns only a few feet of space in front of one single clinic. The buffer zone that protestors are prohibited from entering extends about 15 feet from the patient drop-off zone to the clinic door, and about 7-and-a-half feet from east to west.
"The clinic blockade that happened in May is a throwback to the 1990s, when individuals would obstruct entrances to clinics," Brigitte Amiri, senior staff attorney for the ACLU's Reproductive Freedom Project, told HuffPost. "The federal government passed a law preventing that from happening, and since then we really have not seen this type of blockade. The reason why this is so disconcerting now is because we thought it was in the past."
The judge's ruling on Friday is a win for the EMW Women's Surgical Center and its patients, but hundreds of extremist protestors are still expected to descend on Kentucky next week. Operation Save America said it plans to show what it claims are graphic images of an abortion procedure outside of Louisville's City Hall next week.
Whatever happens, Christine said that she and her fellow volunteer escorts will do what they always do: put on their orange vests and help women walk from their cars, past the protestors and safely into the clinic.
"Of course there are some nerves, but we remain client-focused," she said. "Protestors are not our concern. Our only concern are the clients and walking them to the door."
Popular in the Community