U.S. District Judge Dana Sabraw may decide whether to place restrictions on the Trump administration's family separations and take additional efforts to reunite families as early as next week, he said Friday.
Lee Gelernt, the lead attorney for the American Civil Liberties Union in a lawsuit challenging the Trump administration's policy of splitting up families at the border to deter other migrants from coming to the U.S., asked the judge at a telephonic status conference to issue a preliminary injunction as early as Friday night. The injunction would force the government to halt the practice and create a process to reunite families more quickly.
"I cannot express enough how bad the situation has become," Gelernt told the judge. "Every night we are hearing stories of children going to sleep asking if they're ever going to see their parents again."
Instead, Sabraw gave the ACLU until Monday morning to submit a brief explaining its reasons for taking such a major step. The Justice Department has until Wednesday afternoon to respond.
Sabraw could rule as early as Wednesday night, though he did not specify when to expect a decision.
The ACLU first filed the case challenging family separations in February, on behalf of a Congolese woman who crossed through a legal port of entry into San Diego. U.S. immigration officials then separated her from her 7-year-old daughter, who they placed in a child care facility in Chicago because they said they could not establish that the woman, identified in court papers as "Ms. L.," was actually her mother. The ACLU later added "Ms. C," a Brazilian mother who was separated from her 14-year-old after getting prosecuted for illegal entry and routed into the jail system, as a plaintiff in the case. Both women are seeking asylum.
"There is really an urgent need to set a timetable. It's a crisis of their own making."
The Trump administration began systematically separating parents from their children at the U.S.-Mexico border last month by extending Attorney General Jeff Sessions' zero tolerance policy ― which charges many immigrants who cross illegally with the misdemeanor crime of "illegal entry" ― to families that cross together. Under previous administrations, "family units" typically faced only administrative immigration violations in civil court.
More than 2,300 children have been split from their parents since that policy began. The Trump administration had quietly experimented with family separations, like those documented in the ACLU lawsuit, in the months before.
Facing widespread public backlash, President Donald Trump signed an executive order Wednesday that largely limited the family separations. It instead paved the way for a large-scale increase of family immigrant detention centers that must clear legal hurdles before they can open.
But the ACLU says that the executive order still contains broad exemptions that would allow family separations to continue. And nothing in the order provides a mechanism to reuinte the thousands of families already separated.
The attorney for the government, Sarah Fabian, acknowledged Friday that the government still has not implemented a policy to facilitate communication between the Office of Refugee Resettlement, which takes charge of children when they arrive unaccompanied or get separated from their parents, and the federal jails where their parents are held.
"I can't say today that there is a formalized process to that," Fabian said. "I can say today that efforts are being made."
The ACLU is asking the judge to halt family separations, as well as to implement a plan to reunite all the families that were split up by the Trump administration within 30 days. The ACLU asks the government to reunite children under 5 with their parents within 10 days.
"There is really an urgent need to set a timetable," Gelernt said. "It's a crisis of their own making."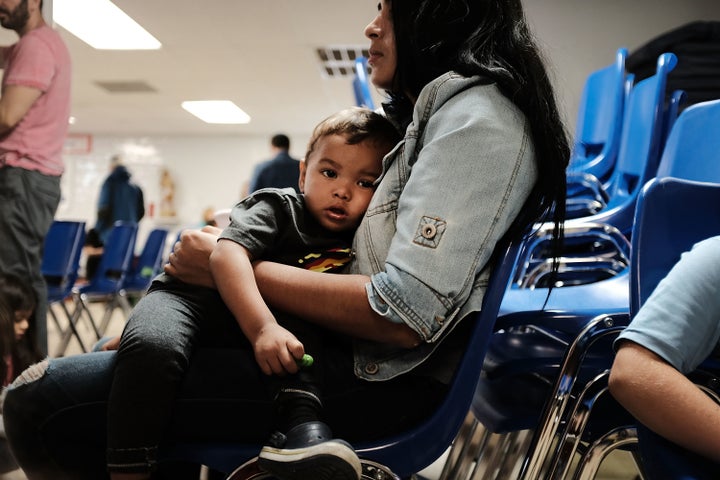 Trump administration officials have insisted that they need broadened authority to detain families for longer periods. A 2015 ruling in a separate lawsuit over the enforcement of the Flores settlement ― a two decade-old agreement that partly governs how child migrants are detained ― requires Immigration and Customs Enforcement to release children from family detention centers within 20 days. No such requirement exists for adults.
The Trump administration's family separation policy aimed to skirt the Flores settlement by releasing the children to federal custody while prosecuting the parents, then placing the adults in immigrant detention without their kids. To abandon the family separations policy without falling back to the status quo, however, the Trump administration is now trying to overturn the 2015 order that requires kids to be released within 20 days.
Gelernt said he believed parents may waive their children's right to release under an order from a separate, earlier lawsuit over the Flores settlement. Mothers locked in family detention centers typically have a right to a bond hearing.
The ACLU lawsuit doesn't challenge separations that would occur if the government chose to prosecute a parent traveling with a child. But the separation should only occur, Gelernt said, for a brief period during which the mother appeared for hearing and sentencing in federal court. She should promptly be reunited with the child after serving the sentence. Sentences for the misdemeanor offense of "illegal entry" vary by jurisdiction, but convictions usually result in sentences of a few days.
The Ms. L case was last argued on May 4, three days before Sessions' order to start separating families. Despite the attorney general's public announcement of the policy and the extensive coverage the issue has received from the media, Fabian declined to acknowledge whether the family separation policy ever existed.
"I don't think I could say that specifically, Your Honor," Fabian said when asked by the judge whether the government had admitted to creating a family separation policy. "I think the executive order addressed a policy that was announced after this case began."
Sabraw said he understood the ACLU's urgency to get a ruling as soon as possible given the developments reported by the news media, but he said he couldn't rule based on those accounts. Instead, he ordered the expedited briefings and asked the ACLU to set its proposal for an injunction in writing.
"I will endeavor to issue a ruling shortly," Sabraw said.