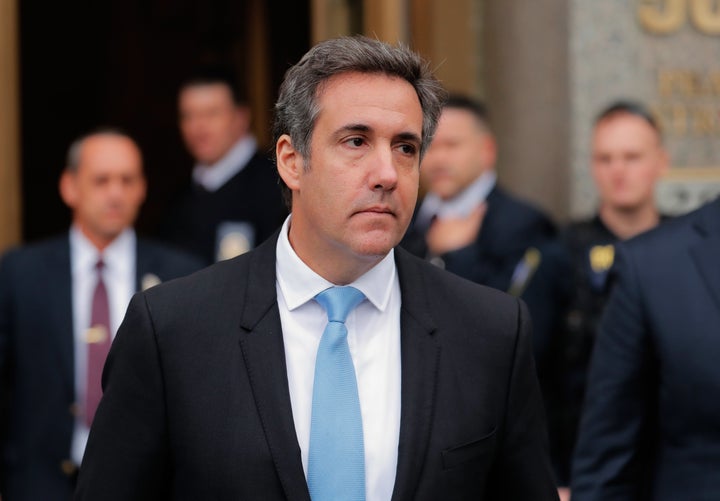 A federal judge on Monday denied a request to allow the president and his longtime attorney Michael Cohen a first crack at viewing the documents seized from Cohen in FBI raids last week, before prosecutors can sift through the haul. But she also said she wasn't ready yet to rule on who would eventually get to decide what materials might stay confidential.
U.S. District Judge Kimba Wood said she may appoint someone as an impartial "special master" to mediate any review of the documents, according to The New York Times. Cohen's attorneys and those of the government can submit proposals for a special master by Tuesday. But she added that to address concerns about "fairness" raised by Trump and Cohen's attorneys, "a special master might have a role here. Maybe not the complete role, but some role."
Wood also ordered prosecutors to provide copies of the seized material to Cohen's legal team when they are viewed and expressed her desire in "getting this moving," according to Bloomberg. She said she trusted independent federal attorneys to sift through the material and determine what is admissible in court.
The FBI raided Cohen's office, home and hotel room last week and seized a bevy of materials, including documents related to a hush-money payment to adult film star Stormy Daniels. Trump's allies are also worried that the FBI may have obtained a "gold mine" of recordings Cohen made with associates close to the president.
Lawyers representing Trump and Cohen have tried to block prosecutors from sifting through any seized files, arguing that they are protected by attorney-client privilege. They had proposed allowing Cohen or an independent attorney to review them first.
"Those searches have been executed, and the evidence is locked down," Joanna Hendon, a lawyer for Trump, said in court last week, according to The Times. "I'm not trying to delay. I'm just trying to ensure that it's done scrupulously."
Federal prosecutors have argued for a standard review of the seized material by a so-called "taint team" of independent lawyers, which is meant to filter out any documents that may be privileged. Once the team is finished, the remaining documents are passed on to attorneys working on the case.
It's unclear just yet what details may lie within the documents, but as The Times notes, they could provide insight into Trump's decade-long relationship with Cohen. The attorney has been a trusted adviser and fixer who has helped Trump navigate a litany of issues both before and after the campaign.
The Washington Post reported Thursday that Cohen was known for his "proclivity to make tapes" of private conversations and store them digitally. It's unclear if such tapes were seized, and if any involved the president himself.
CLARIFICATION: This article has been updated to clarify that the judge has not yet decided how documents seized by the FBI will be sorted to determine what will remain protected by attorney-client privilege.
Popular in the Community